The impact of music on human life is enormous. It is an integral part of our lives, dating back thousands of years. We play music at major milestone events, like weddings and birthdays. We listen to music with friends and family and alone while we drive and while we work. Our favorite songs can trigger memories and make us smile. If listening to a tune you love seems to put you in a better mood, you aren't alone. Research has shown that music can affect mood.
Learn more about the power of music and how it can help you regulate your mood and play a role in improving your mental health.
Social Connection
Music is often a social activity. Maybe you dance with your friends to a playlist you put together for a party. Maybe you listen to your favorite radio station and sing along to the songs as you take a road trip with your partner. Or, you find yourself standing shoulder to shoulder with a crowd of people at a concert. When you listen to music with other people, you find yourself moving to the same beat. Making music with other people, whether just for fun or professionally, can also be socially stimulating.
The effects of music on human behavior have been widely studied. One study explored how music affects the areas of the brain responsible for trust and empathy, powerful elements of our social bonds. Another study delved into the important role music can play in young people's emotional and social development. When people sing and listen to music together, cortisol — a hormone related to stress — decreases in the brain.
Boosted Mood
So, music can help strengthen our social bonds, but it can also have an impact on your mood, whether you are listening in a group or alone. How does music affect your mood? Listening to music causes neurochemical changes in the brain.
In addition to reducing cortisol levels, listening to music that you enjoy can also cause your brain to release more dopamine. Dopamine is a neurotransmitter that is integral in producing a feeling of pleasure. It is often talked about as a part of the body's natural reward system. We do something pleasurable, like listening to music, and the brain releases dopamine.
What type of music will boost your mood can depend on the person and the situation. For example, some music is written specifically to cause feelings of unease or even anxiety. Just think about the music featured prominently in horror movies. In some situations, people prefer sad music. Breakup songs are arguably a genre of their own. For some people, listening to sad music can help them to process a loss. For others, sad music may contribute to feelings of sadness.
While we know music can affect mood, there isn't necessarily an exact science for what will boost your mood. If you are looking for a musical mood lift, pick the music that makes you happy.
Easing Anxiety and Depression
Anxiety and depression are two of the most common mental health disorders. Treatment for anxiety and depression can vary from person to person. Some people benefit from medication, therapy or both. Certain lifestyle changes, like exercise, a healthy diet, and a proper sleep schedule, can positively impact these mental health issues. Listening to music also has the potential to ease the symptoms associated with anxiety and depression.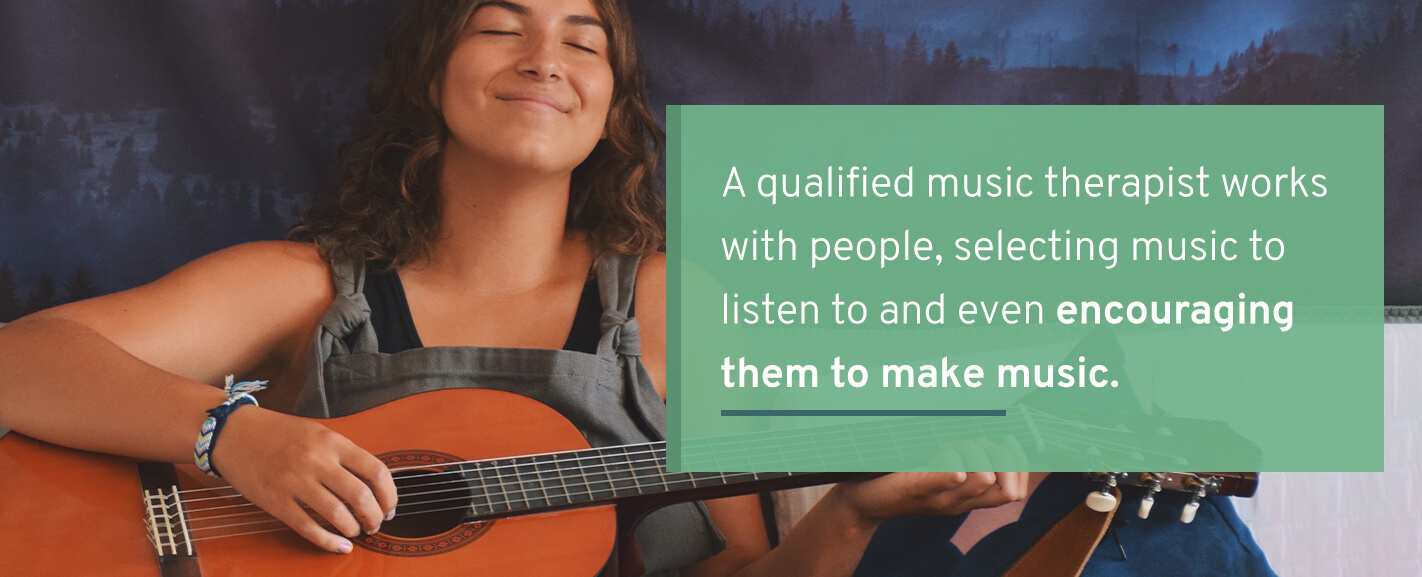 How does music affect your mental health? Listening to music can trigger feelings of pleasure and bring people together, which may help someone suffering from anxiety or depression feel positive emotions and connect them with others. There is even music therapy, which uses music to address a person's mood and well-being. A qualified music therapist works with people, selecting music to listen to and even encouraging them to make music. Music therapy can be used in conjunction with more traditional treatments, like counseling and medication.
Improved Focus
Music has the potential to help improve your focus. First off, the relaxing effect of music may help you to get in the right frame of mind to focus on a specific task. You may feel less stressed and more motivated. Research has also found that music can help your brain more easily process new information. Throwing on some music while you study or dive into a project at work may help you focus on the work at hand.
Like the benefits music can have on mood, this potential benefit is also subjective. Certain types of music may be more effective at sharpening your focus. For example, classical music may help you learn new material more effectively. This idea even has a name— the Mozart Effect. While some people incorrectly believe listening to classical music will make you more intelligent, research has shown that listening to music you like, whether Mozart or heavy metal, has positive effects.
Music and Your Memory
Have you ever gotten a song stuck in your head? The lyrics and melody play on repeat in your mind, sometimes for no discernable reason. Listening to music from a specific period in your life can actually help you to recall events from that same time. If you catch your prom song playing on the speakers of a store, chances are you will be taken back to high school. If you hear the song you listened to on your first date with your spouse, you will likely think of meeting and falling in love.
Research has even shown that listening to music can help people recovering from a stroke or brain injury. Music can also play a role in creating new memories.
Take Care of Your Mental Health With Taylor Counseling
Your mental health is important. With so much happening in the world at large and in our personal lives, heightened stress has become a part of everyday life for many of us. While we may not be able to change what is causing us stress, we can acknowledge the toll it has on our well-being and take steps to prioritize our mental health.
At Taylor Counseling, we offer a wide variety of therapy services to help you find the personalized treatment that works for you. Whether you are looking for individual therapy, couples counseling or family counseling, our team of experts is here to help. Learn more about how we can help you achieve your mental health goals and book your first session online.