Humans naturally attach themselves to people they see as protectors, comforters and caregivers. But sometimes, it's possible to develop an unhealthy attachment to someone who doesn't truly have your best interests in mind.
If you're feeling stuck in an unhealthy, toxic or dangerous relationship you know you should leave, you may be experiencing a phenomenon called trauma bonding. While especially common in romantic relationships, trauma bonds can occur between family members, in platonic relationships, in workplace settings and others — any situation where one person exploits another to establish control.
If you're dealing with a trauma bond, there are steps you can take to break free and heal from your experience. Read on to learn more about trauma bonding, why it occurs and how you can pursue recovery.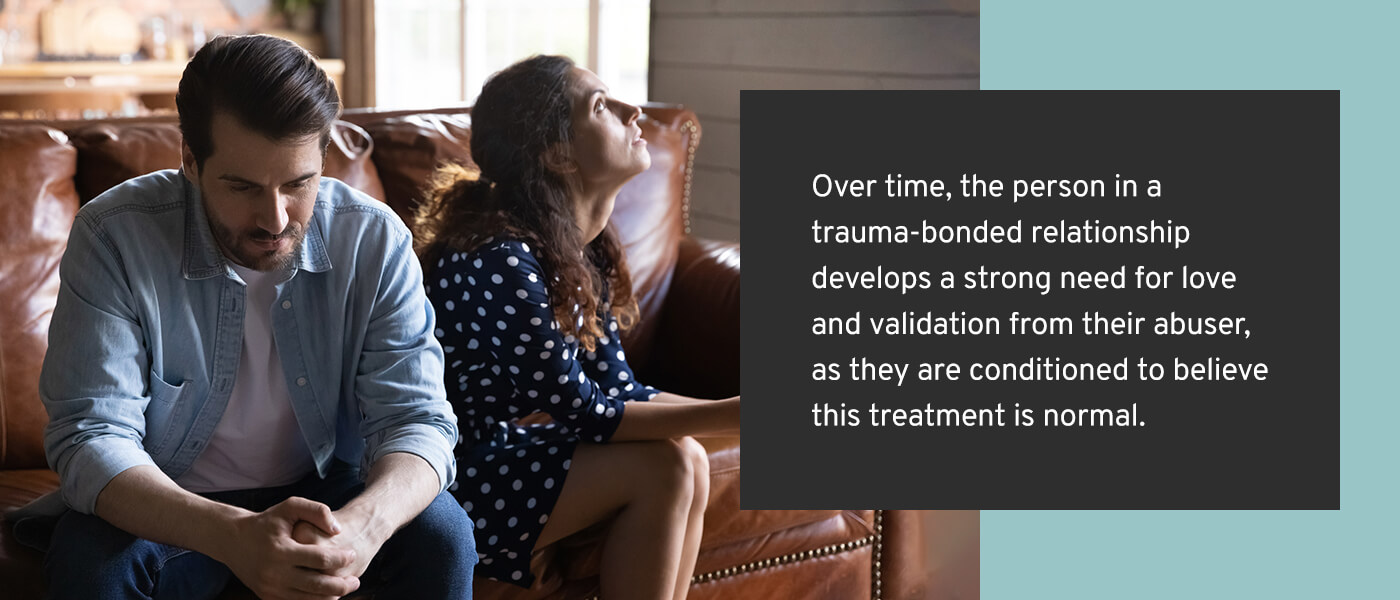 What Is a Trauma Bond?
A trauma bond occurs when someone becomes overly loyal or attached to another individual who exhibits toxic behaviors. It's highly prevalent in narcissistic relationships where there are repeated cycles of emotional or physical trauma followed by intermittent positive reinforcement.
Over time, the person in a trauma-bonded relationship develops a strong need for love and validation from their abuser, as they are conditioned to believe this treatment is normal. As a result, they have difficulty recognizing clear signs of physical or emotional abuse. This gives the abuser more power and progresses their manipulation tactics.
One might be fully aware they're with a toxic person, but they've been so conditioned to forgive them that they find it impossible to leave, causing them to feel hopeless or stuck.
Trauma bonding frequently occurs in romantic relationships. However, it can also occur between family members, friends and colleagues. People who experience kidnapping, human trafficking or hostage situations can also experience trauma bonding. Recognizing that you are in a trauma bond can take months or even years, so it's vital to understand the common signs and why this type of relationship occurs.
Trauma Bond Risk Factors
Anyone can develop a trauma bond, but certain risk factors can make an individual more likely to fall victim to this type of relationship. These risk factors include:
Low self-esteem.
Financial difficulties.
Childhood maltreatment.
Poor mental health.
Preexisting trauma.
Lack of personal identity.
These factors often make it more challenging for one to recognize signs of toxicity. As a result, they may be more vulnerable to manipulation in a relationship.
Are Trauma Bonds Bad?
Yes — trauma-bonded relationships are never healthy or positive because they aren't balanced. They display constant patterns of inconsistency and dysfunction, and there is always some form of manipulation involved.
Trauma bonding can weigh heavily on a person's mental or physical health and well-being. Because of their emotional dependence and the abuse itself, they often develop a negative self-image.
Signs of a Trauma Bond
Trauma bonding can look different for everyone who experiences it, but below are some common signs of this toxic relationship.
1. There Is a Power Imbalance
A person might hesitate to leave a toxic relationship due to the power their abuser holds over them. There could be financial power when a person is unemployed and relies on the abuser to work and pay rent. Another example is emotional power, where someone loses their sense of emotional defense and feels defined by the relationship with their abuser.
2. Others Don't Approve of the Relationship
If your entire social circle of friends and family believes you should end your relationship, this could indicate you're in a trauma bond. People in these relationships are typically oblivious to the toxic behaviors they're experiencing.
They may even try to justify poor treatment by making excuses or taking accountability for their abuser's actions. However, those outside of the relationship are often more aware of this unhealthy pattern and encourage the person to leave their abuser.
In response to others' push to end the relationship, a person may feel like they have the wrong impression of the abuser or are simply unsupportive. However, support systems often recognize behaviors that the individual in the relationship doesn't notice. Listening to their concerns can help you realize you're in a toxic, trauma-bonded relationship.
3. You Conceal Negative Emotions
If you constantly hide negative emotions and only release them when you're alone, you may be in a trauma bond. People in trauma-bonded relationships frequently experience negative emotions but don't want anyone else — especially their abuser — to notice them. In response to these emotions, an abuser will often act like the victim and make the other person feel guilty for expressing these feelings.
4. You Feel Indebted to Your Abuser
Narcissists often make their partner or another individual feel like they're indebted to them as a way of establishing control. For instance, if you made a mistake in your relationship in the past, they may hold it over your head to make you feel ashamed or like you have to make it up to them.
5. You're Experiencing a Loss of Identity
When someone is in a trauma-bonded relationship, their focus often shifts to meeting their abuser's standards and earning their approval. This determines everything they do, wear, eat and enjoy. As a result, they often lose sight of their unique individuality.
Here are some other indicators of a trauma bond:
You have an intense fear or hesitation about leaving the relationship, even if you know you should.
You constantly cover up or make excuses for their behavior.
Your relationship is moving at a fast pace.
You believe the mistreatment is your fault or that you deserved it.
You feel close to the individual even if you haven't known them for long.
The individual constantly gaslights and manipulates you.
You're willing to make major life changes for a relatively new relationship.
You feel isolated from loved ones in your life.
You feel like no one else can fulfill your needs but them.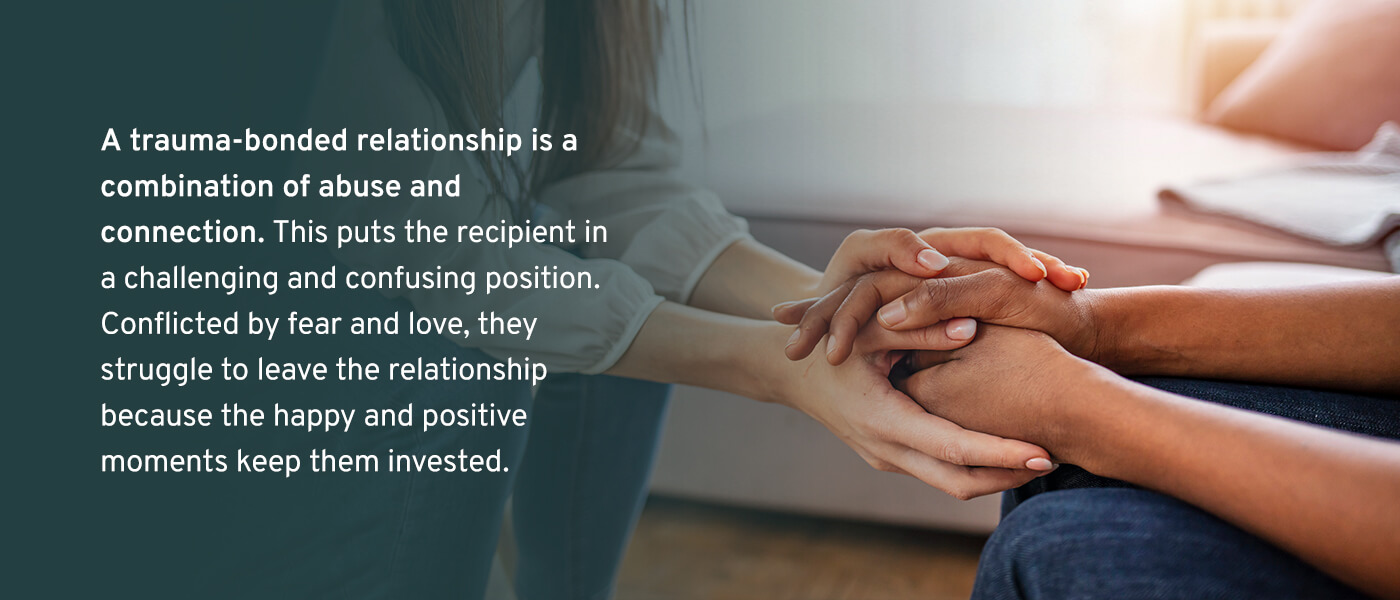 Trauma Bond vs. Love
A trauma-bonded relationship is a combination of abuse and connection. This puts the recipient in a challenging and confusing position. Conflicted by fear and love, they struggle to leave the relationship because the happy and positive moments keep them invested.
A person may even feel like they can change their abuser's behaviors, which also gives them the incentive to stay. They're driven by the positives and disregard the negatives, causing an unhealthy addiction to the relationship.
Conversely, a relationship driven by authentic love produces feelings of safety, security and comfort. Below are some ways to distinguish a trauma bond from genuine love.
1. Relationship Pace
Trauma bonds typically develop at a rapid pace. There's often an initial phase of "love bombing" first. The abuser may shower them with extravagant gifts or flatter them with compliments. This can boost the recipient's ego and encourage them to proceed with the relationship. Real love usually involves a steady, gradual connection. Both parties slowly build trust and open up to each other over time.
2. Communication
Trauma bonds usually involve minimal communication and avoid deep conversations. The involved person rarely or never gets the chance to voice their emotions and concerns. Meanwhile, true love should involve open, healthy communication. Both people should have an equal opportunity to communicate their feelings, wants and needs.
3. Highs and Lows
Trauma bonds exhibit extreme highs and lows. Typically, moments of strong connection follow moments of intense fear, confusion, sadness or frustration. Every relationship has its highs and lows, but a stable relationship with genuine love shows far more connection than negative feelings.
4. Feelings
A trauma bond can be incredibly addictive due to its extreme highs and lows. The person in a trauma-bonded relationship doesn't know when they'll receive positive reinforcement and affection next. This compels them to stay in the relationship and seek connection. They're grateful when they do get this connection, and they tend to blame themselves when they don't.
However, a loving relationship shows an abundance of intimacy, connection and gratitude. It feels like a privilege — both parties are thankful to have one another.
5. Reliance
A trauma bond is codependent, meaning the affected person leans heavily on the abuser for support despite their toxic behaviors. A person in a toxic relationship may experience a fear of abandonment or a lack of self-esteem and identity. The abuser encourages this dependency through gaslighting, blackmailing or other manipulation tactics.
Genuine love shows interdependence — a balance of dependence and independence. Both individuals depend on each other in a healthy, safe way, listening to and fulfilling each other's needs.
6. Boundaries
Trauma bonds are characterized by poor boundaries or none at all. In turn, the involved person becomes entangled with the abuser, and their views, opinions, feelings and mannerisms may get confused. As a result, they may lose their identity over time.
In a loving relationship, both parties respect each other's wishes and maintain healthy boundaries. They use empathy and open communication to understand the other's needs.
7. Power
As mentioned above, a trauma bond displays an imbalance of power. The abuser has more authority over the impacted person, and they use this power to exploit them. A loving relationship shows a more or less equal distribution of power. They don't control or manipulate each other.
How to Break a Trauma Bond
Trauma bonds can be difficult to break, but not impossible. A reliable and comforting support system — whether friends, family, a therapist or those with similar experiences — can make all the difference. Below are some key ways to overcome a trauma bond.
1. Separate Yourself From the Relationship
It may be challenging, but retracting from the situation and cutting ties with your abuser is ultimately the best thing you can do. This means eliminating all contact with that person — or even moving to another city in a particularly threatening situation. Leaving may be risky, so be sure to plan ahead and have someone help you.
Disengaging from your trauma bond is the first and most critical step to healing, especially if the relationship has the potential to become dangerous.
2. Surround Yourself With Loved Ones
Turn to people you can comfortably open up to and be vulnerable with — whether your parents, siblings, friends, coworkers or other individuals you trust. That way, you'll have a solid support system as you heal from your trauma bond. It's important to have people you can lean on for advice who can hold you accountable when cutting off contact or offer a shoulder to cry on.
Like with any breakup, remember that recovering from a trauma bond takes time. Having loved ones by your side can help make this process easier.
3. Join a Support Group
A support group provides a safe space to openly talk about your experience while listening to others' experiences. Surrounding yourself with others who have also encountered trauma bonding can help you realize that you aren't alone.
4. Practice Self-Care
Practicing self-care activities during your recovery can provide the following benefits:
Helps reduce stress and anxiety
Improves physical and emotional well-being
Helps you build confidence and independence
Self-care helps you build self-love, finding ways to seek comfort rather than relying on a toxic individual. Some nurturing and fulfilling activities include the following:
Journaling
Exercise
Listening to music
Healthy eating
Engaging in your favorite activities and hobbies
Getting plenty of rest
Spending time with friends and family
5. Allow Time to Heal
While physically isolating yourself from the situation is the healthiest decision in the long run, remember to give yourself ample time to process and grieve your emotions. You deserve health and happiness, and recovery starts with allowing yourself to move on. This can give you a better perspective, along with the drive and strength to address any negative feelings that may be hindering you from healing.
6. Seek Counseling
While it certainly helps to talk to a trusted friend or family member, pursuing counseling may be another necessary step for healing. Many people find that speaking with a therapist makes it easier to open up about a sensitive topic, as they can offer professional help and guidance.
Therapy can help you navigate the emotional stress and trauma from your relationship, helping you move toward healing. You may find exploring the situation and uncovering the deeper meaning behind these patterns to be highly empowering. Identifying the source of a feeling or issue is an important step in recovering and healing from a trauma bond.
A counselor can also help you identify signs of abusive or unhealthy relationships. That way, you can learn what a healthy relationship looks like and how to distinguish between trauma bonding and real love.

Consult Taylor Counseling Group for Trauma Therapy Services
If you're dealing with a trauma bond or another toxic situation, remember that you're never alone. Help is only a few clicks away. At Taylor Counseling Group, we offer professional counseling services in numerous locations across Texas. One of our highly trained and fully licensed counselors can work with you to customize a therapy treatment plan to your unique needs and circumstances.
Our Trauma Recovery counseling sessions are designed to help you organize the feelings, thoughts and behaviors that may have altered from your experiences. We can help you address the obstacles resulting from your trauma, allowing you to return to the life and mindset you desire. We accept most major insurance plans and offer high-quality care at affordable rates.
Our team is passionate about providing reliable, affordable and accessible care for anyone that needs it. Feel free to schedule a counseling session online with one of our specialists at any time.