Sometimes the fear of confrontation can get in the way of what we really want to say, which can put up a roadblock between us and healthy and effective communication. Though a fear of confrontation can be challenging, you aren't alone in this fear. Many people have conflict anxiety and don't have the tools to constructively ease this anxiety, but knowing the right techniques can help you overcome it.
Table of Contents:
Below, let's look at common reasons why people are afraid of confrontation and what conflict anxiety is, plus some tips on how to get over your fear of confrontation.
Why Am I So Afraid of Confrontation?
There are many different reasons why you may struggle with a fear of confrontation. Some common ones include:
Your upbringing let you down: If you've dealt with any kind of abusive relationship where you didn't feel heard, you may be shy about dealing with conflict now.
You have a fear of failure: If you're afraid to fail in various aspects of your life, this fear could have transferred over to dealing with conflict. After all, who likes being wrong?
You have a fear of not being liked: Not being liked might feel worse to you than being misunderstood during a conflict because of you being unable to speak your mind or deal with the conflict in the first place.
You are outnumbered: Talking to one person about how you feel or about how they might have let you down can be challenging enough without other people weighing in.
You lack confidence: Maybe you aren't confident that your social skills are up to snuff for you to get your point across clearly.
You speak before listening: If you don't give yourself enough time to digest what someone is saying, the response you come up with might be inappropriate or not what you ultimately want to convey.
If you know you're coming up on a challenging conversation, it's best to keep calm and prepare yourself ahead of time. Think about what it is you want to convey and how you want to convey it so your points come across clearly and as expected. Your calm approach to the discussion may also help calm the other person involved.
What Is Conflict Anxiety?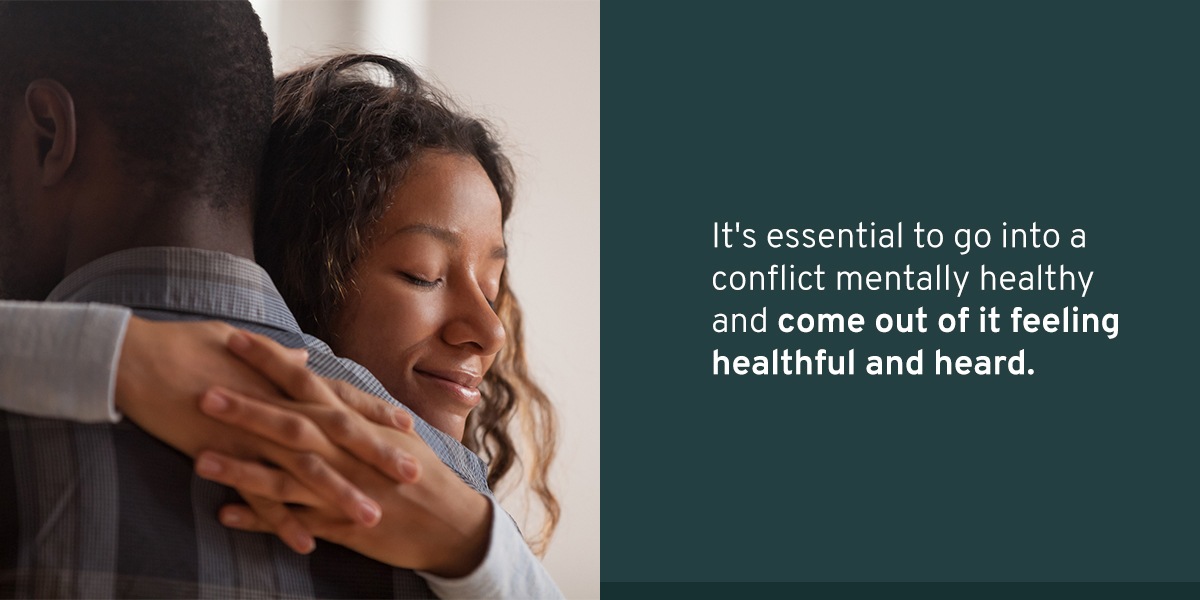 If you have conflict anxiety, you might feel fearful before, during and after a confrontation, or you might avoid confrontation altogether. For example, maybe you avoid serious but necessary conversations about relationships. You may even avoid telling someone you feel wronged after they've disrespected you or your belongings.
Conflict anxiety can be a roadblock to healthy communication. Why? Because most relationships come with their fair share of conflict, whether personal or professional. It's essential to go into a conflict mentally healthy and come out of it feeling healthful and heard so that your relationships can stay stable and honest.
Though it may not be easy, standing up for yourself at home and at work is crucial to your happiness and emotional growth.
How to Overcome Fear of Confrontation
Manage your confrontation anxiety more effectively by keeping in mind some of the below tips — and remember that it's a process. It's okay if it takes you several tries to begin growing your confidence.
Identify your problem: One part of overcoming a challenge is admitting the challenge exists. Sure, it can feel safe and easy not to confront a challenge, but if done in a healthy way, addressing challenges can lead to a more rich emotional life. Maybe your relationship with your partner has been strained lately because you aren't spending enough one-on-one time together. Whatever problem may come with confrontation, it's best to identify it as soon as possible.
List the positives of speaking up for yourself: Take out a piece of paper and write down the positives that may come from speaking up for yourself during a confrontation. You might find that these outweigh your fear or at least help diminish it. For example, you could be happier in your relationship or feel more comfortable at work if you speak up. You never know! Keep this list with you so that no matter what confrontation pops up, you don't feel tempted to stay quiet during it or avoid it altogether.
Reconsider what you know about confrontation: Sometimes we fear the unknown or even what we think we know. Maybe because of your past experiences, you believe confrontation means arguing or the end of a relationship, but it doesn't have to mean either of these. It can be a healthy discussion that aids you and whoever you're confronting with emotional growth. Maybe you haven't had the chance to experience healthy confrontation. If that's the case, educating yourself on honest and clear communication is a great way to start feeling more comfortable about the topic.
Don't overwhelm yourself: Take small steps when easing your anxiety surrounding confrontation. For example, it may be fruitful to avoid choosing the biggest challenge for your first step. Maybe your boss is a particularly tricky person to be honest and open with. If that's true, it may not be best to start your journey with confronting them. Consider choosing a safe person to confront first. Let's say your kind and open roommate hasn't done the dishes in a week. Try confronting them about it kindly and with "I" statements.
Stay calm and use "I" statements: Staying calm is great advice for any situation you find challenging. Staying calm will help you avoid saying something you don't mean and help the other person you're speaking to stay relaxed. One way to foster this sense of calm during a confrontation is to use "I" statements instead of "you" statements. Rather than saying, "You don't respect my opinion about money," say, "I don't feel heard when we discuss money." "I" statements sound less aggressive and accusatory and will help defuse any natural tension.
Practice when possible: Every time you confront someone, you'll likely learn something new. Maybe you feel more comfortable dealing with confrontations when you're in your own home. Maybe you prefer a good phone call. No doubt, confronting different people may have you using different tools from your toolbox — the specifics of which you'll learn more about as you confront various types of people. Take it slow! Don't confront everyone you intend to all in one day. Take small steps and continue your learning process from there.
Visit Taylor Counseling Group for Anxiety Treatment Services
Here at Taylor Counseling Group, we're dedicated to giving you the tools you need to begin treating your anxiety symptoms. We are interested in both your symptoms and their root cause. We want you to understand yourself on a higher level and believe that treatment for these symptoms will be effective. If you're struggling with confrontation anxiety, we'd love to help.
Learn more about our values and how we'll work to help you, and feel free to get in touch with us.