Going on a mental health journey is a wonderful way to invest in yourself and your emotional well-being. However, bettering your mental health can be a long, complicated, sometimes frustrating process. If you're dealing with anxiety, depression or stress, figuring out where to go from here might feel a little overwhelming.
Downloading an app is an easy and accessible step you can take today to help you on your mental health journey. Browse through this list of mental health and mindfulness apps to find one that's a good fit for you.
11 of the Best Mental Health Apps
It can be challenging to find your path forward when you're struggling emotionally. Luckily, you can access tons of resources to help you navigate your mental health using your smartphone. Here's a list of some of the best mental health apps available now.
1. Empifany
Empifany is built to help you navigate your emotions, especially when you're not feeling like yourself. A team of mental health professionals created and approved Empifany to guide users toward emotional well-being.
Log your mood and anything you're feeling in the Empifany journal inside the app. Since there are no journalling requirements or prompts, you can tailor your experience in the app to your specific needs. Empifany also offers prerecorded sessions, meaning you can log on and listen any time you need.
2. PTSD Coach
PTSD Coach was created and developed by Virginia's National Center for PTSD and DoD's National Center for Telehealth & Technology for those with posttraumatic stress disorder (PTSD).
This app has an average rating of 4.7 out of 5 stars on the Apple App Store and provides resources, information about professional care, self-assessments and tools to help people with PTSD manage day-to-day life. You can also use a computer with Google Chrome to access the desktop version, PTSD Coach Online.
3. Recovery Record
Recovery Record helps those struggling with eating disorders such as bulimia nervosa, anorexia nervosa, binge eating disorder and avoidant/restrictive food intake disorder (ARFID). It can also help people with more general eating and body-related concerns.
Recovery Record offers the following features:
Meal logs where you can track meals, thoughts and feelings
Affirmations and reflections
Charts showing insights, progress and trends in your recovery
The option to link up with your treatment team
Opportunities to send and receive encouraging messages to and from other users
If you or a loved one are struggling with disordered eating, consider downloading Recovery Record for free today.
4. Talkspace
Talkspace matches you with a licensed therapist in your state to help you get mental health care from the comfort of your own home. You can connect virtually with counselors via text, audio or video. In one study, 80% of participants found Talkspace equally or even more effective than in-person therapy.
Talkspace is one of the more expensive mental health apps out there, with monthly subscription plans starting at $65 per week. However, the benefits include access to 24/7 support from a licensed counselor.
5. Moodfit
Moodfit believes that everyone can benefit from improving their mental health. You can use the Moodfit app with any mindset, whether you're struggling or thriving. With Moodfit, you can:
Track your moods and address negative emotions.
Make connections between your mood and factors such as sleep, nutrition and exercise.
Keep a record of specific variables like caffeine intake.
Practice breathing exercises to increase feelings of calm.
Work on daily goals to improve mental health.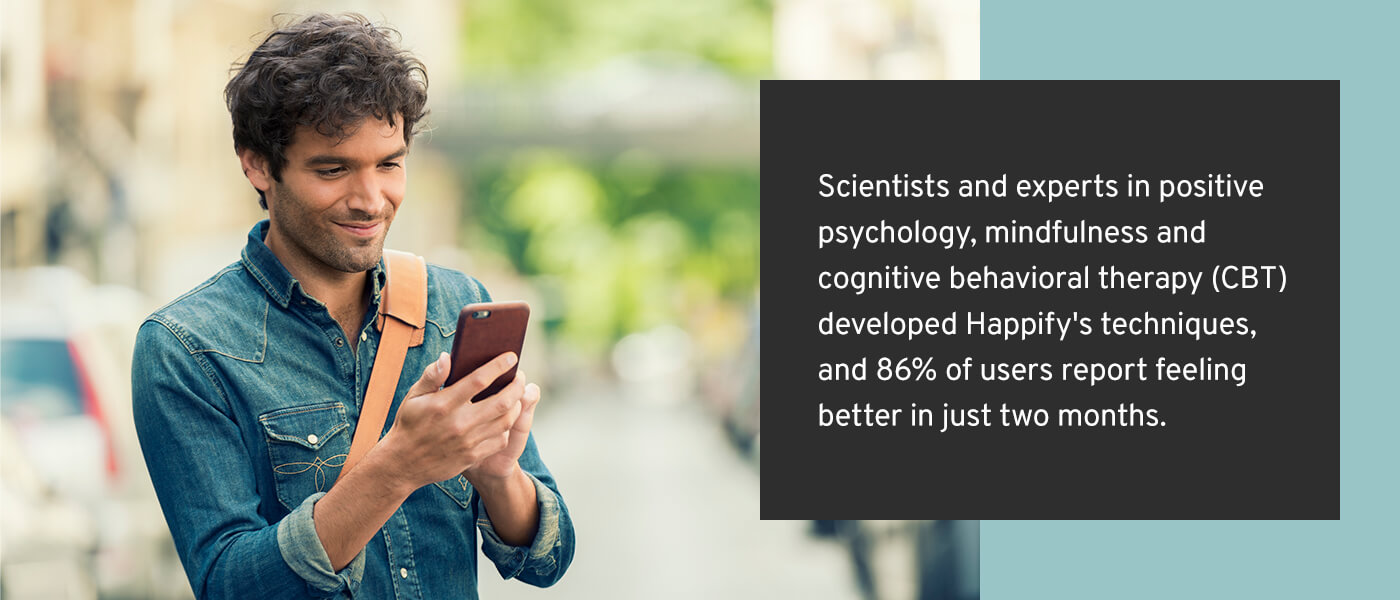 6. Happify
With Happify, you can play science-backed games that help overcome feelings of stress and anxiety. Scientists and experts in positive psychology, mindfulness and cognitive behavioral therapy (CBT) developed Happify's techniques, and 86% of users report feeling better in just two months.
You can choose from over 65 tracks, each focusing on different goals, including:
Conquering negative thoughts.
Fueling career success.
Building self-confidence.
Happify has a free version as well as premium subscriptions that start at just $11.67 per month when purchasing a yearly subscription.
7. Shine
Shine was founded by two women of color dedicated to making mental health care more representative and accessible. Shine's meditation topics include:
Intro to Meditation
AAPI Mental Health
Finding joy
Black Mental Health
LGBTQ+ Mental Health
Self-love
Forgiveness
Latinx Mental Health
Journaling
Burnout
Users love Shine, and the Apple App Store featured it in their Best of 2020 list. Explore daily meditations, weekly courses and monthly virtual workshops by downloading Shine today.
8. Bearable
Bearable aims to show you the connections between your actions and their effect on your mental health. If you're tired of juggling multiple apps to track your mood, symptoms, exercise, nutrition and sleep, Bearable might be for you!
Bearable allows you to:
Record your mood, energy, sleep, medication, habits and more.
Spot patterns in your health.
Make notes so you can come prepared to doctor appointments.
Customize reminders for diary entries.
Export data.
Join the 73% of users who say Bearable has given them better control over their mental health.
9. Calm
Calm is one of the most popular meditation apps out there. The guided meditations between 3 and 25 minutes long let you find exercises that fit your busy schedule.
Along with meditation exercises, Calm offers Sleep Stories to help you fall asleep on restless nights when you feel overwhelmed, nervous about the next day or otherwise unable to drift off. To make things even better, these Sleep Stories are narrated by well-known people like Idris Elba, Kate Winslet and Matthew McConaughey.
10. NOCD
NOCD was made by and for people with obsessive-compulsive disorder (OCD) and features some of the world's top experts. The app offers live video-based therapy, letting you match with a licensed therapist in your state so you can receive treatment without leaving your home.
With NOCD, you can:
Message your therapist any time.
Learn strategies that help other people.
Personalize your treatment plan.
11. iBreathe
iBreathe is a simple and effective tool that guides you through exercises for deep breathing. iBreathe is intuitive to use and offers a beautiful user interface that will add to the atmosphere of meditation and relaxation. You can also integrate the app with Apple Health for a more cohesive experience. iBreathe has a 4.8 average rating on the Apple App Store so join today to see what the community loves about iBreathe.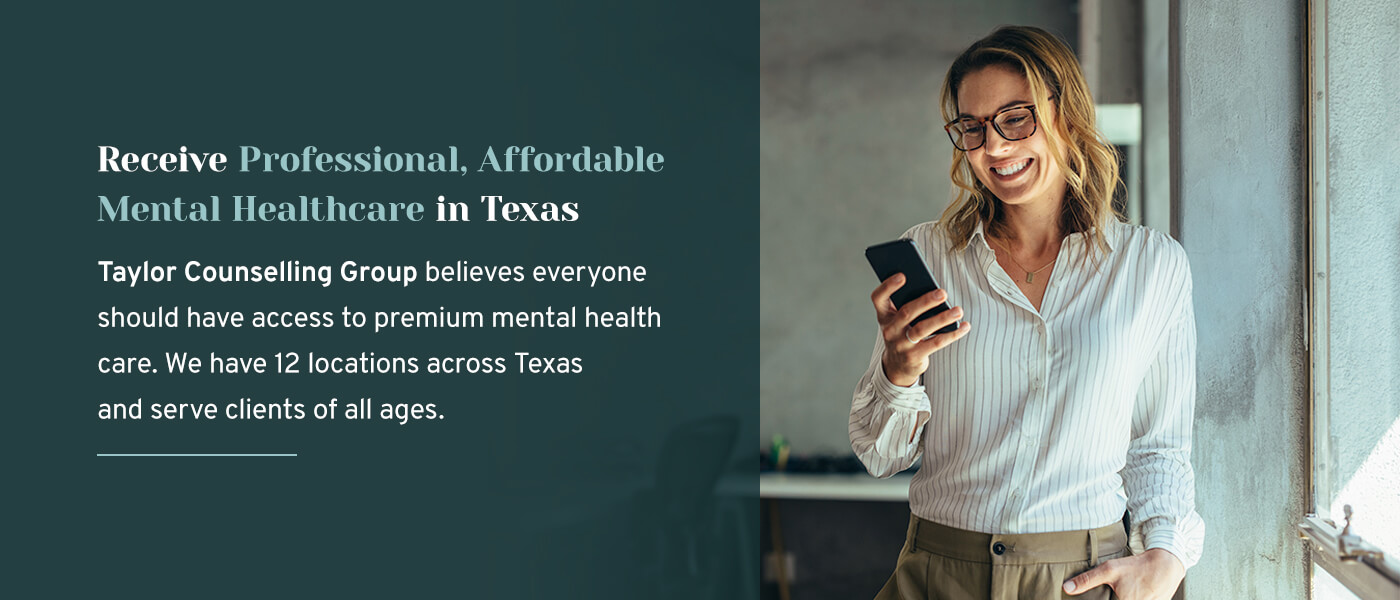 Receive Professional, Affordable Mental Healthcare in Texas
If you want to take your mental healthcare a step further, consider scheduling a counseling appointment with Taylor Counseling Group.
Taylor Counselling Group believes everyone should have access to premium mental health care. We have 12 locations across Texas and serve clients of all ages. Our services include family therapy, couples counseling, individual counseling and more. Request an appointment today to schedule your first counseling session.