While a restful night's sleep is good for our physical health, a relaxing evening routine is just as important for our minds. Eliminating stressors and performing mindful activities before bed can lead to reduced anxiety and depression, better concentration and improved memory.
Healthy evening activities can also promote better sleep, so you wake up happier and more refreshed in the morning. Keep reading to learn the importance of nighttime relaxation techniques and tips for building an evening mindfulness routine.
Night Mental Health Routines
Adults typically need at least 7 hours of sleep. In the U.S., between 33% and 50% of adults experience symptoms of insomnia. These troubles can develop into chronic insomnia, which can contribute to issues such as high blood pressure, driving accidents and depression or anxiety.
Within our bodies is a relaxation response, the opposite of the stress response. This psychological shift is associated with less stress and depression, lower blood pressure and reduced pain.
Practicing an evening mindfulness routine can elicit your relaxation response and put your mind and body at ease. The following are just a few benefits of following a nighttime routine for success:
More restful and higher-quality sleep
Greater productivity the following morning
A sharper mind and less brain fog throughout the next day
If you want to access those benefits, try following these six mindful activities before bed.
1. Stick to a Sleep Schedule
You'll maintain your emotional well-being and appreciate several physical health benefits by getting the proper amount of sleep. Following a consistent sleep schedule will also help your body naturally wind down at the same time every night.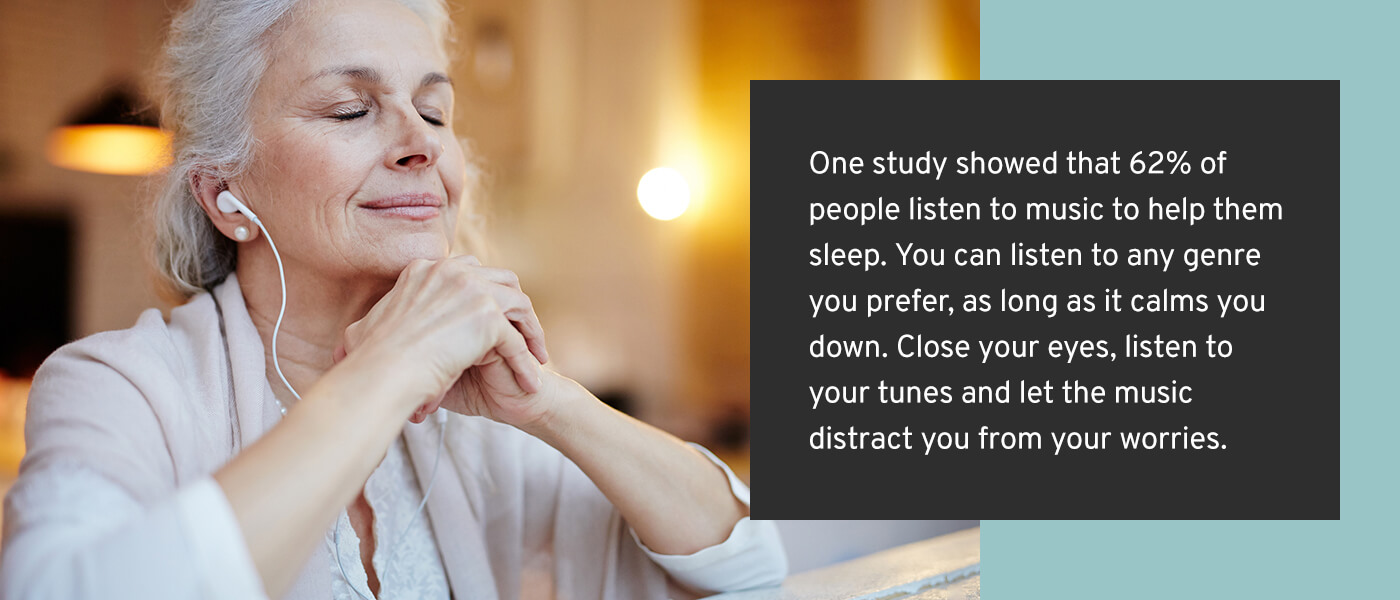 2. Listen to Music
Music has the power to lift our mood and relax the mind and body before bed. One study showed that 62% of people listen to music to help them sleep. You can listen to any genre you prefer, as long as it calms you down. Close your eyes, listen to your tunes and let the music distract you from your worries.
Ambient sounds can also be great for relaxing and falling asleep. Pink noise, like waves or rain, can improve sleep quality, while white noise can mask outside noise to help you fall asleep faster.
3. Try Mindfulness or Relaxation Techniques
After a stressful day of work, mindfulness and relaxation techniques can do wonders to alleviate anxiety and help you calm your mind and body. Relaxation techniques like yoga, deep breathing and progressive muscle relaxation can help you release stressors from the day:
Progressive muscle relaxation: This technique can significantly relax your muscles and calm you down when you're particularly stressed or anxious, making it the ideal nighttime routine for anxiety. To practice progressive muscle relaxation, start by tensing one group of your muscles. Hold that tension for 10 seconds and release it slowly while exhaling. Repeat the process with the rest of your muscle groups.
Deep breathing: You'll notice several benefits from deep breathing, including a sense of calm, reduced stress and anxiety and lower blood pressure. This practice serves as a foundation for meditation and mindfulness because it helps you focus on the present moment. Simply take a few deep breaths in the evening to experience the calming effects of this practice.
Yoga: Yoga is an ancient art combining deep breathing with specific movements and postures. The physicality of this practice can promote mental focus, reduce racing thoughts and relieve stress and anxiety, making it an excellent nighttime routine for success. Working on a yoga routine every evening can also help you improve your flexibility and balance.
4. Participate in Quiet Activities
Try to avoid your TV, phone, computer and other electronic devices for at least 30 minutes before you go to sleep. While it may be tempting to scroll social media or catch up on your favorite show, the blue light that emits from these devices can inhibit your natural sleep cycle and make it challenging to get restful sleep.
Consider replacing your screen time with these quiet activities as a nighttime routine for anxiety:
Take a warm bath: Warm water raises your body temperature and helps relax your muscles. Experts say that taking a warm bath an hour before bedtime can significantly improve sleep quality.
Journal: Writing can help you reduce stress and get any anxious thoughts off your mind at the end of the day. Use your evening hours to write down any concerns weighing on your mind and unpack those stressors from your day. Doing so can help you avoid taking your worries with you to bed and help you sleep better.
Read a good book: Reading can help strengthen your brain, alleviate stress and increase your imagination. It's also a fun distraction after a long and busy day.
5. Watch What You Consume
Cut out caffeine, alcohol and sugar before bed. Desserts, coffee, soda and energy drinks can inhibit your body's natural energy cycle and make it harder to fall asleep. It's also essential to avoid eating large meals before bedtime as they can interfere with digestion and reduce your sleep quality.
Instead, opt for a small snack if you feel hungry before bed. Studies show that a snack under 150 calories might help break down muscle tissue and rebuild metabolic health as you sleep. Other foods, such as a glass of milk, might be emotionally comforting and help you relax as part of a regular evening routine.
6. Practice Gratitude
Thinking about the things you're most grateful for can help you feel happier and more appreciative of your life. When you're feeling sad or stressed at the end of your day, open up a journal and jot down a few specific things you're grateful for.
You might also create a scrapbook of fond memories and pictures of the people who are most meaningful to you. Try calling or texting those people to let them know how grateful you are for them. Practicing your gratitude in the evening will generate positive emotions, so your day ends on a high note.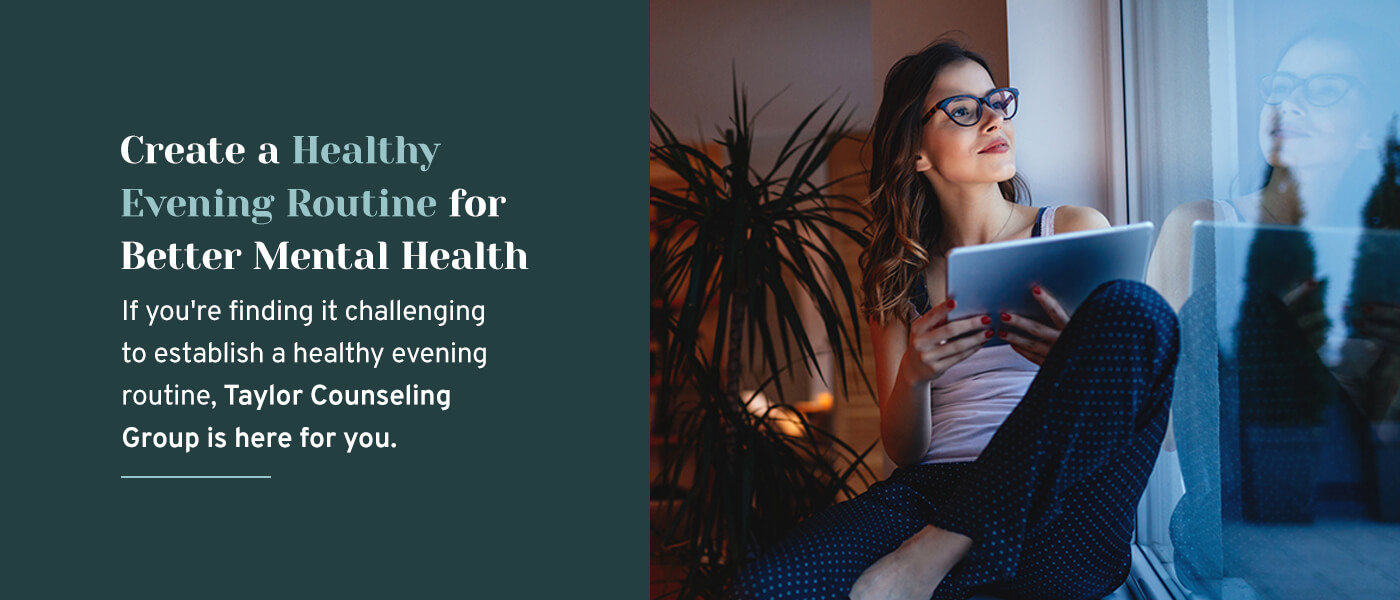 Create a Healthy Evening Routine for Better Mental Health
A great way to care for your mental health is to plan out a nighttime routine for success. You'll enjoy less stress, better sleep and an overall improved mood.
If you're finding it challenging to establish a healthy evening routine, Taylor Counseling Group is here for you. Our highly trained team of counselors will work with you to help you overcome your worries and work toward a healthier future. Appreciate a calm environment and affordable, compassionate counseling services for your needs.
To start your mental health journey, schedule an appointment with us today.