When it comes to decisions about your mental health, you know what's best for you. But if you are thinking about going to therapy to help you through a divorce, it's likely a good idea. Divorce can be a challenging and emotional process, and having a professional to talk to can help you navigate the challenges that come with it.
Therapy can help you strengthen your coping skills, provide emotional support and improve your mental health and well-being. Continue reading to learn more about divorce counseling and the benefits it can provide you and your family.
How Does Divorce Therapy Work?
Divorce therapy is a form of therapy that is designed to help couples navigate the challenges and emotions that come with the divorce process. While divorce attorneys are not therapists, they often recommend therapy to their clients during this challenging time.
During therapy, you can work through various issues, including:
Communication
Anger management
Co-parenting
Coping with the emotional stress of the divorce
Therapists can help you develop a plan for moving forward, including setting goals and creating a support network. You might gain more clarity about the decision to divorce, which can help you heal and co-parent better.
It's important to note that therapy is not a one-size-fits-all solution. Choose a therapist who specializes in divorce and has experience working with people in similar situations. If you are unsure whether therapy is right for you, schedule a first-time appointment with a therapist to discuss your concerns and determine if it's a good fit.
Overall, divorce counseling aims to help individuals healthily navigate the divorce process. It can help you manage emotions, communicate effectively and develop the skills needed to move forward positively.
Benefits of Seeking Therapy During a Divorce
Divorce can be overwhelming, and seeking support from a therapist can be highly beneficial for many individuals. Here are some potential benefits of divorce counseling:
Emotional Support
Going through a divorce can be an emotionally challenging time for many people and families. During this process, you might experience various emotions such as anger, sadness, confusion and anxiety. The support of a therapist can be a valuable resource for you as you navigate the many changes and challenges that can arise.
In therapy, you can expect a safe and compassionate space to express your feelings freely. Therapists specializing in divorce can provide emotional support and guidance throughout the process as well as empathy, understanding and validation, which can be especially important when friends and family members may not fully understand the complexities of the situation.
Another benefit of divorce therapy is that it can help individuals rebuild their self-esteem and confidence. Going through a divorce can be a blow to one's self-esteem. Counseling can help individuals identify their strengths and work on their weaknesses, leading to greater self-awareness and a stronger sense of self.
Coping Strategies
In divorce counseling, therapists aim to help clients develop coping strategies to manage the emotional and practical challenges of a divorce. Common coping strategies taught in therapy include mindfulness techniques, such as deep breathing and meditation, cognitive restructuring to challenge negative thoughts and beliefs and communication skills to help navigate difficult conversations with a spouse or ex-partner.
Therapists may teach clients how to manage their emotions and stress levels through self-care practices like:
Exercise
Healthy eating
Adequate sleep
Mindfulness activities
Therapists can also work with clients to develop a support network of friends, family or other resources to provide additional emotional support during the divorce process. Through therapy, clients can learn to process their emotions healthily and develop a sense of control over their lives during an overwhelming time.
Communication Skills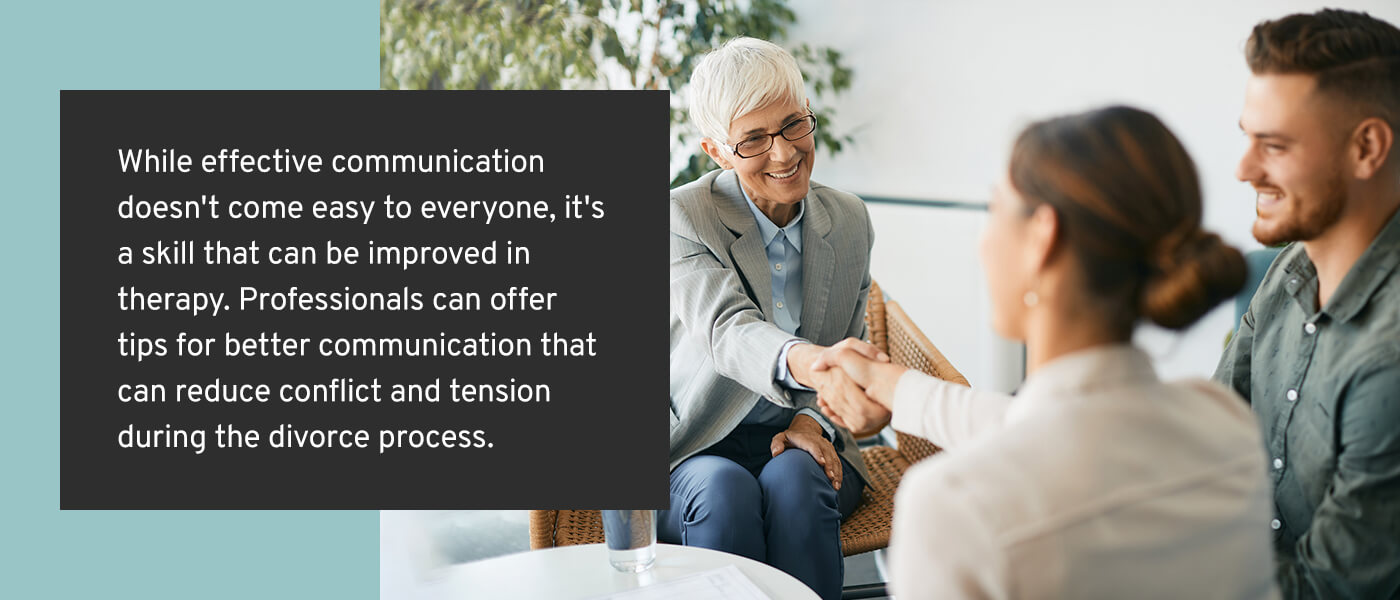 Effective communication is an essential skill that is especially beneficial during the divorce process. Communication skills can also be applied to co-parenting, managing relationships with extended family and future romantic relationships.
While effective communication doesn't come easy to everyone, it's a skill that can be improved in therapy. Professionals can offer tips for better communication that can reduce conflict and tension during the divorce process. You'll learn to recognize and understand your communication style and develop more effective communication skills, such as active listening and conflict resolution techniques.
By learning how to communicate more positively and productively, clients may be better able to navigate the challenges of divorce and maintain healthy relationships with their family members and loved ones.
Improved Mental Health
Divorce therapy provides a space for you to prioritize your mental health and well-being. Therapy can help individuals manage anxiety, depression and other mental health concerns that may arise during the divorce process. You'll have the opportunity to process your emotions and improve your coping skills.
Professionals can help you identify negative thought patterns and behaviors that might contribute to your mental health challenges and provide tools to replace them with positive ones. Therapists can also help clients address any mental health conditions that may be exacerbating their stress or emotional difficulties during the divorce process, such as depression or anxiety.
You'll also explore your values, goals and strengths in therapy. This can help you improve your self-esteem and sense of self-worth, which can be especially important during a divorce when individuals might feel like their sense of self is being challenged or lost. Therapists can help you re-discover your identity and build a new vision for your future that aligns with your values and goals.
Personal Growth
One of the most significant aspects of divorce therapy is its potential for personal growth. You'll enter a space where you can explore your feelings, gain insight into your behaviors and learn new coping strategies. Through therapy, you'll develop a deeper understanding of yourself and your needs and values, which can help you make positive changes in your life.
Divorce counseling can help individuals:
Take responsibility for their actions and emotions.
Communicate effectively.
Set healthy boundaries.
Develop a more positive self-image.
Increase self-awareness.
Work through grief and move toward healing and acceptance.
By addressing these issues, you might develop more confidence and emotional resilience, which can help you navigate future challenges more effectively.
Heal and Build Resilience With Professional Divorce Therapy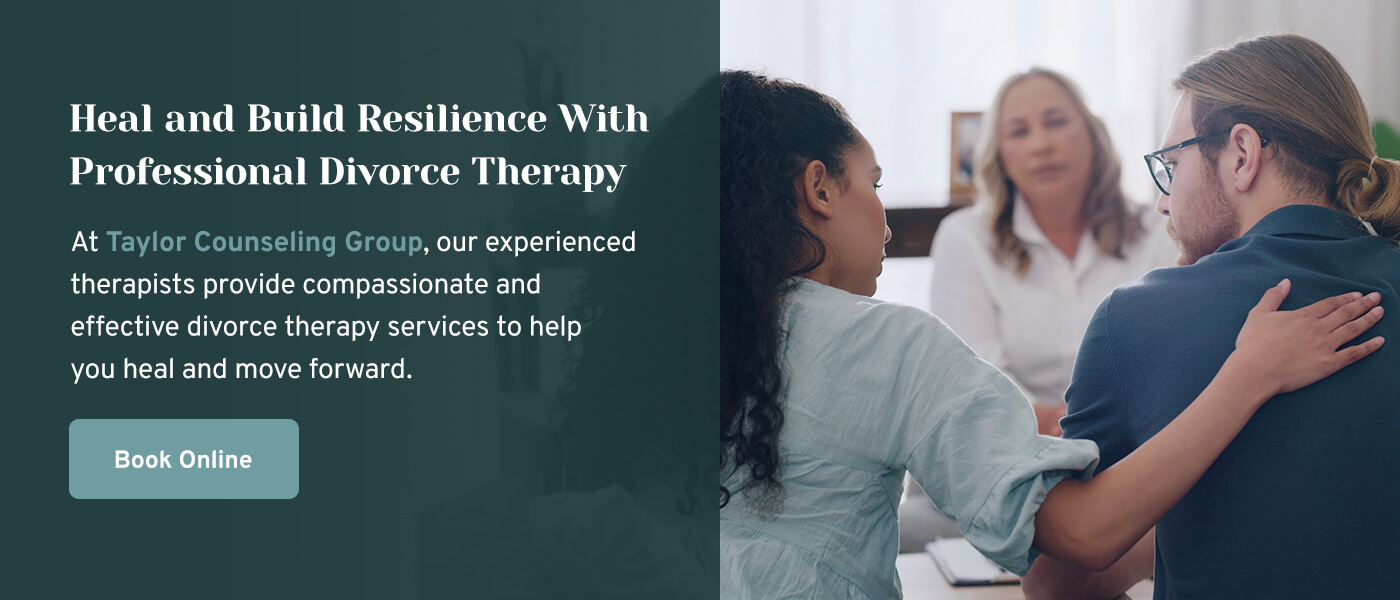 Divorce can be a challenging experience. Whether you're experiencing hurt and sadness or frustration with a former spouse, it helps to have someone on your side to help you process your emotions and heal. Professional divorce therapy can help you work through feelings of grief, loss and uncertainty and emerge from the divorce process with greater strength and resilience.
If you're struggling with a divorce, consider seeking the support of a professional therapist. At Taylor Counseling Group, our experienced therapists provide compassionate and effective divorce therapy services to help you heal and move forward. To get started, schedule your first appointment and take the first step toward a brighter future.
Links:
Reference:
https://www.fenchelfamilylaw.com/blog/2020/june/should-i-go-to-therapy-during-my-divorce-/
https://www.regain.us/advice/divorce/why-should-you-see-a-divorce-therapist/
https://www.divorcemag.com/blog/why-you-should-go-to-therapy-during-your-divorce https://www.emilycooktherapy.com/benefits-of-counseling-during-divorce/
https://www.mckinleyirvin.com/family-law-blog/2020/october/three-benefits-of-seeking-therapy-during-divorce/