Athletes must maintain their mental health to balance the pressures to succeed and perform well during competitions. While more and more athletes and coaches are beginning to recognize the importance of mental health in sports, mental health has historically been an unspoken issue within the realm of athletics. Thanks to recent examples of professional athletes advocating for mental health awareness, mental health is beginning to lose its stigma in athletics.
Jump Ahead:
For a more comprehensive understanding of athletes and mental health, we'll discuss the importance of mental health in sports, how elite athletes have addressed mental health, how mental health affects student-athletes, and ways to improve mental health. Learn more about the benefits of engaging with mental health in sports.

The Importance of Mental Health in Sports
The World Health Organization (WHO) discusses mental health in terms of a state of well-being. Individuals with strong mental health realize their own abilities and can cope with the everyday stresses in their lives. Mental health involves physical, social and mental well-being. A person's physical health and social situations can positively or negatively impact their mental well-being, and vice versa.
While diagnosed psychiatric disorders such as anxiety and depression can affect mental health, they do not prevent someone from achieving good mental health. Just the same, someone without a diagnosed condition can struggle with their mental health and coping with the stressors they face in their daily lives. Everyone experiences regular mental stressors, such as pressure from school, shortcomings in our careers or conflict in a relationship. A state of good mental health helps us understand how to cope with these stressors, appropriately grieve and adjust to the challenges we face in everyday life.
For an athlete to perform well, they must prioritize their mental health as much as their physical health. The psychology of sports performance concerns the mental performance of athletes and how mental skills training can enable them to accomplish more within their sport. The goal of mental skills training for athletes is self-regulation, which helps athletes perform well regardless of the conditions they face. Self-regulation helps athletes cope with anxiety before a game, motivate themselves to keep practicing, and stay calm and collected when experiencing hardships in and outside their sport.
Mental skills training helps athletes overcome mental stressors and return to a state of good mental health more quickly by boosting their proficiency in self-regulation. Athletes equipped with mental skills training are better at adjusting and adapting mentally when they face obstacles to deliver outstanding performances. For this reason, numerous athletes partner with sports psychologists, therapists or counselors to develop their mental skills.
What Is Sports Anxiety?
The immense pressure to perform in athletics can create intense anxiety before a match, game or any other type of competition. This condition can be called sports anxiety, sport-related anxiety or performance anxiety. While some athletes experience this anxiety as a motivator to perform well, studies show that experiencing anxiety before or during an athletic competition can interfere with an athlete's performance.
The tense state that anxiety puts the body in makes it more difficult to execute the coordinated movements athletic events require. Besides causing physical setbacks, anxiety also brings negative thought patterns and expectations of failure that can easily turn into self-fulfilling prophecies. In this way, sports anxiety inhibits an athlete's physical and mental performance.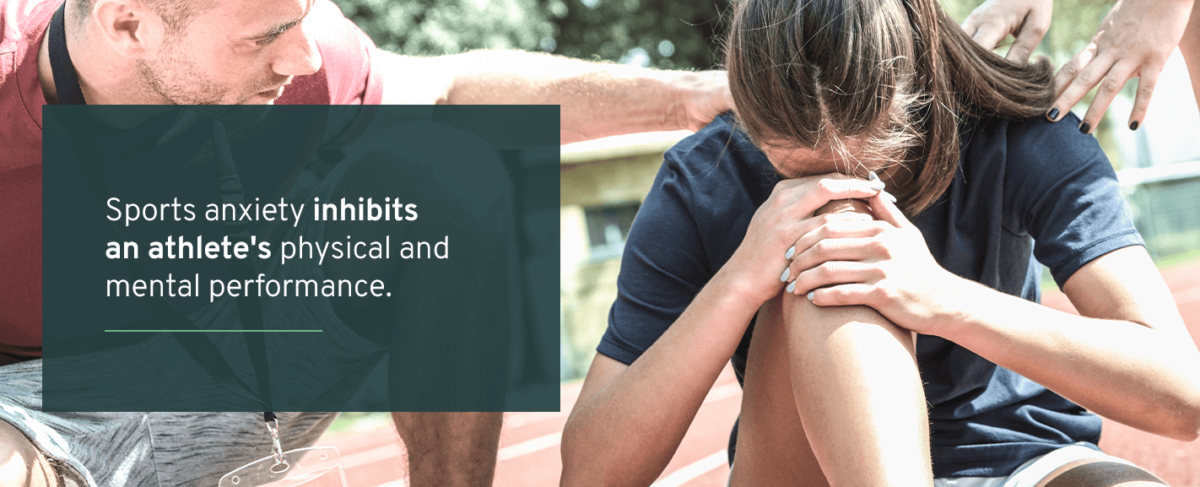 What Triggers Sports Anxiety?
Certain types of athletes are more prone to experiencing sports anxiety than others. In general, amateur athletes, who are not as used to the intense pressures of the sports world as seasoned professionals, experience more crippling performance anxiety. Most often, amateur athletes just need more practice with self-regulation and managing their pre-performance nerves.
Along with amateur athletes, athletes who compete in individual sports may experience more performance anxiety than athletes who participate in team sports. Sharing the pressure to perform with teammates makes the burden a bit easier to bear for team-sport athletes. Finally, in both team sports and individual competitions, sports anxiety is often triggered when an athlete is competing at an away venue rather than their home venue.
What Other Mental Health Issues Occur in Sports?
Along with performance anxiety, the stress involved in athletics can also contribute to other mental health struggles. Specifically, common mental health challenges found in athletes include:
Depression
Overtraining
Sleep disorders
Attention-deficit or hyperactivity disorder
These mental health conditions can be exacerbated by certain aspects of athletic culture and environmental factors. Athletes may be exposed to distressing situations that may detract from mental health, such as:
Injury
Hazing
Sexuality and gender issues
Sexual misconduct
Transitioning from a sport
Professional Athletes and Mental Health
Although mental health issues are common in athletes, the importance of athletes' mental health has only started to gain attention in recent years. It can be easy for elite athletes to feel an immense burden to perform well or struggle to separate their identity from their athletic performances, which makes maintaining a stable state of mental health all the more challenging.
A 1993 study found that athletes who achieved success as world champions experienced greater demands, which compromised future high-level performances in two-thirds of these champions. Only one-third of these athletes could successfully control both the expectations they placed on themselves and the external expectations from sponsors, the media and public appearances. Few of these athletes had the appropriate support in coping with increased demands.
At the same time, elite athletes are battling the stigma that being open about mental health issues is a sign of weakness. For this reason, mental health has not traditionally been discussed within the realm of professional sports despite many athletes feeling the weight of anxiety and other mental health struggles.
In 2018, professional basketball player DeMar DeRozan attempted to break the silence surrounding mental health in sports by tweeting about his experience with depression. This open acknowledgment of his personal struggles sparked a larger conversation in the NBA and other professional leagues about mental health.
In an interview following the tweet, DeRozan reminded the world that everyone is human, and everyone struggles with the same emotional hardships. He emphasized the importance of treating everyone with respect because everyone is dealing with their own emotions and internal battles. DeRozan's courage to speak out inspired numerous other professional athletes to start being more candid about their mental health, too.
For example, the following week, Kevin Love, another professional basketball player, wrote a detailed personal essay about his experience with anxiety and panic attacks. His powerful message reminded fans that everyone has some struggle that's not always visible to others. Throughout the article, Love addressed the stigma around mental health and the importance of taking power away from the stigma by talking about mental health more honestly.
Love also emphasized how seeing a therapist helped him manage his mental health better and minimize his anxiety. He praised DeRozan for his mental-health advocacy and willingness to speak up. Considering Love and the many other professional athletes who have publicly commented on their mental health since DeRozan's tweet, DeRozan's legacy will forever be associated with his work towards normalizing the discussion of mental health among elite athletes.
Olympians and Mental Health
Within the realm of world-class athletes, Olympians, in particular, have recently advocated for mental health awareness. Specifically, two of the world's biggest sports superstars — tennis player Naomi Osaka and gymnast Simone Biles — have taken center stage for promoting mental health awareness.
Osaka started receiving attention for mental health advocacy before the Tokyo Olympic Games even began. At the French Open months before, Osaka declined to attend a press conference to preserve her mental health, resulting in a fine and her withdrawal from the competition. In a subsequent article she wrote for Time magazine, Osaka requested more privacy and empathy from the media.
Osaka pointed out the harsh scrutiny that elite athletes are under and the unfair expectations placed upon them. However, she also highlighted the valuable lesson the French Open incident taught her — that everyone suffers from issues related to mental health or knows someone who does. The number of messages Osaka said she received since the French Open confirms that humans are all connected by our shared emotions.
The outpouring of support for Osaka also came from fellow professional athletes, such as Steph Curry, Michael Phelps and Novak Djokovic, alongside other public figures like Michelle Obama and Meghan Markle. Phelps even told Osaka that by speaking up, she might have saved a life.
Later, at the Olympic Games, Biles became the next high-profile Olympian to shed light on athletes' mental health. Despite being a fan-favorite Olympian, Biles withdrew from the gymnastics team final and several individual events. Biles said she needed to withdraw to focus on her mental health after experiencing the "twisties," a term gymnasts use when they feel as if they get lost in the air during routines.
Days later, when she was physically and mentally fit to compete, Biles came back to win a bronze medal on the beam. Osaka and other mental health advocates like Phelps and Oprah Winfrey praised Biles' brave decision to put her mental health first. Together, Biles and Osaka demonstrated the complexity of athletes' mental health and propelled the progress toward openly discussing mental health and performance.
Student-Athletes and Mental Health
Along with professional athletes and Olympians, student-athletes face their own set of mental health challenges. Student-athletes at any level are expected to balance their athletic performance and practice schedule with classes, homework and other extracurricular activities. The uniquely demanding culture of intercollegiate athletics can place extreme pressure on young athletes.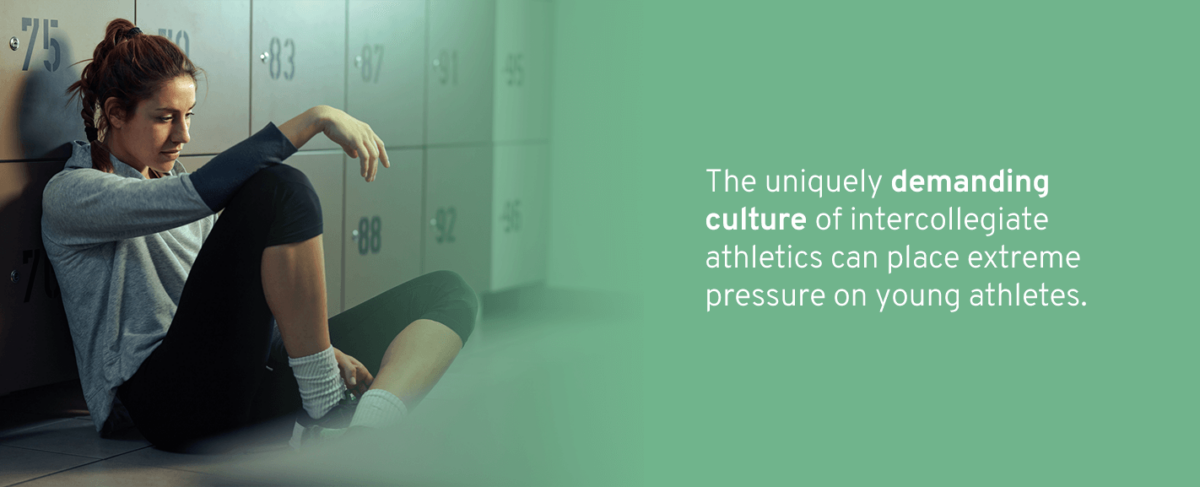 Even within their sport, student-athletes face enormous demands, including daily practices, competitions that may require travel, strength and conditioning programs, sports medicine or physical therapy sessions and more. These schedule demands often leave little time for social interactions or self-care practices.
Over time, this immense pressure can have negative effects on a student-athlete's mental health. Symptoms may appear as an inability to perform at their full potential during competitions or struggles outside of their sport. Colleges and universities must adopt ways to meet the mental health needs of their athletes.
The most common models that colleges and universities use to structure their athletic psychological resources include:
Full-time athletics department sports psychologist: Many colleges and universities employ licensed counselors or clinical psychologists with graduate training related to sport psychology or physical education. They may offer individual counseling and connect student-athletes with services for substance abuse or eating disorder treatment when necessary. They might also provide staff education and establish mental health initiatives on campus.
Part-time counselors: This model involves bringing in external counselors to work with the athletics department at a given time. These professionals provide all the same services as full-time sports psychologists for fewer hours per week. This model is often used by schools that want to provide psychological care for their athletes but do not have the budget for a full-time position.
Referral model of services: This model does not include an on-campus sports psychologist. Instead, the school finds an outside provider, such as counselors in the nearby area who will accept referrals for student-athlete psychological matters.
Tips for Managing Sports Anxiety
Despite the daily pressures they face, many professional athletes can keep their sports anxiety to a minimum and consistently perform well. Research shows that a critical characteristic professional athletes possess is confidence. When you have confidence in your abilities, you are more likely to react positively to adrenaline and thrive on the challenge of competition.
In situations that elicit adrenaline, such as game time, professional athletes are more likely to interpret this rush of energy as excitement rather than anxiety. Generally, self-confidence is highest when someone believes in their ability and feels they have prepared properly for the competition. In the same way that they prepare their bodies for competition, athletes can train their minds to be confident instead of anxious before a competition.
Here are some effective confidence-boosting and anxiety-reducing strategies to try before your next competition:
Make sure you have trained enough that you can feel confident in your skills heading into the competition.
For competitions at an away venue, ask close friends and family members to be there and cheer for you.
For individual sports, try to generate more of a "team spirit" sentiment by befriending other competitors or at least wishing them good luck.
Try self-help books and commitment therapy to learn how to interpret adrenaline before or during competition as positive or acceptable instead of negative.
Reduce any negative thought patterns that contribute to sports anxiety through cognitive behavioral therapy with help from a counselor.
Practice progressive muscle relaxation techniques to calm your nerves whenever you feel yourself starting to become overwhelmed with performance anxiety.
Spend time visualizing yourself succeeding at your sport or accomplishing a specific goal as part of your regular practice.
Attend regular therapy sessions aimed at managing sports anxiety and other sports-related aspects of mental health.
Let Taylor Counseling Group Help You Manage Your Mental Health
If you're an athlete at any level, Taylor Counseling Group can help you balance your mental health with the pressures of your sport. Whether you want to prevent sports anxiety or manage another aspect of mental health, Taylor Counseling Group can help you take care of your mental health, so you're always at the top of your game.
At Taylor Counseling Group, we offer professional, affordable individual counseling services for athletes. We believe in providing reliable and accessible care for those in Central Texas, Houston and San Antonio. Check out our list of locations to find the counseling services nearest you.
Book your appointment with Taylor Counseling Group to start your mental health and wellness journey.