While most people have heard of bipolar disorder, not everyone understands what the condition entails. It's more than occasional moodiness, involving dramatic swings in emotion, energy, motivation and more. This disorder affects every aspect of a person's daily life — sleep patterns, eating habits, interpersonal relationships and the performance of important tasks.
As challenging as bipolar disorder can be, it's a treatable mental condition. Taking medication and participating in therapy can make living with bipolar disorder more manageable. But first, it's essential to understand what bipolar disorder is and the effects it can have.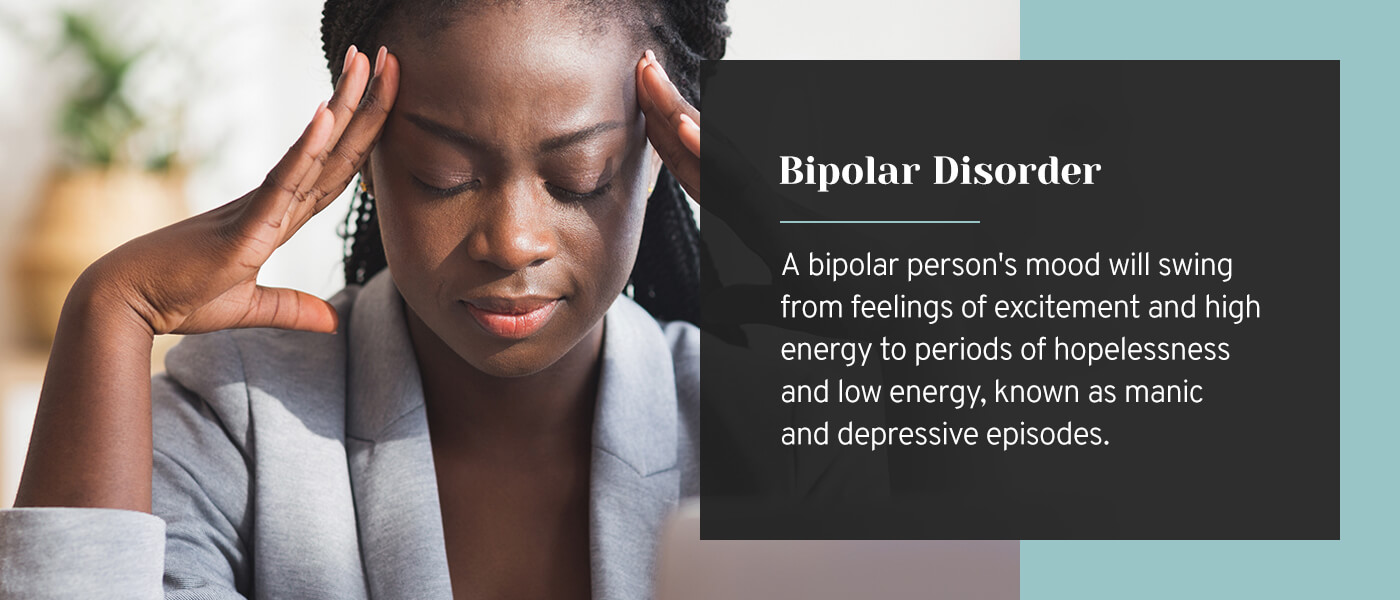 What Is Bipolar Disorder?
Bipolar disorder is a mental condition causing unusual, dramatic shifts in mood, energy levels and focus. A bipolar person's mood will swing from feelings of excitement and high energy to periods of hopelessness and low energy, known as manic and depressive episodes. This condition can take on three different forms, including the following:
1. Bipolar I Disorder
Bipolar I Disorder involves severe manic episodes, lasting at least a week. Some individuals may even require hospitalization to handle these periods. Alternatively, depressive episodes last about two weeks, on average. In some cases, depressive and manic symptoms can occur at the same time. These are called "mixed" episodes.
2. Bipolar II Disorder 
What differentiates Bipolar I and Bipolar II is severity — Bipolar II disorder involves less severe manic episodes than those caused by Bipolar I disorder. Otherwise, the condition is the same.
3. Cyclothymia 
Cyclothymia is a unique condition in which periods of depression and mania are less severe but last for a year or more in patients. This version of bipolar disorder can be less obvious to notice, as the cycles of mood and energy last for so long.
Understanding the Phases of Bipolar Disorder 
The defining characteristic of bipolar disorder is the dramatic mood changes. While emotional highs and lows are a normal part of life, they're manageable and temporary for most people. Those with bipolar disorder experience unpredictable and often debilitating mood shifts. It's important to understand the phases or episodes associated with bipolar disorder.
What Is Bipolar Mania?
The manic phase of bipolar involves a peak in mental activity. This experience is different for everyone. It can involve feelings of joy, excitement, restlessness and an intense urge to complete tasks. Often, it causes an inability to sleep and overwhelming, racing thoughts. Those with bipolar disorder can experience either mania or hypomania — hypomania is the less severe version, where mood and energy are heightened but not unmanageable.
Someone in a manic episode might:
Talk a lot about different topics

Jump from project to project

Not be able to rest or sleep

Lose interest in eating

Become overly self-confident

Feel elated, irritable or jumpy

Partake in risky, restless behaviors

Lose touch with reality, experiencing hallucinations
These episodes can be exhausting and damaging. An inability to sleep can leave someone irritable and affect physical health, while lacking inhibitions can lead to dangerous behavior. When these symptoms are severe, they can have long-term negative impacts.
What Is Bipolar Depression?
On the other side of the coin, bipolar disorder causes periods of depression. These episodes involve depression's classic symptoms, such as:
A hopeless, anxious or otherwise negative mood

Restlessness, trouble sleeping or oversleeping

Increased appetite and weight gain

Little interest in talking or slowed speech

Difficulty concentrating

Lost interest in enjoyable activities

Thoughts of suicide
Depending on the severity of the symptoms, they can be debilitating and cause long-term consequences. A lack of energy and motivation can make it hard to keep up with everyday tasks. Additionally, fluctuations in weight can be damaging to physical well-being. In extreme cases, depressive episodes can lead to suicide.
What Is a Mixed Episode? 
Not everyone with bipolar disorder experiences mania and depression as separate episodes. In some cases, symptoms of both occur at the same time. Someone having a mixed bipolar episode might:
Have racing thoughts but feel sad and worthless

Feel both irritable and low in energy

Note intense feelings of elation followed by feelings of despair
If you experience a range of emotions or feelings like the ones listed above, it may not be easy to figure out whether you have bipolar disorder. That's why a professional diagnosis is crucial.
Am I Bipolar?
The first step to treating bipolar disorder is receiving a professional diagnosis. If you suspect you may have bipolar disorder, consider the following questions:
Are your mood changes unpredictable and intense?

Do you sometimes feel hopeless and unmotivated, followed by periods of high confidence and energy?

Do your mood swings last days, weeks or months?

Does your appetite and interest in sleep alternate from one week to the next?

Do you ever experience a mix of low mood and high energy or vice-versa?

Do you feel intense emotions and energy levels regularly?
If you answered "yes" to any of these questions, you could have a form of bipolar disorder. Meet with a physician or a specific mental health professional as soon as possible. Once diagnosed, you can seek appropriate treatment to manage your condition. Receiving the help you need can protect you from the harmful consequences of manic and depressive episodes.
How to Handle Bipolar Disorder 
Having a mental illness doesn't prevent someone from improving their mental health. Once diagnosed, you can take action to make your bipolar disorder manageable. The most common treatment options for bipolar disorder include medication, long-term professional therapy or a combination of the two. The treatment options your counselor recommends will depend on your situation.
No matter which treatment option you eventually pursue, the first step is to have an appointment with an expert so you can determine whether you're bipolar.
Make an Appointment With Taylor Counseling Group
Living with bipolar disorder presents a unique set of challenges. Both manic and depressive symptoms can cause lasting effects on a person's life, as the severe shifts in mood and energy level are often exhausting and debilitating. Thankfully, proper treatment can make living with bipolar disorder less of a burden.
If you have bipolar disorder, seek therapy services with Taylor Counseling Group. We offer a variety of affordable counseling options to help you manage your mental illness. Our services include individual counseling, couples counseling and family counseling. We can help you identify thought patterns and find strategies for coping with your manic and depressive episodes. 
If you're ready to get help for your bipolar disorder, schedule an appointment with Taylor Counseling Group today.