Overachievers excel at getting things done. In the workplace, they constantly focus on finishing their projects while looking forward to the next. While this isn't a bad trait, these achievements might make you miss out on the care your mind and body need to function at their best.
Overworking yourself can also potentially lead to burnout, which causes symptoms like fatigue, irritability and cynicism at work. In fact, 84% of Gen X and 74% of Millennials report experiencing burnout. Fortunately, there are ways to cope with work stress and prevent burnout. Keep reading to learn the traits of an overachiever and how to manage work-related stress.
What Is an Overachiever?
An overachiever is someone who accomplishes many things but is always looking to achieve more. They're constantly working and devising efficient ways to get things done.
If this sounds like you, you likely have incredibly high expectations for yourself and go above and beyond on all your work projects. While these traits may propel you to great professional success, juggling too much can lead to stress and burnout in the long term.
Some signs of being an overachiever include:
Doing more than what's expected.
Always making yourself available for extra work.
Finding it difficult to say no at work.
Always arriving early to work and meetings.
Feeling uneasy about relaxing.
Neglecting your mental or physical health to work.
A strong desire to finish projects.
Perfectionism.
Seeking control over decisions and projects.
Skipping vacations and not taking PTO.
Many people who are overachievers also struggle with high-functioning anxiety, which can be tricky to spot in a productivity-obsessed society. While your performance and achievements may be regarded well, this perception fails to consider your struggles or anxieties to reach that level of success. If you have high-functioning anxiety, your high performance is likely driven by nervousness and a fear of failure.
Stress Coping Tips for the Overachiever
Coping with stress at work when you're an overachiever can feel challenging. Overachievers often judge their worth based on successes and hold themselves to impossibly high standards. You may get caught in a vicious cycle where you doubt yourself and your abilities, causing you to add more tasks to your plate than you can handle. Maintaining such an intense performance and output level can be exhausting to keep up in the long run.
Here are some ways to cope with work-related stress so you can start feeling better:
1. Be Kind to Yourself
Overachievers can find it challenging to accept mistakes in the workplace. You may fear failure or see minor setbacks as determinants of your self-worth. Try to remind yourself you're human and that it's natural to make mistakes. Be kind to yourself at work by letting the minor errors slide and appreciating the wins.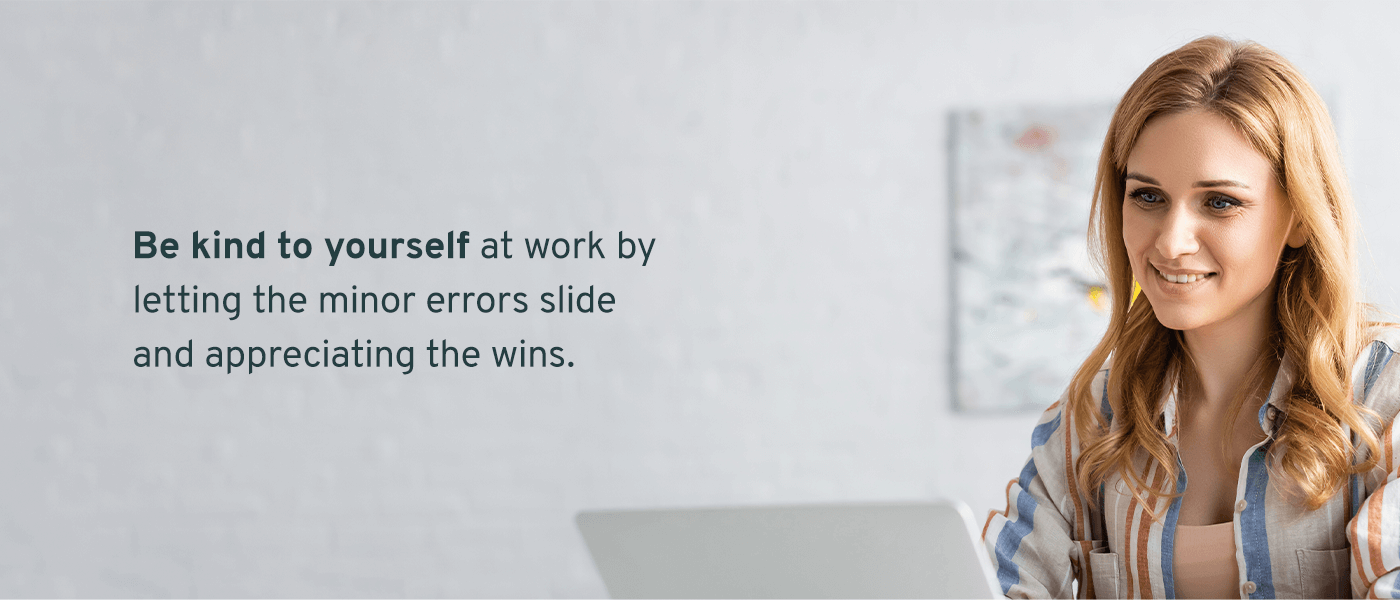 After knocking out a task or goal, celebrate your progress rather than immediately jumping to the next thing. You'll feel more motivated and happier with yourself when you take time to be kind to yourself and acknowledge the work you've achieved.
2. Practice Mindfulness Exercises
Mindfulness is an excellent way to focus on the present. Often, when we're too dedicated to working and moving on to the next task, we forget to focus on our mental and physical health at the moment.
Face your projects with patience and openness rather than quickly tackling everything at once. Meditation, breathing exercises and mindfulness can all help calm work-related stress.
3. Learn When to Say "No"
Coping with stress at work when you're an overachiever can be made possible by learning when to say "no." Methods for establishing work-related boundaries might look like:
Not checking your work email at home in the evening.
Not answering the phone during dinner.
Not picking up the slack for other employees at work.
Not taking on too many work projects at once.
Creating clear boundaries and learning when to deny certain things can reduce work-life conflicts and the stress that goes along with it.
4. Challenge Negative Thoughts
When you have high-functioning anxiety, your mind might jump to conclusions and read every situation through a negative lens. For instance, if your boss neglects to praise you for specific tasks, you might assume you've done a lousy job.
This can cause a spiral of attempting to work harder and juggle more tasks than you can handle. Instead of making judgments, try distancing yourself from these negative thoughts. It also helps to remind yourself that these thoughts stem from anxiety rather than reality.
5. Reach out to Friends and Family
Coping with stress at work when you're an overachiever can feel impossible without a solid support system. Keeping in touch with trusted friends and family members can help you cope with work-related stress, as these people can be there when you need to vent or need a distraction from the stress. Make time to see your friends and family and separate work from your personal life as much as possible.
6. Only Focus on Measurable Goals
Taking each project one at a time rather than focusing on multiple at once can help you feel less overwhelmed. Try to prioritize your tasks at the beginning of each week by listing each according to importance. Set aside specific time blocks to work rather than allowing the tasks to seep into your personal time.
It also helps to ensure you understand what your boss expects of you. Ask for end goals, deadlines or people you're collaborating with so that you know what to expect from each. Only focus on measurable and realistic short-term and long-term goals you can reach.
7. Redefine Success
Growing up, you may have internalized a definition of success based on your culture, schooling or family. However, these notions might not be your own. Being an overachiever can put immense pressure on you and make it difficult to feel a real sense of achievement. You may channel your motivation toward something that only causes mental and physical strain.
Write down a list of goals you view as successes. For instance, in addition to advancing your career, you might hope to travel the world or dedicate time to a favorite hobby. Try to prioritize your goals and push out anything that might be causing unnecessary stress or anxiety at work.
Get in Touch for Professional Support to Manage Work-Related Stress
Know that you don't need a mental health condition to seek professional counseling. Feeling overwhelmed or burned out at work is a valid reason to seek additional support.
At Taylor Counseling Group, we can help you identify the sources of your work-related stress and help you establish healthy ways to navigate them. We can also help you develop strategies for relaxing and taking care of yourself.
While high-functioning anxiety and overworking may not seem serious, living this way can be exhausting. Learning how to cope with these stressors can benefit your wellness journey.
To get started, schedule an appointment today.