While everyone has struggles they deal with occasionally, being a member of the LGBTQ+ community often comes with additional stressors, like homophobia, discrimination, identity issues and low self-esteem. It's important that your mental health care relates to your experiences so therapy can be a place to express yourself without judgment. Because of this, members of the LGBTQ+ community often benefit from LGBTQ therapy.
An LGBTQ therapist, either someone in the community or with extensive experience counseling those within it, can help you feel validated, promote personal growth and encourage you to live your most authentic life. The following are a few examples of how an experienced LGBTQ therapist can help you.
1. Embrace Your Identity
Most people go through periods of their lives when they question or struggle with their identity — these struggles can be especially hard for members of the LGBTQ community. As a result, LGBTQ individuals often seek therapy at higher rates than their non-LGBTQ counterparts. Therapy provides a safe, non-judgmental environment for you to discuss any questions related to your gender and sexuality and embrace who you are.
For instance, gender dysphoria can make you feel uneasy about your assigned gender and identity, often leading to intense feelings like depression, anxiety and low self-esteem. Therapists can help you recognize the issues you're experiencing and provide the knowledge to embrace your identity and cope with feelings more healthily. LGBTQ therapy offers a space to express yourself and receive the tools to live a happier, more fulfilling life.
2. Address Unique Struggles
LGBTQ therapy is more than just working with someone who accepts your identity — it's a space that can provide you with the specific tools and knowledge that apply to your unique experiences. For instance, LGBTQ therapists can help you address how homophobia or transphobia might affect your life and mental health. They can also help with feelings that arise from experiences like bullying and discrimination or coming out to friends and family.
In therapy, you can learn how to identify any uncomfortable or uneasy emotions you might associate with your identity, like internalized homophobia or anxiety. It can be challenging to face these feelings alone, but experienced therapists can help you manage and challenge these unwanted emotions.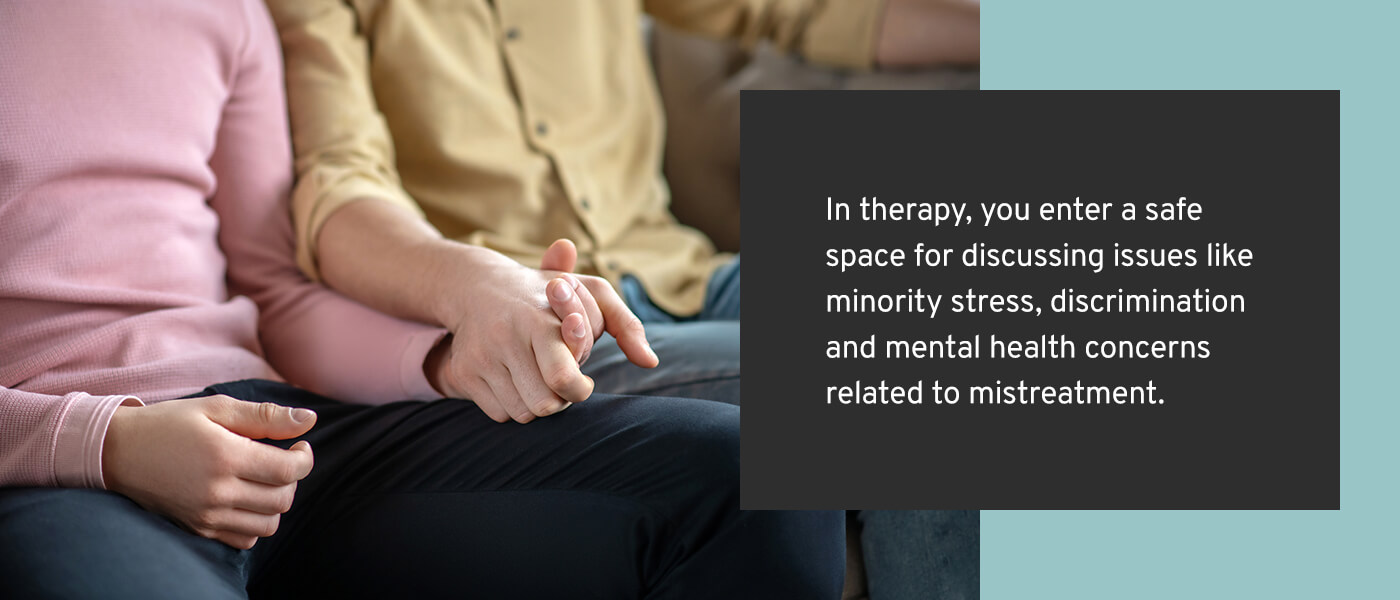 3. Feel Validated and Advocated For
Often, people in the LGBTQ community have experiences that are different from others, for better and for worse. Knowing how to handle these situations can be challenging, which is where an experienced LGBTQ therapist comes in. Therapists can help you address societal stigmas and navigate murky waters, as counseling programs are designed specifically for the unique needs of the LGBTQ community.
In therapy, you enter a safe space for discussing issues like minority stress, discrimination and mental health concerns related to mistreatment. Therapists who are part of the LGBTQ community might be even more helpful since they can have insight and provide validation for these shared experiences.
Affirmative LGBTQ counseling empowers LGBTQ individuals in all aspects of their lives while celebrating their unique experiences. Therapists also focus on helping you find efficient ways to overcome daily obstacles. There are many challenges unique to the LGBTQ community, so it often takes a member of the community or someone who best understands their experiences to provide effective therapy.
4. Receive Relationship Support
Whether you're in a long-standing partnership, starting a relationship or hoping for family counseling, LGBTQ therapy can provide many benefits. For instance, gay marriage counseling can help you with the following:
Increase affection or intimacy in your relationship
Establish healthy and rewarding roles within your marriage or relationship
Achieve a healthy level of independence
Feel self-love, regardless of gender expression or identity
Learn how to celebrate your partner while fully embracing who you are in the relationship
Handle societal expectations or stress associated with being in an LGBTQ relationships
Learn how to incorporate more success and happiness into your relationship
LGBTQ therapy allows you and your partner or family to explore and discuss all aspects of your relationship and individual lives. In couples counseling, you can work toward meeting your relationship and personal needs, whether mental, sexual, emotional or spiritual.
5. Gain Self-Acceptance and Self-Love
Sometimes those who discover their LGBTQ identity struggle to come to terms with it — they may struggle to accept their identity and love themselves because of it. Trying to live an everyday life while harboring negative feelings about yourself can be tough, and it can impact your relationships, work and sense of self.
Many people in LGBTQ therapy choose these services to work through trauma and feelings of shame surrounding their sexuality or gender experience. In therapy, you can address feelings of shame in a safe, supportive environment. Over time, you can apply this optimism to your life and accept yourself fully. Self-love is vital for living a happier life. Gaining these tools can set you up for success in all aspects of your life, including academic, professional or relationship-wise.
While everyone can benefit from talking to a therapist who understands their unique situation, those with gender and sexuality concerns benefit best from seeing an experienced LGBTQ therapist equipped to offer the support and guidance necessary to navigate challenges safely and confidently.

How to Find an Experienced LGBTQ Therapist
We should all feel like our mental health care is culturally competent and directly relates to our experiences. Members of the LGBTQ+ community might benefit from seeing an experienced LGBTQ therapist who is either a member of the community themselves or has extensive experience counseling those within it.
At Taylor Counseling, we specialize in affirmative therapy for those in the LGBTQ+ community. We will work with you and advocate for you every step of the way, addressing your unique needs with knowledge and compassion. When you work with us, you'll enter a safe, welcoming and compassionate space to discuss whatever is on your mind. You can receive support and guidance to address challenges related to sexual or gender identity, including gender dysphoria or discrimination.
Like most people, your experiences are often shaped by your identity. That's why we provide comprehensive support that approaches all aspects of your circumstances to meet your unique goals. In individual, couple or family sessions, we'll work with you to identify specific challenges and provide the tools needed to address them.
Whether you're struggling with identity questions, family or relationship issues or need help with depression or anxiety, our individualized counseling can help. To learn more about our affirmative counseling services, contact us today.