Not everyone is capable of accepting "no" as an answer. Those who won't accept your answer often hope they can change your mind. While some can respect your decision, others may push until they get you to bend to what they want.
Whether you're making a business deal, meeting new people or navigating a relationship with a personal family member or friend, knowing how to say no is helpful. Discover why some people act this way and how you can put your foot down in these situations.
Why Some People Can't Take No for an Answer
Negotiation can quickly turn into manipulation when people don't understand how to communicate in a healthy manner. This is especially true if people never learned that they won't always get their way. People who haven't achieved emotional and intellectual maturity often don't know how to handle disappointment, which can cause them to pressure others to get what they want.
People who won't take no for an answer may also be narcissists with a high sense of self-importance. Narcissists can become easily upset with criticism and often lack empathetic feelings. Fearing disappointment or missing an opportunity to feel appreciated, a narcissist may push you to make decisions or pursue actions that satisfy their desires.
Saying no to narcissists can be challenging because they often won't respect your decision. They may accept your answer on the surface but become annoyed, make you feel bad about your decision or become passive-aggressive. If a narcissist or anyone else won't take no for an answer, knowing how to reaffirm your decision and stick to it can help you remove yourself from an uncomfortable situation.
How to Respond to Someone Who Won't Take No for an Answer
In many situations, people will respect your wishes and understand when you don't want to do something. Other times, they will continue asking or leading you in a specific direction that could transform your "no" to a "yes" or "maybe." Learning how to say no to someone who won't take no for an answer can help remove you from these conversations and ensure you only perform actions that make you feel comfortable and safe. Here are some tips for saying no.
Be Kind and Firm
Any meaningful conversation should begin with a clear understanding of what's happening. Know what the other person is asking so you can confidently provide an answer without seeming unsure. When you say no, remain calm and kind but firm. Being kind and firm can let the other person know you respect them and yourself. Avoid getting annoyed or being judgmental to prevent yelling or verbal spats.
In some cases, you may want to acknowledge the good you recognize in someone's request. For instance, if a family member asks you to visit and you don't want to, you can express gratitude for the invitation. Explain that you would enjoy spending time with them if this is true and solidify your stance by briefly explaining why you can't attend. Refrain from making it seem like other obligations are preventing you from attending because the other person may take this as a sign that they can sway you.
Say It and Stick to It
Carry your confidence in this next step by standing by your answer. Stay concise with your reasons for saying no, and express that you're happy with your decision. This will give the other person less opportunity to argue and keep the conversation brief.
Remember that you don't need their approval but should recognize their feelings. Sometimes, people ask simple requests, like making time to stop at the grocery store during a busy day. Other times, friends and family might request significant commitments, like planning a long trip or lending money.
In either case, showing the other person that you understand their feelings can ease the conversation and help them feel love and recognition, if that's something you want to express. For example, rather than saying, "You've asked me for money many times and never paid me back," try something like, "I understand you're in a hard spot, but I don't have anything I can give."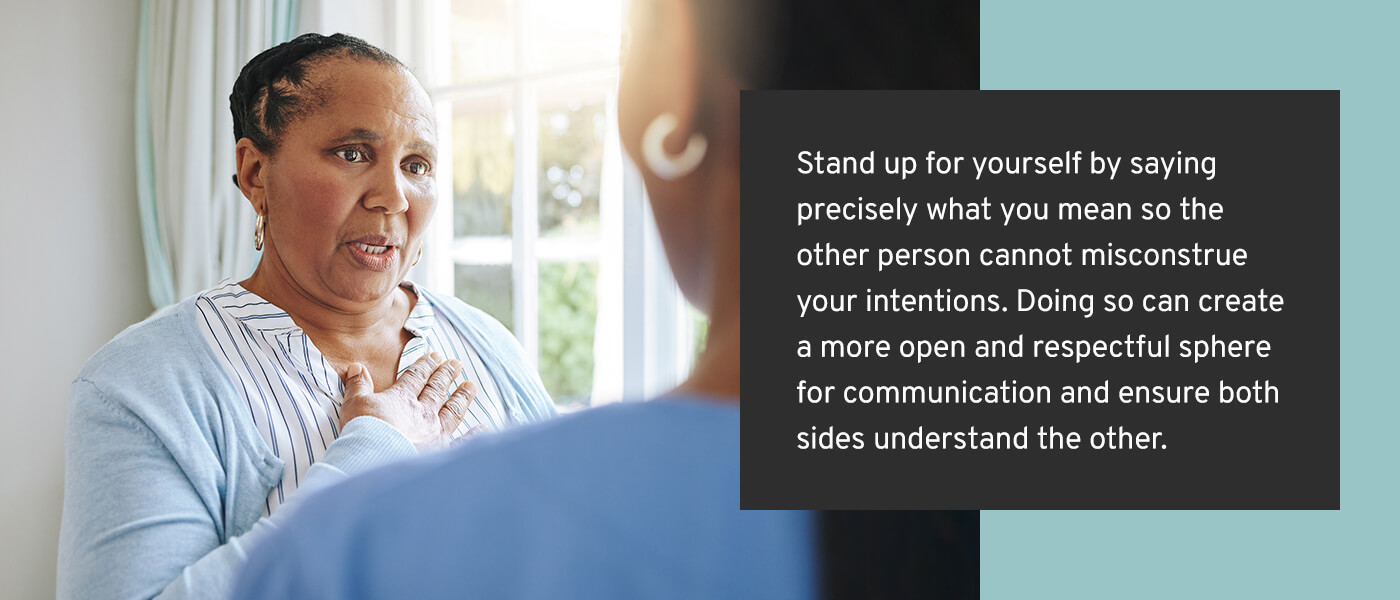 Express Your Feelings if You're Uncomfortable
If the other person persists in changing your answer and you're getting uncomfortable, express your feelings. It can feel challenging to face confrontation, but you should never sacrifice your well-being to avoid denying someone's request. Be open and expressive rather than reverting to a quiet or people-pleasing demeanor.
Stand up for yourself by saying precisely what you mean so the other person cannot misconstrue your intentions. Doing so can create a more open and respectful sphere for communication and ensure both sides understand the other.
Refrain from phrasing your feelings as a direct result of the other person's actions. Saying, "I feel uncomfortable completing this task and would appreciate it if we could change the conversation," is better to say than, "You're making me feel uncomfortable because you won't stop asking."
Reevaluate the Relationship if They Won't Stop
True friends and supportive family members will respect your decisions and understand when to stop pressuring you. If someone in your life constantly places you in these situations and refuses to relent in their requests, it's likely time to reevaluate your relationship with them.
Having an open and honest conversation might be an excellent way to transform your relationship and become more comfortable around them. You may need to set boundaries or form a mutual understanding of acceptable and unacceptable behaviors. However, some people may react negatively to your conversation and reducing or eliminating your exposure to them might be the best option.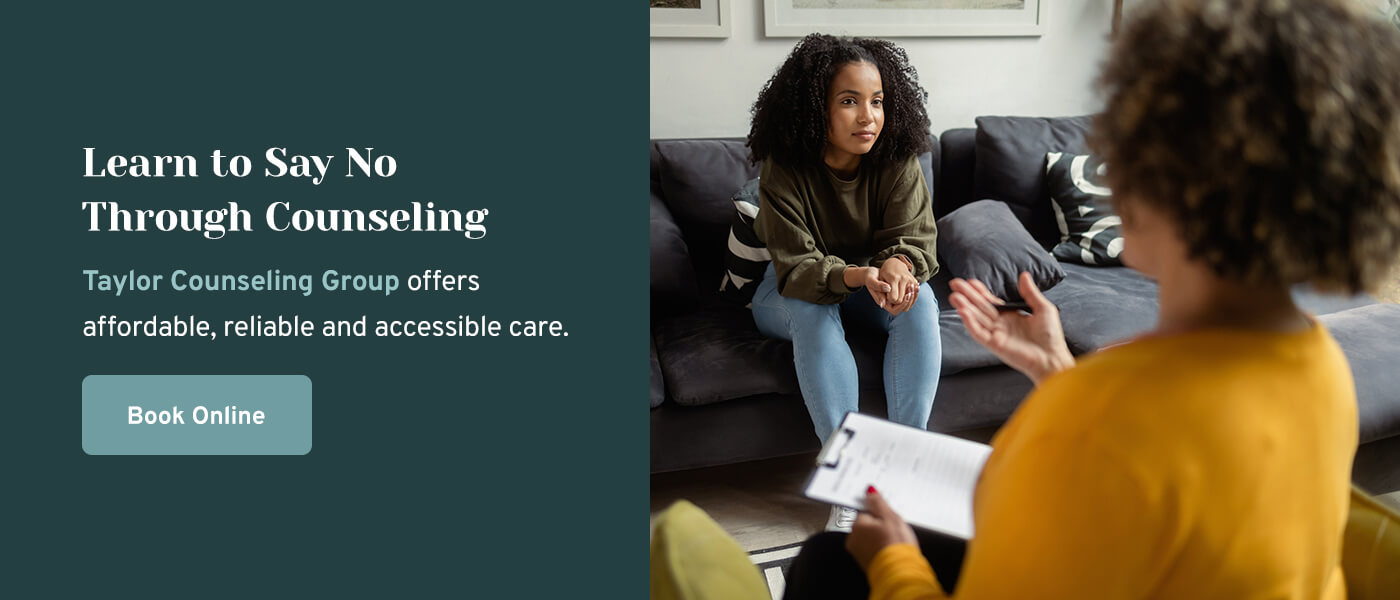 Learn to Say No Through Counseling
Taylor Counseling Group offers affordable, reliable and accessible care. We provide counseling services throughout Central Texas with professionally trained, highly skilled and properly licensed providers. We believe everyone should be able to access premium mental health care, and we welcome people from age 5 to adults to serve your needs.
We'll help you access individual, couples or group counseling services. Whether you're looking to become more assertive, need to reevaluate your relationship with another person or want to achieve a happier and healthy mental state, we can help.
We believe in life-altering changes and growth. We always remain committed to our clients during their internal struggles and external challenges. Our collaborative approach to mental health care empowers us to support our clients and provide them with the exceptional care they need.
Request an appointment with us to receive professional support from our dedicated team.