Whether you have been to counseling before and are looking for someone new or you decided to look into counseling for the first time, finding the best therapist for you can be a challenging process. Picking a counselor is an important beginning step in the counseling process because working with the right person can help you progress toward a happier and healthier life.
Understanding your counselor's impact on your self-development and improving your mental health should be on your mind during your counselor search. Aside from just having someone there to listen and offer advice to you, your counselor wants to help you make the changes you want to see in your life. Finding a compatible counselor is important for your success.
Tips for Choosing a Counselor
With so many options of counselors to see and because of the importance of finding the right counselor for you, figuring out where to begin your search can seem challenging. If you want to find a counselor but are not sure where to start, here are 10 ways to choose the best counselor for you.
1. Consult Your Primary Health Care Provider
This is one of the best places to start when beginning your counseling journey. Your doctor most likely has a handful of contacts in the counseling field they can refer you to.
Depending on the information you decide to disclose to your doctor, they may recommend a match for your specific needs. If not, they can still give a general idea of where to begin your search.
Your doctor may also have contacts who accept your insurance if you have a specific health plan. Keeping both your physical and mental health care needs within the same health care network helps ensure they will accept your insurance.
2. Ask Trusted Friends or Family Members for Recommendations
You do not have to rely on your primary care provider for referrals solely. Instead, if you have trusted friends or family members who have sought counseling, do not be afraid to ask for their experiences. Ask them about their search for a counselor and how they found who was right for them. Listen to their advice and experiences, but keep an open mind and your options open.
Remember, you need to keep in mind that what works for one person may not be right for you. Just because you ask someone for suggestions, this does not mean you have to follow through with their recommendations.
Everyone has different preferences and is more comfortable in different situations, so it is natural for you to look into various counselors and possibly choose outside of the selection loved ones have offered you. Remember to make yourself your chief priority during your search and choose the right therapist for you.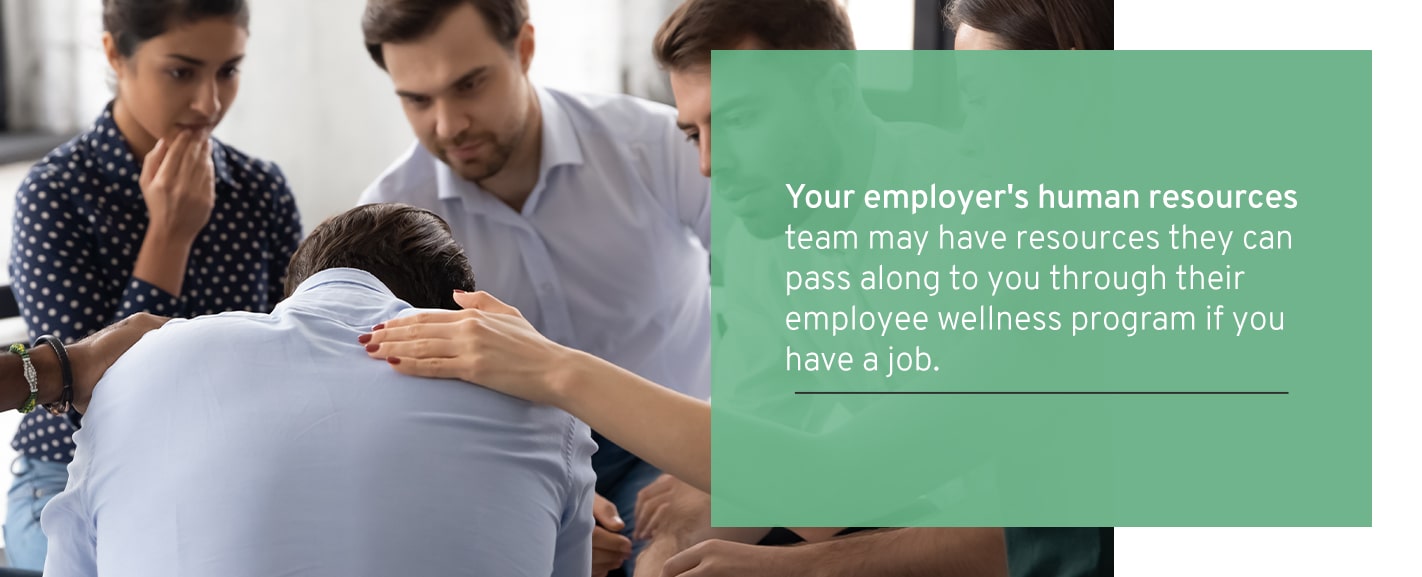 3. Utilize Local Resources
Look within the communities you are a part of to see if they offer any counseling services. Different communities often have a variety of resources available to the public. For example, if you are a student, the school administration or guidance offices may provide you with access to a counseling center.
Your employer's human resources team may have resources they can pass along to you through their employee wellness program if you have a job. Local advocacy programs also offer counseling or therapy for specific situations, such as sexual abuse, domestic violence or homelessness.
Using local resources may not be a long-term option, but it is a place to start. Attending local group or individual counseling sessions can help you get a feel for the counseling process. Reaching out to your community can also help you pick a therapist elsewhere if you get resources or recommendations.
4. Set Your Budget and Look at Your Insurance
Mental health is vital, so you want to make sure you can afford counseling if you need it. Whether you have an insurance plan or opt to pay out of pocket, there are affordable therapy options for you. Taking the necessary time to find what is suitable for you is more important than anything else in the long run.
5. Consider Your Goals
Everyone has different reasons for seeking out counseling, so make sure you understand your goals. Consider why you want to go to counseling. You may wish to seek general counseling for everyday stressors, but sometimes there are more specific personal issues you may want to address or overcome.
Ask yourself if there are specific challenges in your life you want to face and what your goals and focuses for improvement are. If you feel there is something particular you want to work on during your sessions, look for professionals who provide counseling in that area and who specialize in treating obstacles similar to yours.
6. Research the Type of Counseling You Want
There are many types of counseling and therapy options to consider when first looking into your options. Begin your search by thinking about what type of counseling you think may benefit you the most based on your goals. Research the different types of counseling offered and find an area that suits you best.
The first consideration to make regards the different services counseling practices and therapists offer. This often includes the options of individual, group and relationship or family counseling.
After looking into the offered services, it is essential to look at the areas of specialty different counselors have. Depending on the goals you defined for your counseling, you may want to focus on specific study areas, including:
Placing yourself in a program geared specifically toward people who struggle in similar ways can give you an in-depth understanding of yourself. You could also gain various ways to cope because your specialized counselor likely has worked with and treated many people with symptoms similar to your own.
7. Think About Who You Would Feel Most Comfortable Talking To
Another critical factor in deciding on a counselor depends on who you may feel most comfortable talking to. A major key to your personal success in achieving your counseling goals stems from the relationship you have with your counselor. Find someone you can see yourself trusting and building a relationship with. Regard what factors are important to you when building a positive and supportive relationship, and make a list of character traits that describe a person with who you believe you could easily discuss personal details.
One aspect to think about when choosing a counselor is the cultural competence of the counselor. This refers to the idea of working with someone who is a part of your community or has a deeper understanding of the experiences you have been through and want to discuss. This creates an already-established connection that adds to the positive rapport you want between yourself and your counselor.
For example, you may want to consider gender. There is no right or wrong choice when deciding who you feel most comfortable with, as many factors play into why you choose who you see. Who you would prefer to talk to might depend on your gender identity. There is nothing wrong with having a preference, as this comfort level may stem from personal conflicts, outside relationships or past experiences.
Another factor of cultural competence that may be important to you and your counseling is cultural or racial background. You may find yourself most comfortable discussing details of your life with someone who can empathize through similar experiences rather than sympathize by understanding the situation.
Additional considerations to make include religious affiliations, specialization in LGBTQ+ issues, age and ideologies. All counselors have the training to professionally help with your treatment and show you compassion and understanding. But it is understandable to have an easier time opening up about intimate details of your life to someone new when you feel a deeper connection to them based on their personal history and cultural competence.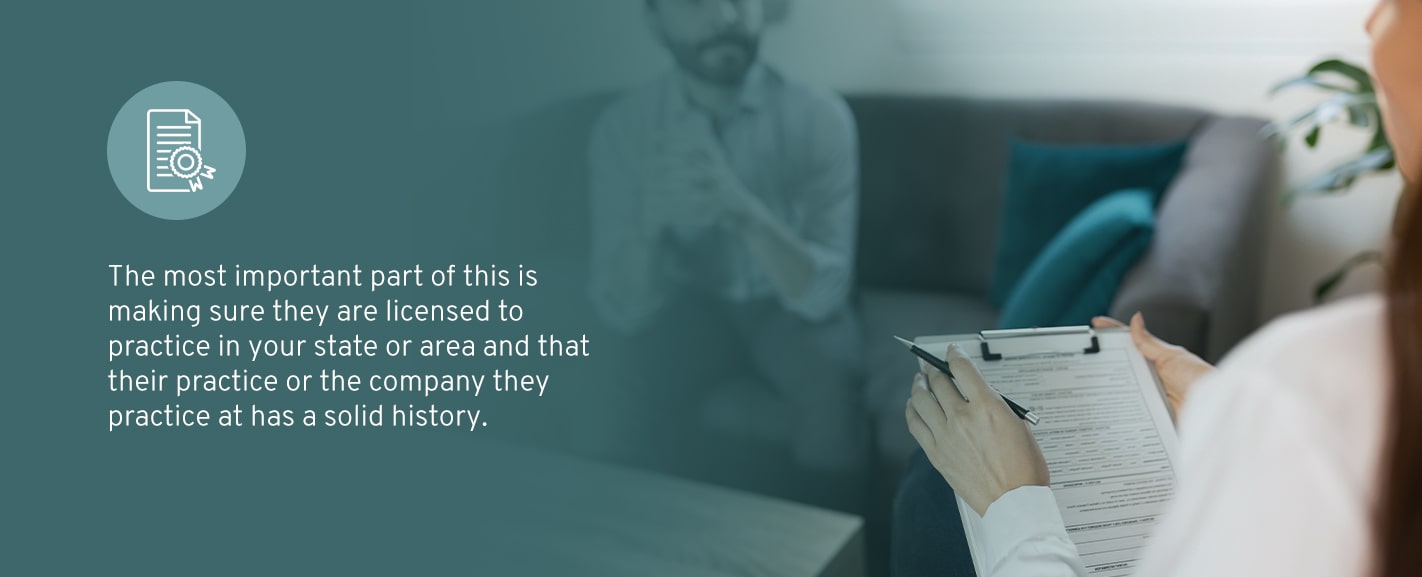 8. Look at Credentials
One of the best things to look at when deciding on a counselor is their credentials. Any licensing, certifications and educational background can help give you a look into the specific training they have. The most important part of this is making sure they are licensed to practice in your state or area and that their practice or the company they practice at has a solid history.
While looking at counselors and their qualifications, the initials of the credentials after a counselor's name can be confusing at first. Different initials signify different credentials and expertise. Some common titles and their abbreviations you may come across when doing your initial search include:
Licensed Professional Counselor (LPC)
Licensed Marriage and Family Therapist (LMFT)
Licensed Chemical Dependency Counselor (LCDC)
Master of Social Work (MSW)
Research what type of counseling each of these credentials and specializations entails to see what may fit you best.
9. Discuss Your Questions or Concerns
Once you have a few options of counselors put together in a list, the next step to finding the right counselor for you is to make the initial call. Consider asking your potential counselors about their experience and credentials, as well as mentioning what counseling goals you have in mind. Getting this information before your first session may help you decide if this counselor is right for you and give you an idea of what to expect walking into your appointment.
Some questions you can ask your counselor prior to your appointment include:
How do I prepare for my first session?
Do you accept my insurance?
What forms do I need to fill out?
Where are you located?
Knowing these answers before walking into your first session can help to ease some of the pressure you may feel.
10. Schedule an In-Person Visit
Another major factor in finding a counselor who is the right fit for you may depend on scheduling. You want to make sure the counselor you settle on currently accepts new patients and if their availability matches yours.
Your schedule and how urgent your need for counseling is may limit some of your options or dictate the choices you make. Figure out if finding a counselor who fits into your schedule is a priority to you or if you are free to move around any appointments you already have to prioritize a counseling session.
Another factor that plays into this is how soon you want to schedule an appointment. If you have an urgent need to find a counselor for any reason, the counselor's availability may be the deciding factor for who you intend to see. Deciding based on scheduling needs is a reasonable way to decide on a counselor because you want to have the freedom to go without disrupting your schedule.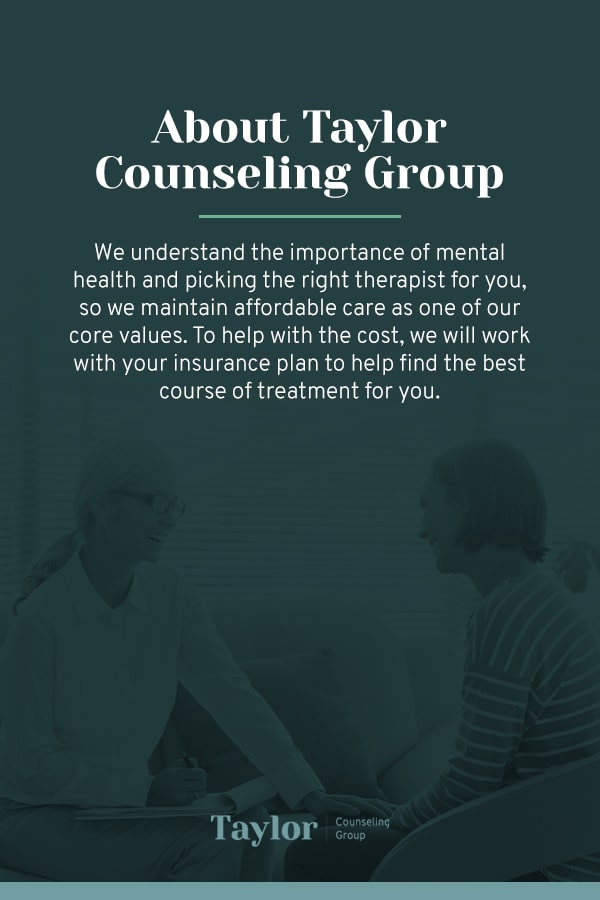 About Taylor Counseling Group
With multiple locations across Texas, Taylor Counseling Group has a professionally trained and properly licensed staff that is highly skilled to help you meet your therapeutic goals. We offer various services, from traditional individual counseling and play therapy for children to complex therapies such as Cognitive Processing.
Additional services we specialize in include ADHD treatment, identity development, marital enrichment and stress management. We also offer counseling for anxiety, depression, obsessive-compulsive disorder, and sex and pornography addiction. We are proud to offer this wide range of services to help clients achieve their counseling needs.
We understand the importance of mental health and picking the right therapist for you, so we maintain affordable care as one of our core values. To help with the cost, we will work with your insurance plan to help find the best course of treatment for you. If you do not have insurance and cannot afford the help you need, we are committed to working with you to help you find an affordable rate.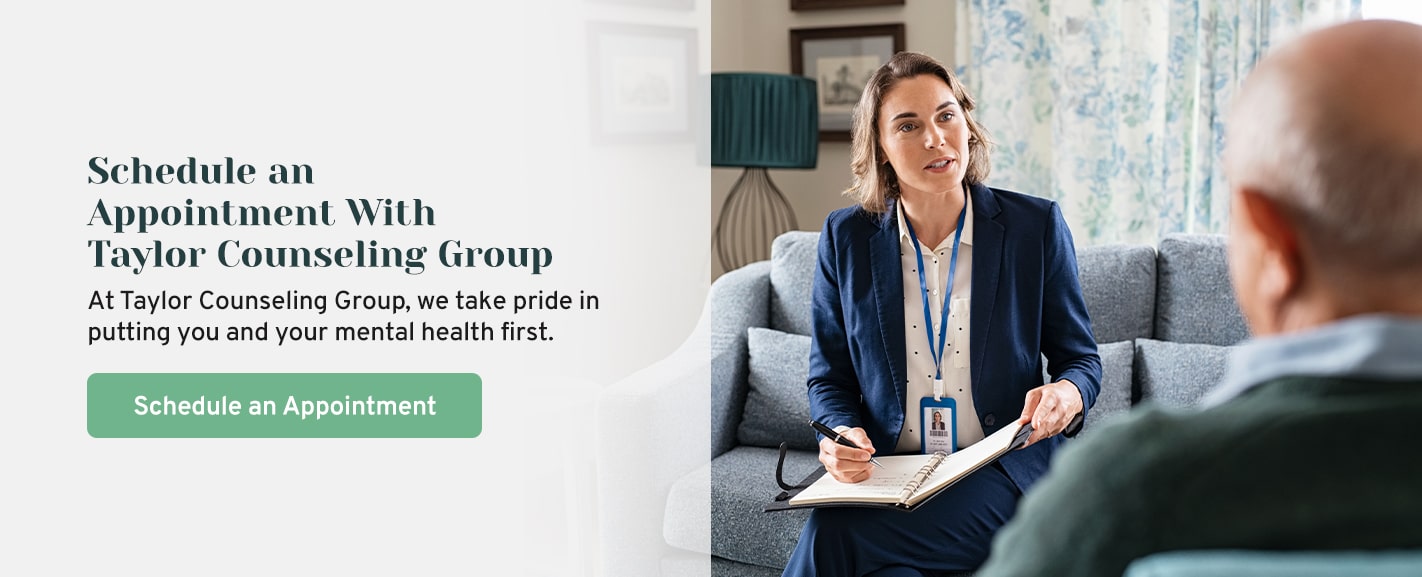 Schedule an Appointment With Taylor Counseling Group
At Taylor Counseling Group, typical sessions are between 45 and 55 minutes and are scheduled once a week, but this can vary as we offer a personalized approach. With our first session as a no-pressure "get to know me" session, we do not want you to put too much pressure on yourself, so we encourage you to ask questions. The counselor you pick will recommend a custom treatment plan based on your needs and what you are going through and work with you to find what can help.
We also want you to know that we understand the importance of building a rapport and having a professional and personal connection to your counselor, so we know your first attempt at finding a counselor may not be the right fit. Therapy will not make your life better overnight, and that is OK. However, if you don't feel like it is a good fit, we will help you find another therapist.
At Taylor Counseling Group, we take pride in putting you and your mental health first. If this seems like an approach you appreciate and think you can improve from, schedule an appointment online.