Anxiety is what remains from our early human ancestors who relied on their fight-or-flight response to survive. There are situations where this feeling is helpful to us, like when our bodies react quickly when a car is veering into our lane. However, anxiety becomes a problem when excessive worry or fear interferes with our daily lives and our ability to function.
If you are someone with anxiety, you're not alone. Anxious thoughts and feelings seem to be on the rise, and younger generations are experiencing higher anxiety levels than their seniors. The good news is that the condition is treatable. You can break the anxiety cycle and get your life back on track.
What Causes Anxiety?
Anxiety exists in modern-day humans for many reasons. For some people, anxiety is the result of environmental or psychological factors. For others, genetics played an influential role instead. There is more than one type of anxiety disorder, and anxiety can be a symptom of other mental disorders, such as PTSD.
At some point in your life, you may experience anxiety and its related symptoms. Knowing how to identify the signs, what behaviors to avoid and what you can do to break the cycle will help you manage your anxiety and put you on the road to recovery.
Anxiety Symptoms
There is also more to anxiety than just nervous behaviors or fears of the future. Our bodies go through significant changes when we experience a high level of stress, even more so if we're dealing with anxiety for an extended period. Some of the common symptoms include:
Restlessness
Fatigue
Heart palpitations
Muscle tension
Shortness of breath
Tingling or numbness
This is not a comprehensive list of all anxiety symptoms, and the way an individual experiences anxiety may be different from someone else. Long-term stress can result in stress-related injuries or conditions to multiple bodily systems, such as the gastrointestinal and cardiovascular systems.
Avoiding Anxiety
People with anxiety disorders often practice avoidance behaviors to feel immediate relief from their physical and mental symptoms. However, these behaviors keep us trapped in the cycle.
Some people become dependent on medications rather than addressing the problem at the source. While the temporary relief may feel good, it keeps us from understanding what's causing our anxiety and what we can do to stop it.
Similarly, it's common for individuals with anxiety to avoid stressful situations altogether. However, this only reinforces in the mind that these situations or environments are bad. When forced to face these situations head-on in the future, our minds believe that something terrible will happen, and the anxiety cycle continues.
Trying to control or eliminate anxiety also contributes to this cycle. Anxiety is something that happens. It is neither good nor bad. Approaching recovery with the idea that anxiety must be controlled or deleted from our minds only reinforces the notion that anxiety is negative, and our bodies will react as if this were the case.
Beating the Anxiety Cycle
Anxiety is a natural reaction in some situations, but sometimes, it can take over and make it challenging to lead a normal life. We must take back control and break the anxiety cycle. There are a few methods you can try to improve your mental well-being.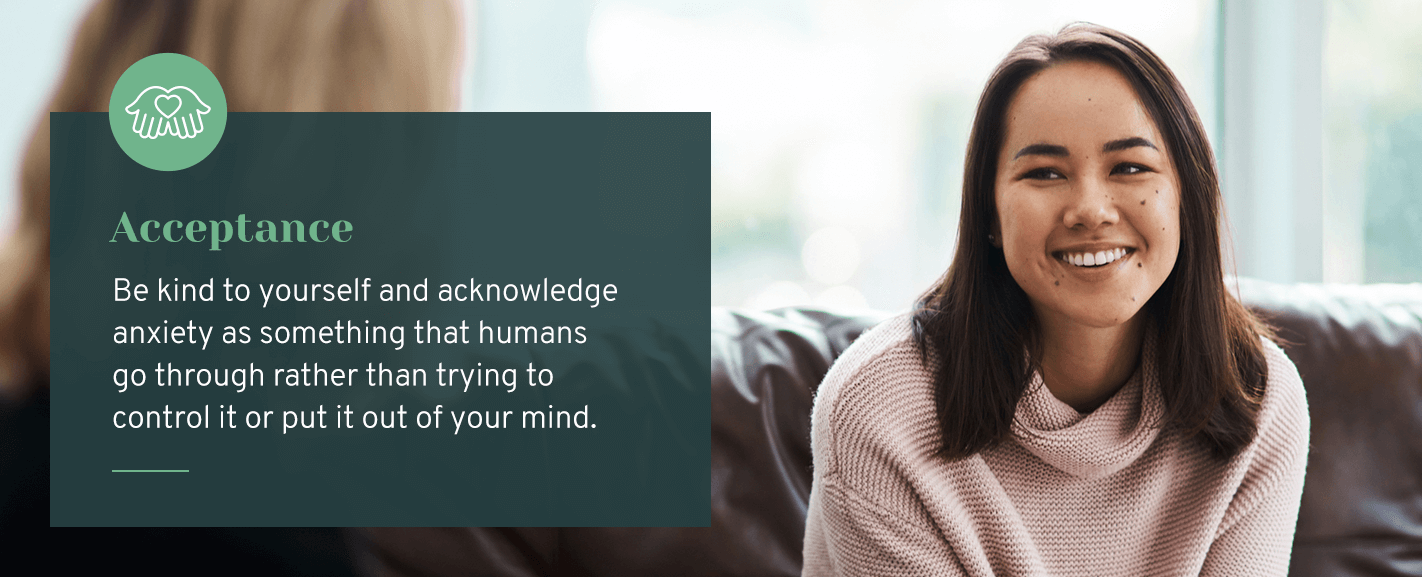 Acceptance
A crucial first step is understanding that anxiety is just a part of life. It happens to the best of us, and your feelings are valid. Be kind to yourself and acknowledge anxiety as something that humans go through rather than trying to control it or put it out of your mind.
Accept that some of your anxious thoughts are just ideas and have no basis in reality. Start to limit your avoidance behaviors, so your mind becomes adjusted to the idea that anxiety is a part of the human experience rather than something that needs to be destroyed.
Therapy and Treatment
Therapy is another method to manage your anxiety. A trained therapist can create a personalized treatment plan that best suits your needs.
Different types of treatment have been proven to reduce anxiety and allow users to gain their lives back. Cognitive behavioral therapy (CBT) is a popular method for treating anxiety and has even been shown to increase brain functioning.
Other forms of therapy, such as dialectal behavior therapy (DBT), eye movement desensitization and reprocessing therapy (EMDR) and exposure therapy have treated anxiety. Once your therapist better understands you and what you're going through, they can create a therapy plan that works best for you.
Medication can also be a method for treating anxiety and breaking the cycle. Some anti-anxiety medications treat the physical symptoms of anxiety during panic attacks, while others are taken daily to help balance the chemicals within the brain. Your therapist will determine the best approach and whether or not medication is the right avenue for you.
Support Networks or Groups
Having friends and family to talk to or a specialized support group to share your problems and measure your progress is an effective form of mental health treatment. Knowing someone is out there who is going through the same thing can help feelings of loneliness or isolation that appear when we're struggling. You can always follow the traditional route and attend a support group in person, or you can find an online support group if you're more comfortable in that setting.
Self-Care
Taking care of your physical, emotional and mental well-being is one of the best ways to tackle anxiety. When you feel good, you're less likely to fall into bad habits or give into intrusive thoughts. Practicing self-care regularly also means you'll be prepared to handle anxiety should it occur. Even just eating a better diet can significantly improve your anxiety symptoms.
Mindfulness
Anxiety often occurs because our minds are running off with intrusive thoughts faster than we can keep up. Practicing mindfulness is an effective method to catch these thoughts and feelings before they become a problem.
To be mindful, take some time to pay attention to what you're thinking without judgment or resistance. Focus on your breathing and do your best to stay in the present. It may be helpful to research meditation techniques and mindfulness exercises if you've never practiced this before.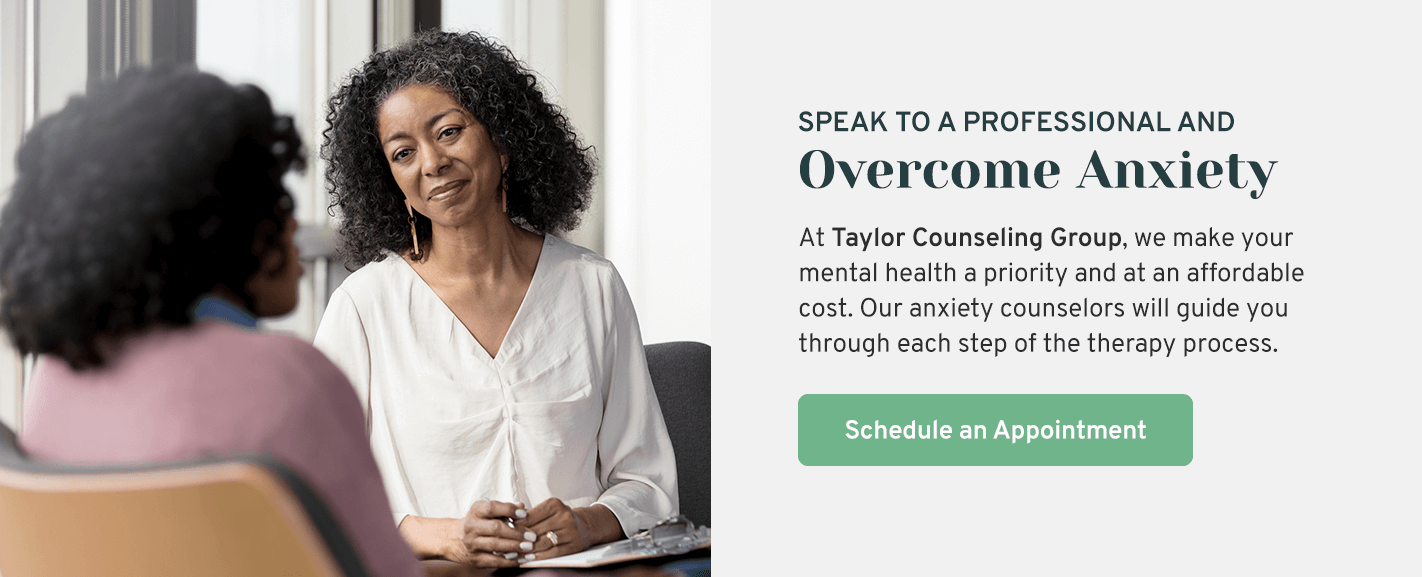 Speak to a Professional and Overcome Anxiety
Anxiety is common, but sometimes it interferes with our daily lives. You're not alone in this experience, and treatment is available. At Taylor Counseling Group, we make your mental health a priority and at an affordable cost. Our anxiety counselors will guide you through each step of the therapy process.
If you're ready to take the first step on your healing journey, you can book an appointment online through our client portal, available to you 24/7. We will help you every step of the way so you get the most out of your counseling experience.
---
Related Articles & Resources:
---