Mental health is a sensitive subject to talk about. It can be heartbreaking to watch a friend or loved one struggling with issues like depression and anxiety, especially when they refuse your offers of help. How do you break through the wall of denial they've built, while still protecting yourself?
Below, we'll explain why a person might deny they have a problem and how you can encourage a loved one to seek help and improve their mental well-being.
Why Does Denial Happen?
There are many reasons a person might deny their mental illness, including stigma, challenges with organizing information in their frontal lobe or a symptom of mental health conditions called anosognosia.
Anosognosia refers to a person's lack of insights regarding their mental state. People with this condition often have trouble accurately assessing their reality. Variations in awareness over time are common with anosognosia, which can be frustrating for all parties involved.
One of the leading causes of this symptom is the brain's frontal lobe operating at less than 100%. Individuals with specific mental health conditions like major depressive disorder, schizophrenia or dementia may experience damage to their frontal lobes. This problem can make it challenging to organize new information and evaluate their self-awareness, including how a mental health diagnosis can affect it.
Regardless of why someone might deny their mental illness, there are ways you can help your loved one overcome this challenge and improve their quality of life.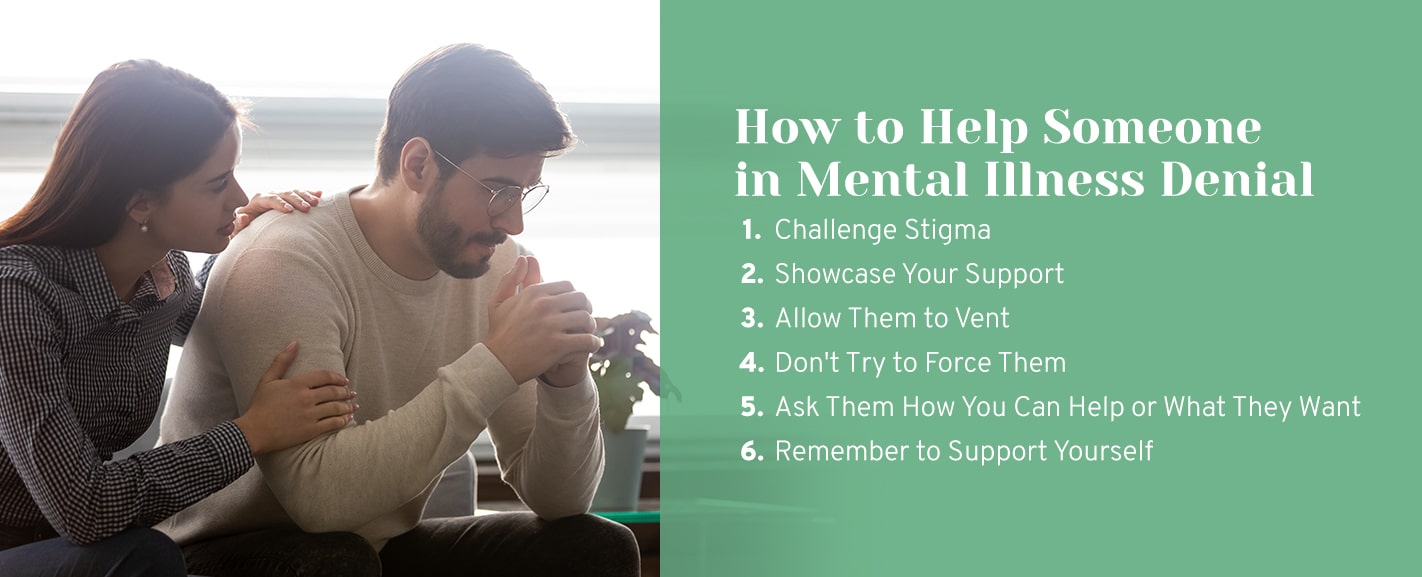 How to Help Someone in Mental Illness Denial
You can support someone who denies their diagnosis with the following tips.
1. Challenge Stigma
Sadly, there is still a cultural taboo surrounding mental health conditions, which can worsen the problem. Your loved one may feel flawed or ashamed for having a mental illness, which could cause them to refuse help. There's also a persistent misconception that people can improve their mental health with enough positive thinking.
Societal stigmas can affect a person's well-being by making them unwilling to seek treatment. You can help your loved one overcome this problem by challenging their beliefs. For example, if they say mental illness means they're not "normal," you can counter this by reminding them that millions of others struggle with mental illness every day. You can even mention celebrities or other influential people who have spoken openly about these challenges to remind them they're not alone, even if they feel isolated.
2. Showcase Your Support
While you may be more than willing to help your loved one with anything they need, it can be reassuring for them to hear that message directly from you. They may feel alone, so it's always wise to remind your loved one that you're there for them.
It can be challenging for all parties involved when a loved one denies their mental illness, creating stress and tension. Someone close to you may not understand the harm they are causing in your relationship by brushing off your concerns. Reminding your loved one that you're there to support them and practicing patience can help diffuse the stress and make them more willing to open up to you about their struggles.
3. Allow Them to Vent
No matter how hard someone tries to ignore a mental illness, they'll still experience various complex emotions. A sympathetic ear can be comforting for your loved one, giving them a judgment-free space to discuss their challenges. If they're feeling overwhelmed, you can offer them an opportunity to ask questions or voice their concerns.
Encouraging a loved one to talk with you when they're having trouble prevents them from feeling isolated or withdrawn from their support network. When your loved one has you to rely on, it gives them an outlet for these feelings. When you understand what they are going through, you can prepare to help them cope.
4. Don't Try to Force Them
It can be hard watching your loved one struggle with mental illness, especially when you know professional treatment can do so much to improve their well-being. However, trying to force them into getting help can make them less likely to seek it independently. While you only have your loved one's best interest at heart, you can't compel anyone to do what you want.
Instead, it's better to help when and where you can. That might look like answering their questions or acknowledging symptoms they may be experiencing without realizing it. Remember that coming to terms with mental illness is a journey that requires patience and time.
5. Ask Them How You Can Help or What They Want
You can't make someone seek treatment, but you can gently broach the topic of attending therapy or doing something else you think would be beneficial.
For example, people with anosognosia may initially refuse to take their medication. You can encourage them to take their medicines by asking questions like:
Do you notice a difference in how you feel when you take your prescription?
Do you feel better with this medication than without it?
Would you be open to continuing this treatment?
Your loved one might prefer to manage their mental health condition without medication if they're worried about potential side effects. It's even more challenging with someone in denial, since they likely believe they don't need treatment in the first place. Validating their feelings and helping them notice improvements is an excellent way to help your loved one during this challenging time.
Participating in wellness activities together can also benefit your loved one's mental health. You can try yoga, exercise, board games, meditation and more.
6. Remember to Support Yourself
Seeing a loved one go through a challenging time with their mental health can be hard on you, so it's essential to find support. You can't look after others if you don't take good care of yourself. Effective support can look different for everyone, but you can try things such as therapy, regular acts of self-care or establishing healthy boundaries.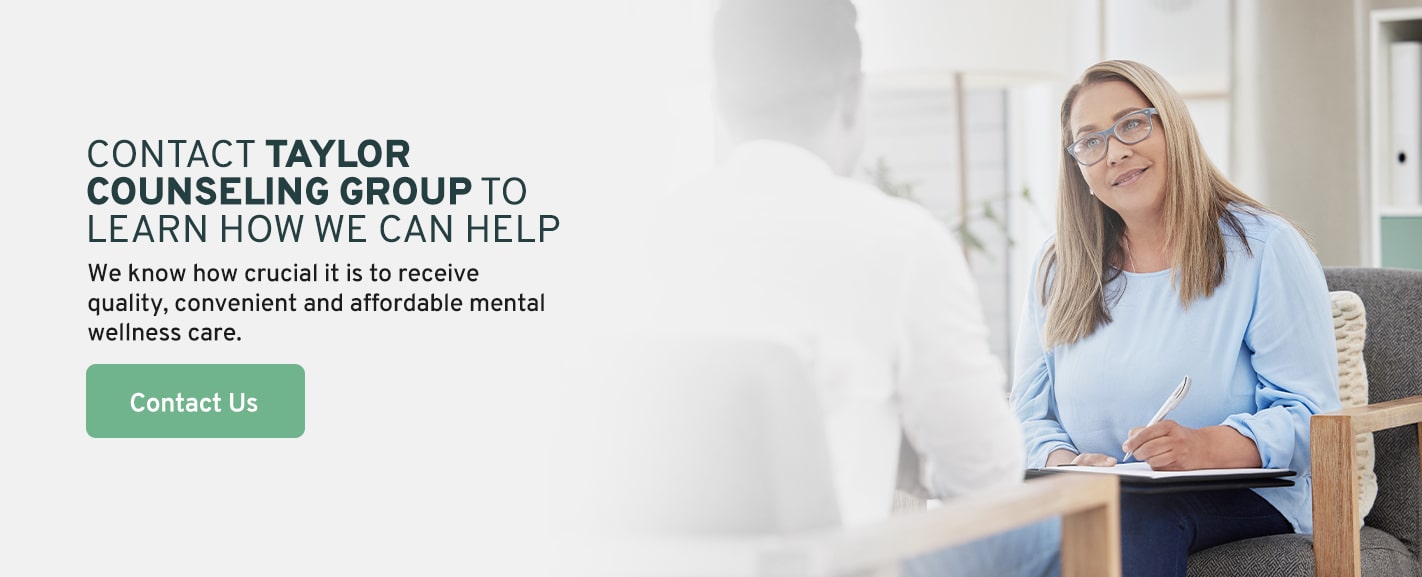 Contact Taylor Counseling Group to Learn How We Can Help
Encouraging your loved ones to seek professional help can be challenging. Still, it's essential to remember that resources are available to help your loved one find the care they need. Taylor Counseling Group offers affordable mental health services to children, adolescents and adults at all 12 of our locations.
We know how crucial it is to receive quality, convenient and affordable mental wellness care. If someone close to your heart is struggling with their mental health, Taylor Counseling Group can help by breaking the stigma, encouraging open discussions and providing education about various treatment options. Schedule an appointment online today to get started!