Individuals characterized as highly sensitive people (HSP) have heightened responses to certain sensory inputs. They perceive environments and interpret stimuli more deeply than non-HSPs, often leading to feelings of overwhelm and other emotional responses. HSPs are very aware of subtle changes and senses in both negative and positive situations.
For example, an HSP might have an involuntary nervous system response while shopping in a crowded store, but that same increased awareness makes the sights, sounds and aromas of a botanical garden more special. High sensitivity manifests in many different ways and ranges in severity. What one person considers an irritating trigger could cause another to feel pain or panic.
Some professionals use HSP interchangeably with sensory processing sensitivity (SPS), a biological trait that affects nearly a third of the world's population, while others consider the conditions related but not the same. The Diagnostic and Statistical Manual of Mental Disorders (DSM-5) doesn't consider HSP a disorder. Most professionals refer to high sensitivity as a trait, though it is sometimes associated with some mood disorders, attention-deficit/hyperactivity disorder (ADHD) or Asperger Syndrome (AD).
It is not the same as introversion, but people who identify as introverted often express a similar need to decompress after certain situations.
What Causes High Sensitivity?
There is no one cause of high sensitivity, but it's believed that genetics and childhood environment can play a role. A highly sensitive person processes information more deeply, and research is ongoing to understand the full extent of that.
A 2021 study analyzed brain activity in highly sensitive people and found more significant connectivity between the brain's precuneus and hippocampus — responsible for memory consolidation and retrieval. There was weaker connectivity between the periaqueductal gray and amygdala and the insula and hippocampus, which determine pain and anxiety morality, regulate stress and help process emotions.
Another study from 2014 showed physical evidence that highly sensitive people's brains respond to emotional images with concentrated activity in areas of the brain associated with awareness, sensory information processing, empathetic response and action planning.
Signs of a Highly Sensitive Person
A highly sensitive person may experience one or more of the following:
Feeling easily overwhelmed by certain external stimuli, like specific textures, smells, sights or sounds.
Trouble adjusting to a change in environment or routine.
Sudden outbursts or periods of high intensity resulting from sensory overload.
Physical reactions to overstimulation, like headaches, fatigue or body tension.
Low threshold for pain or unpredictable environments.
Being highly in tune with others' emotional states, social cues, body language and mood and behavioral changes.
Feeling uneasy in public spaces or only feeling at ease in a controlled environment.
Difficulty regulating sudden emotions and the responses to them.
Needing more time to "recharge" or decompress after certain actions, events or places.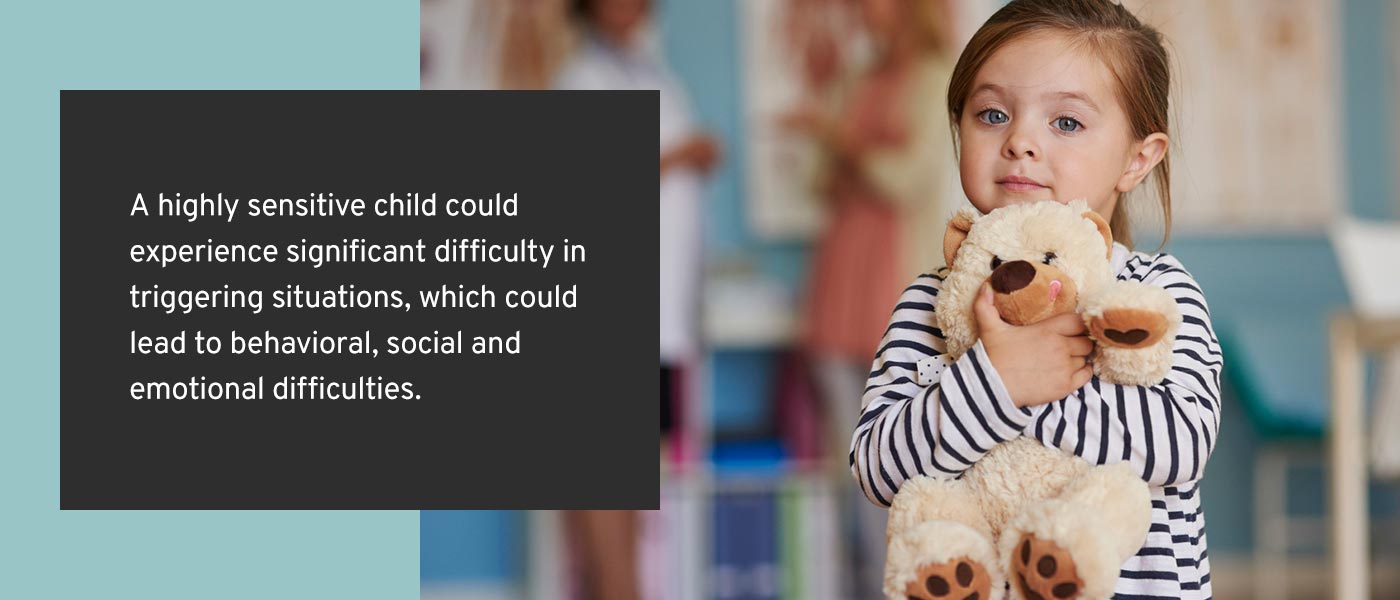 Understanding a Highly Sensitive Child
It's a bit more challenging to identify a sensitive processing trait or disorder in children, especially when they're still learning how to regulate emotions and understand their environments. That said, a highly sensitive child could experience significant difficulty in triggering situations, which could lead to behavioral, social and emotional difficulties. It's important to note possible side effects of HSP in your child even if you're not sure so you have all the information you need to best support them.
HSP in children might look like fluctuating between extremely ecstatic and extremely enraged or distressed states, increased sensitivity to rejection, failure or frustrating situations or similar. Since some symptoms are also indicative of many other conditions, they're also worth bringing up to your child's doctor to rule out or confirm other factors at play.
It's important to remember that being an HSP or highly sensitive child doesn't mean something is wrong or that the trait only brings negativity — the deeper your child can feel and experience, the more meaningful connections they may forge with others. They might also be more creative and empathetic.
I Just Found Out I Am an HSP — What Comes Next?
If you've just found out you might be a highly sensitive person, it's OK! While some might feel discouraged or upset, others are relieved to better understand their behaviors. There is no right or wrong way to feel, only healthy and unhealthy ways to manage and express those feelings. Here are a few steps to take to help you manage daily life as a highly sensitive person:
1. Identify and Accommodate Stimuli
The good news is, even if you're just finding a name to describe life as a highly sensitive person, you've probably already spent most of your life navigating your heightened experiences. The first step in managing daily interactions is identifying which stimuli trigger your overwhelm or emotional response. Once you have a clear list of what those are, you can work alone or with a therapist to better regulate your reaction.
Steps might include:
Setting boundaries: If you know a specific environment or activity leads to overwhelming feelings, it's OK to set boundaries. In fact, it could be a good exercise if you're the type of person who has trouble drawing lines and knowing when to preserve your energy.
Blocking sights or sounds: Some HSP use tools and accessories to reduce or eliminate triggering stimuli, like wearing sound-blocking headphones in loud or chaotic places and or wearing sunglasses in buildings with harsh lighting.
Creating a low-trigger environment: Your home should be the one place you can always find rest and escape, so take steps to make it as non-triggering as possible. While your ideal space depends on what initiates your emotional response, it could mean having a regular cleaning and decluttering schedule, avoiding certain paint and furniture colors or using open windows and air purifiers to reduce smells.
As you learn to manage HSP, be aware of how it could impact your relationships with others and your interactions in new environments. Being highly sensitive makes you more prone to feelings of anxiety and emotional outbursts, which can be hard for others to understand. As long as you feel safe and comfortable enough to do so, confide in your closest loved ones and communicate your experiences.
2. Live the Routine That Works for You
The "normal" routine doesn't always work for those with sensory input disorders. For example, HSP who struggle to focus on homework or work projects during the day when they're surrounded by too many stimuli might thrive by shifting to an evening-focused schedule.
You should approach management strategies with the same nuance. While many HSPs benefit from self-care practices like meditation, others might find it too stimulating or not helpful. Experiment with different tactics and coping mechanisms to learn how to center and calm yourself in uncontrollable environments, and don't be afraid to switch things up if they aren't working for you.
3. Get Plenty of High-Quality Sleep
You can't overstate the importance of good quality sleep, especially if you live life as a highly sensitive person. Lack of sleep is linked with moodiness, anxious feelings, decreased concentration and other disruptive side effects, and those can be even more impactful for those already struggling to regulate those emotions.
Prioritize getting plenty of sleep each night and make sure your bedroom is a relaxing place.
4. Take Intentional Breaks
We all need regular breaks, and few of us take them as often as we probably should. Highly sensitive people exist in a state of constant awareness, which can take a toll on anyone. Schedule regular and intentional breaks into your schedule, like occasional mental health days.
If you know you're going to be in a situation that will likely overwhelm you, plan to take decompression time after. This might look like stepping away from work or social events to breathe and collect yourself or padding your vacation schedule with low-trigger days and activities to recharge.
Use breaks and decompression time to work on breathing techniques, such as interoception-focused therapy, to ground and calm yourself.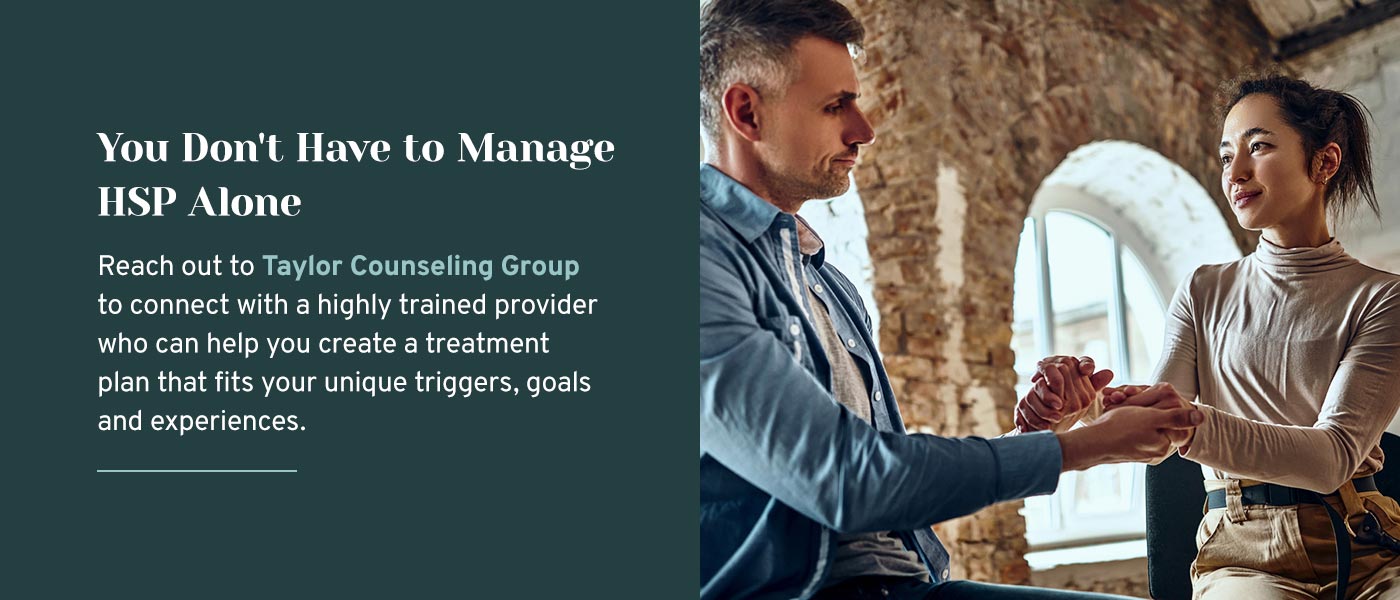 You Don't Have to Manage HSP Alone
Life as a highly sensitive person can be rich and exciting, but it's not without its challenges. Fortunately, you don't have to navigate these experiences alone. Reach out to Taylor Counseling Group to connect with a highly trained provider who can help you create a treatment plan that fits your unique triggers, goals and experiences.
Learn more about individual counseling and get the support you need to feel a better sense of control and emotional regulation.