For most people, therapy is incredibly rewarding — and knowing you're making progress makes the experience even better. Though you and your therapist are likely working on your weaknesses to help you become a better person, it may reassure you to pinpoint the positive ways your life has changed since beginning therapy.
Let's explore how to know if therapy is working so you can continue progressing on your current path or make the right changes to ensure you see growth.
Positive Effects of Therapy
Through therapy, people have a chance to work on their mental and emotional health. In general, therapy has the potential to help everyone, though individuals with conditions like depression, obsessive-compulsive disorder and anxiety can benefit tenfold. According to recent studies, 75% of people who attend psychotherapy sessions show some benefit.
Sometimes, first-time patients think they'll see measurable results after their first few sessions. The reality is that therapy takes time, so if you don't see improvements soon after you start therapy, you shouldn't feel discouraged. However, attending therapy for several weeks or months without seeing at least some changes is a different story.
First, you'll want to consider the positive effects of therapy to see if you're experiencing them.
1. Changed Thinking Patterns
If you've noticed you've replaced some of your negative thinking patterns with positive ones in more and different situations, it might be a sign you're benefitting from therapy.
2. Improved Communication Skills
Before therapy, you may have found it challenging to identify and communicate the problems in your life. Since you've been in sessions, you could find yourself confidently pointing out where and why difficulties arise in your personal life, job and relationships. You might even find yourself feeling relying on newly learned communication skills to address these difficulties.
3. Increased Self-Awareness
After exploring your identity with the help of your therapist, you might find it easier to pinpoint situations where you need to take extra care of yourself or the best ways for you to approach self-care when you're feeling burnt out.
4. Better Self-Esteem
Are you feeling confident about the way you look in the new outfit you bought? Are you making fewer negative comments about your looks or personality to others? An increase in self-esteem is what you might be experiencing, all thanks to therapy.
5. Strengthened Coping Mechanisms
It can be easy to fall back on old habits to help you through tricky times, which is why most forms of therapy encourage you to replace unhealthy coping mechanisms, such as addiction, with healthy alternatives like exercise. Since starting therapy, you might reach for your running shoes instead of a cigarette when feeling stressed.
6. Enhanced Mood
If you experience more feelings of joy and hopefulness throughout the day than before, it might be because your current therapy plan is working for you.
7. Healthier Life Choices
Do you find yourself reaching for more fruits and vegetables at the grocery store these days? Do you feel more motivated to exercise for fun? It might be because therapy can help you organically choose to live a healthier life.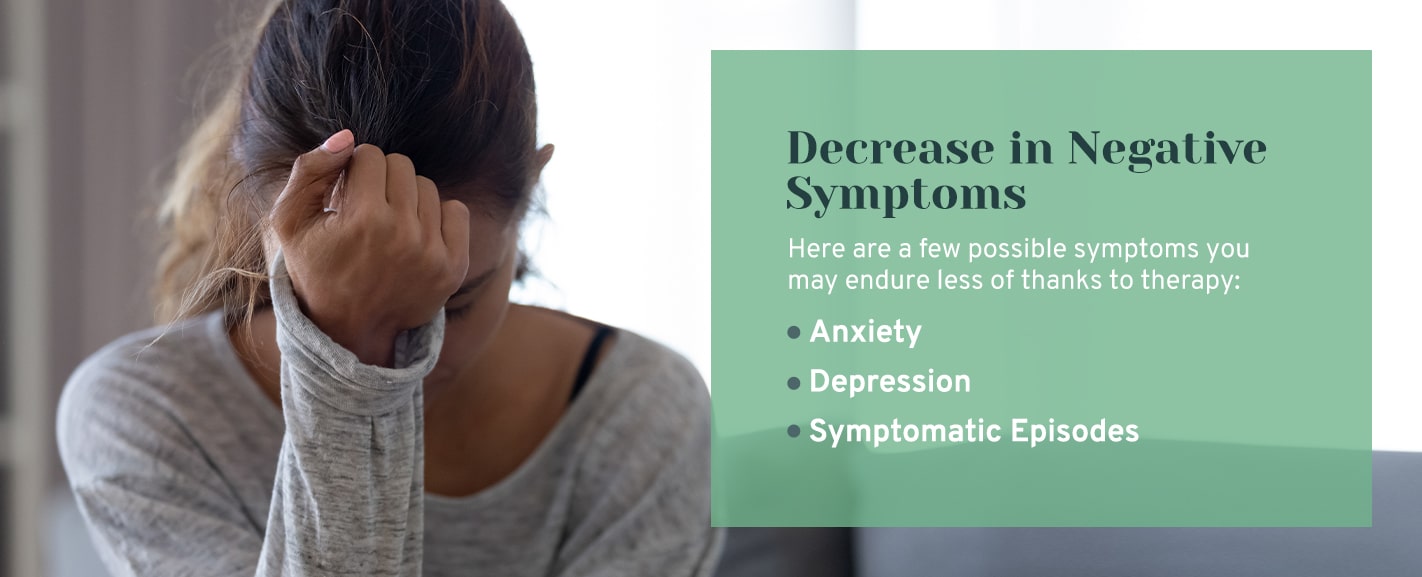 Decrease in Negative Symptoms
Similar to the positive effects of therapy, you should also experience fewer negative symptoms of your mental or emotional condition. After all, that's why people have therapists! Here are a few possible symptoms you may endure less of thanks to therapy:
1. Anxiety
Many people have different kinds of anxiety — but typically, therapy helps reduce anxiety symptoms, such as irritability, worrying, physical discomfort and avoidance of certain situations. If you're seeing a therapist for your anxiety disorder, you should feel calmer and more confident because you have the toolkit to deal with your condition.
2. Depression
Feeling low, unmotivated and worthless can severely impact your daily life. If you find yourself enjoying the activities you used to enjoy, like playing the piano or cooking for your family, you might be experiencing a decrease in your depression symptoms. Consider how your daily routine has changed since going to therapy. Do you leave the house more often? Is your living space cleaner and tidier? These sessions should be improving your day-to-day.
3. Symptomatic Episodes
Some mental health disorders can follow a pattern. It could be that you feel one way for a few weeks and then the opposite way for the following few weeks. These changes in your mood can lead to an unbalanced and unpredictable lifestyle. Thankfully, therapy can help reduce the ups and downs that might come with a mental health episode so you can go back to living your life on your own time and in your own way.
Why the Client–Therapist Relationship Is Important
Choosing a therapist isn't always easy. While people can find their perfect fit on the first try, many others have to try sessions with multiple therapists before discovering one who works for them. This decision is important — those who have effective therapists are more likely to finish therapy with the right strategies to improve their lives.
Every client-therapist relationship is different, so what works for a friend likely won't work for you. If you aren't sure whether your therapist is effective, try thinking about whether they have these qualities:
1. Confidential
One of the first things your therapist should discuss with you is a confidentiality agreement they must follow while being your therapist. Typically, everything you discuss in therapy should be confidential unless it involves you being a threat to yourself or others.
2. Responsive
An effective therapist will recognize what makes you stand out from others on a personal level. Once your therapist has enough information about your past, personality and goals, they should mold your therapy sessions around those circumstances. A therapist who's too general won't be able to discover the cause of your issues and help you improve as a result.
3. Honest
If your therapist is honest about whether you may benefit from a relationship with a different therapist, it's a good sign they have your best interests in mind. Essentially, the right therapist will want you to succeed and grow, even if that means they miss out on a client.
4. Collaborative
An effective therapist will help you improve your coping skills and help you identify future goals, all while asking for and keeping your input in mind. It's important for you and your therapist to work together because collaboration is key in therapy. The right therapist won't pressure you to try a solution you're adamant about not trying.
5. Proactive
A therapist might keep up with the latest research on your specific mental health struggles. Additionally, they'll work to find a solution for an issue if or when one occurs in your client-therapist relationship. These two actions are a sign of a therapist who's always thinking ahead.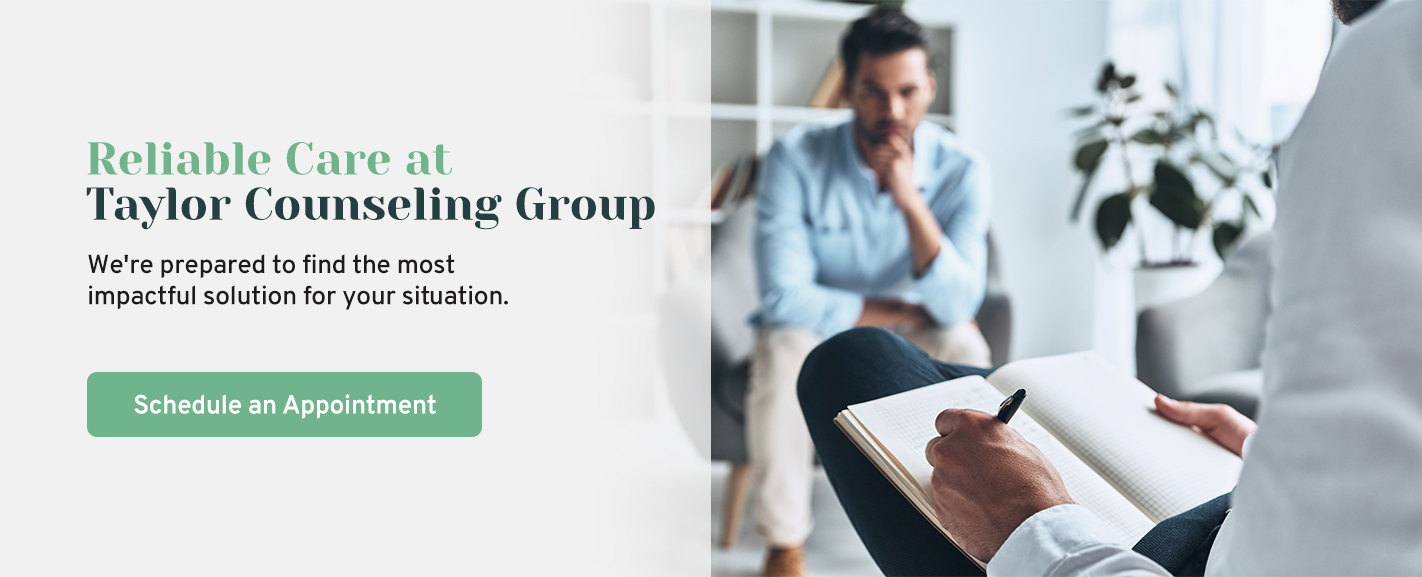 Reliable Care at Taylor Counseling Group
Sometimes, it can be difficult to tell whether your therapy journey is serving your individual needs. At Taylor Counseling Group, we're committed to getting you the care you need, whether that's individual counseling, family counseling or something else. All of our clients are different, so we're prepared to find the most impactful solution for your situation. Schedule an appointment today.
Related Articles & Resources: