Everyone encounters challenging emotions, but certain emotions and situations may be more than you can handle on your own — and that's okay. Uncomfortable emotions are normal, but you should seek help if they start to interfere with your daily life. Understanding how to know when it's time to ask for help is important. With the right support, you can overcome obstacles and manage your emotions in healthy ways.
How Can You Know the Right Time to Ask for Help?
Getting help for depression, anxiety and other mental health conditions is much easier than most people believe. In fact, asking for help is sometimes more difficult than actually getting help because it can seem more daunting than it is at first.
Everyone experiences stress and other challenging emotions, but seeking help with these emotions can help individuals maintain their well-being and overall happiness. Recognizing when to ask for help is the first step toward reaching out and caring for your mental health.
Signs That It's Time to Ask for Help
Showing emotions and seeking help is a sign of intelligence, confidence and bravery. Uncomfortable emotions are a normal part of life, but emotions can sometimes feel overwhelming and interfere with everyday life. It may be time to ask for help if you feel overwhelmed by feelings of sadness, worry, grief, depression or other challenging emotions.
If you don't feel like yourself most of the time, or if your feelings are making it difficult to focus on school, work or your relationships, counseling can help you process your emotions in a healthy way.
Challenging emotions can come and go, but it's important to seek help when they linger for a long time or interfere with your daily life. According to the Centers for Disease Control and Prevention (CDC), over 50% of Americans will receive a mental health diagnosis in their lifetime. It may be time to ask for help if you experience the following:
Unhealthy habits: If you notice yourself drinking alcohol or using harmful drugs to manage your emotions, you should seek help.
Unusual sleep habits: It may be time to ask for help if you struggle to fall asleep, struggle to stay asleep or sleep more than usual.
Change in appetite: If you have no appetite or find yourself eating more than usual to cope with challenging emotions, you may want to consider seeking help.
Inability to cope: If you have tried various coping methods and still feel overwhelmed with uncomfortable emotions, it may be time to reach out for help.
Loneliness: If you feel socially isolated or feel like you don't have anyone to talk to, you may benefit from asking for help.
Lack of interest: If you lose interest in hobbies, activities or relationships that used to bring you joy, it may be time to reach out for help.
Avoidance: Avoiding people and places can be a sign of anxiety or depression, so it's important to seek help if you find yourself avoiding people and activities often.
Overwhelming feelings: Reach out for help if negative thoughts and emotions are overwhelming you. A counselor can help you positively reframe your thoughts when feelings of hopelessness arise.
Interference with daily life: If work, school or home responsibilities feel overwhelming because of your emotions, it may be time to seek help.
Impatience or agitation: Impatience with those around you can indicate that your emotions have become overwhelming. You should reach out for help if you find yourself snapping at family members or becoming easily angered because a counselor can help you manage and express emotions in healthy ways.
Unexplained pain: Stomach problems, aches and pains can indicate depression, anxiety or other conditions. If you experience frequent pain with no underlying source, it may be time to seek help from a counselor.
Thoughts or attempts of self-harm: You should seek immediate help if you attempt or have thoughts of harming yourself. Your feelings are not permanent, and there is hope. An experienced counselor can help you process challenging feelings and find healthy ways to cope.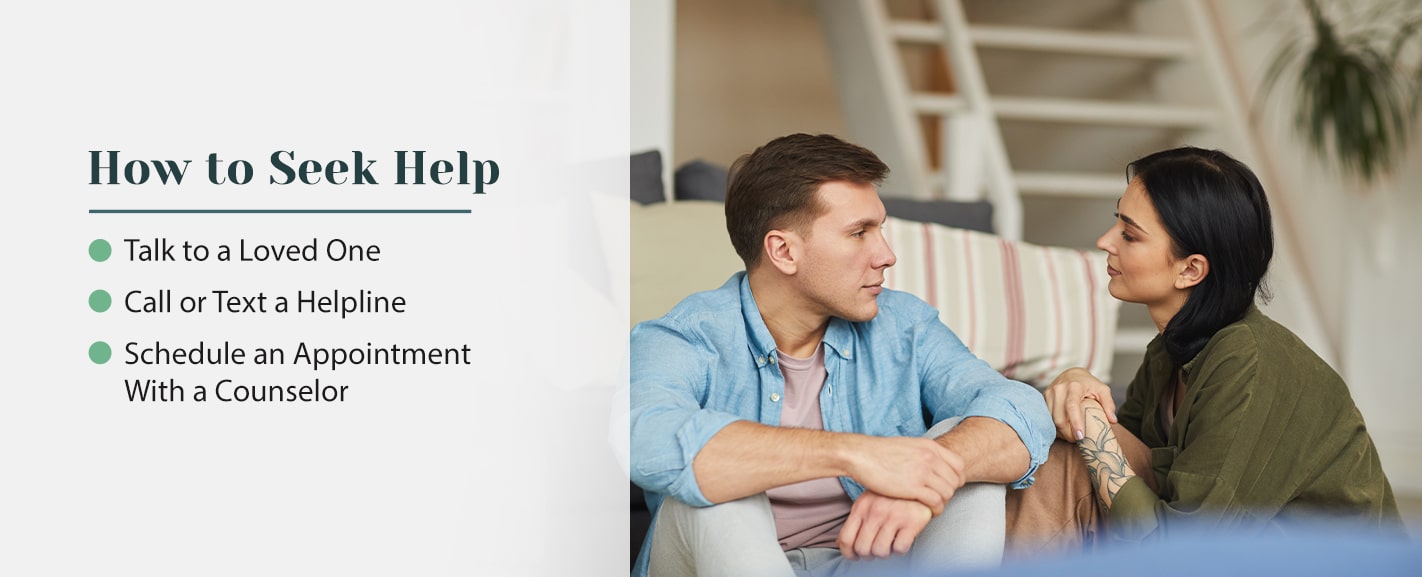 How to Seek Help
Many people neglect their mental health and well-being because they don't know how to seek help for depression, anxiety and other conditions. However, reaching out for help is easier than many people believe. If you feel overwhelmed by challenging emotions, you can reach out for help and support through the following methods:
Talk to a Loved One
Talk to a friend or family member about how you've been feeling. Communicate openly and clearly so they can understand what you're experiencing. If you simply tell someone you feel sad, they might not understand how much your feelings are affecting you. However, if you explain in detail how you feel and how it's affecting areas of your life, they will be more able to support you.
A trusted friend or family member can help you search online for healthy coping strategies, nearby counselors or resources. They can also simply provide an ear for listening or a shoulder to lean on.
Call or Text a Helpline
Call a mental health hotline if your emotions are overwhelming and you need to talk to someone immediately. The Substance Abuse and Mental Health Services Administration (SAMHSA) has a national hotline you can call at any time. You can even text the hotline if you feel more comfortable communicating through text messaging.
The hotline will connect you to a trained counselor who will talk to you, suggest some coping methods and help you find helpful resources in your area. It is completely confidential, and counselors are available 24/7 for 365 days a year. The hotline is available for anyone experiencing mental health obstacles, no matter how big or small their symptoms may feel.
Schedule an Appointment With a Counselor
Consult with your primary care provider and let them know what you are experiencing. They will be able to provide a list of nearby counselors or recommend a specific counselor based on your needs. You can also search online for nearby counselors to read about their credentials and specialties.
Different counselors specialize in different areas and treatment methods. Some counselors specialize in depression counseling while others specialize in grief and loss recovery, and many counselors focus on multiple specialties. Finding a counselor who matches your needs will help you receive the support you need.
Once you research and choose a counselor who specializes in the challenges you are facing, you can call or email them to ask about pricing and availability. You can provide details about what you are experiencing and let them know which days and times you are available for an appointment. They may send you paperwork to fill out before your first session, or they may ask you to fill the paperwork out when you arrive for your scheduled appointment.
During your first session, you can talk to your counselor, get to know them and decide if they are the right fit for you. If you don't feel they are a good fit, you can reach out to a different counselor.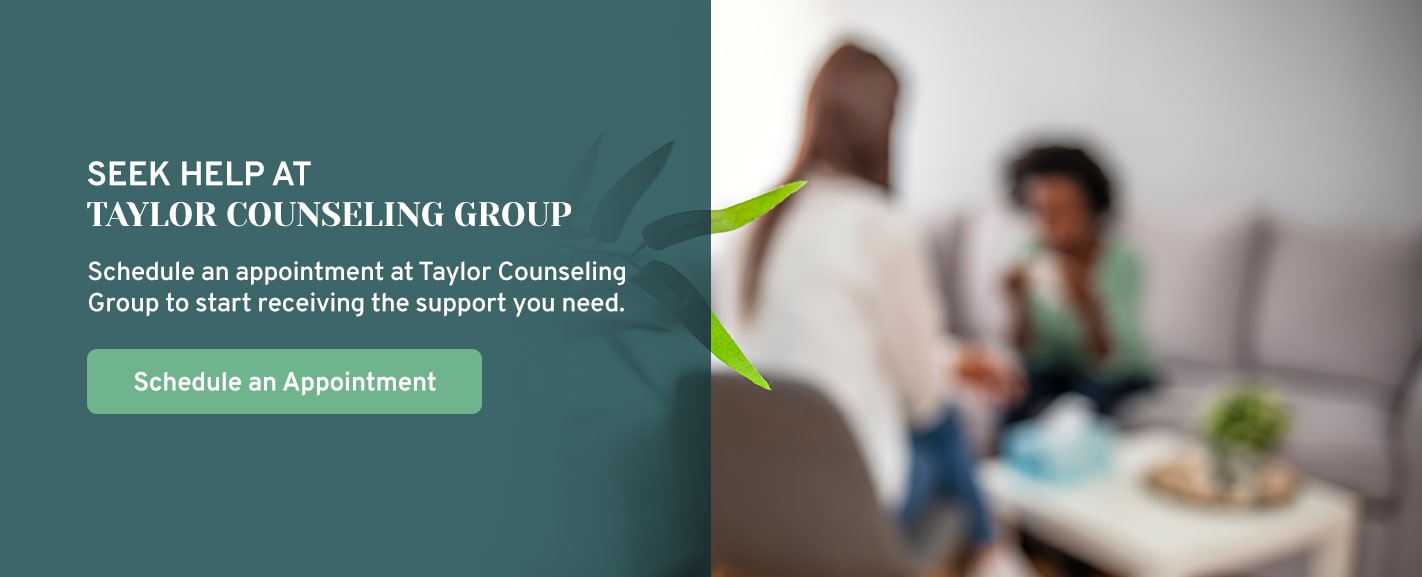 Seek Help at Taylor Counseling Group
If your emotions feel overwhelming, reach out for help. Taylor Counseling Group's caring and supportive staff provide accessible, reliable and affordable mental health services. We offer a wide range of services for various mental health conditions and life challenges.
Schedule an appointment at Taylor Counseling Group to start receiving the support you need.