We often hear the phrase "opposites attract." While this might be an excellent rule for some, it can present an unhealthy dynamic when the differences are too vast, especially for unions between empaths and narcissists.
If you're an empath, you might repeatedly find yourself in toxic relationships throughout your life. It can be difficult to notice if you've fallen into a narcissist's trap and even harder to avoid this cycle in future relationships without understanding the warning signs.
Luckily, there are several ways you can detect and avoid toxic people to preserve your mental well-being. We'll dive into a few reasons you might be attracting narcissistic people below and ways to invite healthier, happier relationships into your life.
Why Do I Attract Narcissists?
You'll know right away whether you're an empath or a narcissist. Empaths are highly in tune with others' emotions and are often sensitive to people's needs. In contrast, narcissists cannot empathize, have an exaggerated sense of self-importance and experience an excessive need for admiration. While these aren't traits of a supportive or loving partner, you might repeatedly find yourself with these types of people. So why is this? The reason might come down to any of these four factors:
1. You Want To "Fix" Your Partner
If you're an empathetic person, you have a lot of compassion to give. Narcissists thrive on those who worship them, making them seek out compassionate and helpful people. They know the empath will listen to them and provide them with the adoration they desire. At the same time, empaths will gravitate toward those with emotional problems since they tend to want to help others.
If this sounds like a constant dynamic in your life, you may have been reeled in by the narcissists' initial false persona of kindness and charm. However, the narcissists' true personality is unfeeling, cruel and demanding.
You might believe your partner will change for the better or that you can "fix" them. However, since narcissists believe themselves superior to everyone around them, they'll think their bad behavior is warranted. They might make promises to improve, but these are merely empty words to keep you in their corner. Because of this, the relationship will fall into a vicious cycle that you might find difficult to escape.
2. You Have a Narcissistic Parent
It's hard to break an unhealthy cycle when you've grown up with a narcissistic parent or family member. Parents symbolize the first expression of love you've ever received. Because of this, you may desire a similar dynamic in your adult relationship and search for toxic traits in future partners, whether subconsciously or not. We associate familiarity with comfort even in unhealthy situations, often inviting these dynamics into our lives and continuing the cycle.
3. You Deny Your Needs
If you find yourself giving in relationships without asking for anything in return, you might be unknowingly inviting toxic people into your life. Narcissists prioritize themselves above everyone else, making empaths the perfect victims to feed their desire for constant attention.
While your toxic partner gets the care they need, you're left with nothing. And with their every promise to change, you might find yourself excited with the possibility of helping them grow. However, since narcissists cannot feel empathy and believe themselves to be perfect, these changes will never materialize.
4. You Find Good in Everyone, No Matter Their Flaws
While this can be a positive trait, when you find yourself living with a toxic partner, you might get caught up with their fake persona and push their flaws to the back of your mind. Narcissists see their partners as extensions of themselves and, therefore, search for the qualities in their partner that will reflect positively on them. When you meet their vision, they'll show you off in public and boast about your accomplishments to others. While these public displays of affection can make you feel accepted at that moment, narcissists will continue to demean you in private.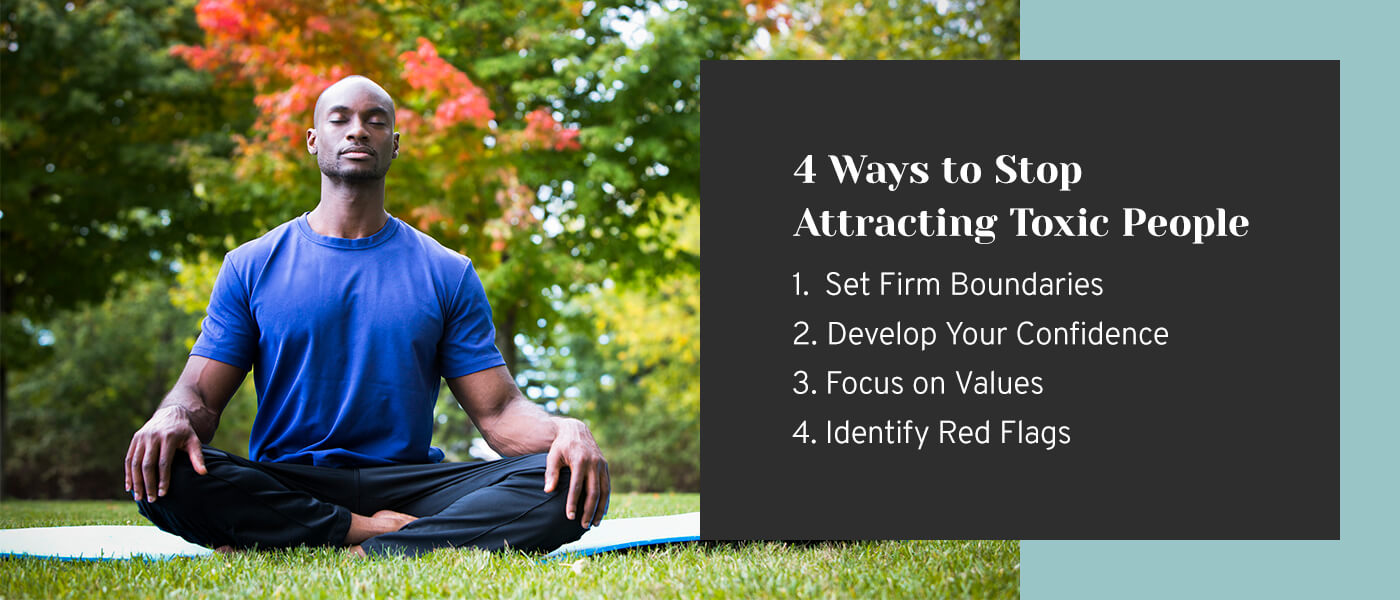 4 Ways to Stop Attracting Toxic People
Now that we've gone over a few of the reasons empaths and narcissists attract, we'll discuss ways you can avoid toxic people and invite healthier relationships into your life.
1. Set Firm Boundaries
Empaths should ensure their kind and compassionate qualities aren't taken advantage of in relationships. You can do this by setting firm boundaries with the people in your life. State the type of behavior you will and will not accept and what you're willing to put into your relationship.
Narcissists don't understand boundaries and will try to assert themselves in any way possible. Reconsider your relationship if your partner ignores your efforts to establish boundaries. Create time and space for yourself and develop strong barriers to ward off toxicity.
2. Develop Your Confidence
Narcissists love insecure people because they find them easier to manipulate. While easier said than done, developing a strong sense of self-worth will go a long way in any relationship. Remind yourself of what you deserve and project your confidence outward.
Confidence should detract toxic people from entering your life and attempting to exert dominance. Create a healthier environment by removing anyone who belittles or controls you. If you're unsure where to start, consider counseling services to help you look inward and grow your confidence.
3. Focus on Values
While seeking a new relationship, it's essential to assess potential partners for their values to determine their true character. Focus on their morals and use your intuition to determine whether the person believes in them. Since narcissists find it difficult to fake empathy, you should have an easier process of sensing whether they genuinely connect with their morals or not.
Search for the values that align with your own and envision what this person can bring to your life. If it's security, happiness and support, you might've found someone worth pursuing.
4. Identify Red Flags
Narcissists' personalities will change depending on the situation they're in. Search for red flags to determine whether a person is toxic by seeing how their personality changes in private and public. If the difference is extreme, this is likely a narcissistic red flag. You'll find that narcissists are usually respectful and charming in public while abusive and degrading in private.
Trust your gut in these situations and take action when red flags appear. In contrast to a toxic relationship, a healthy relationship will feel balanced and refreshing.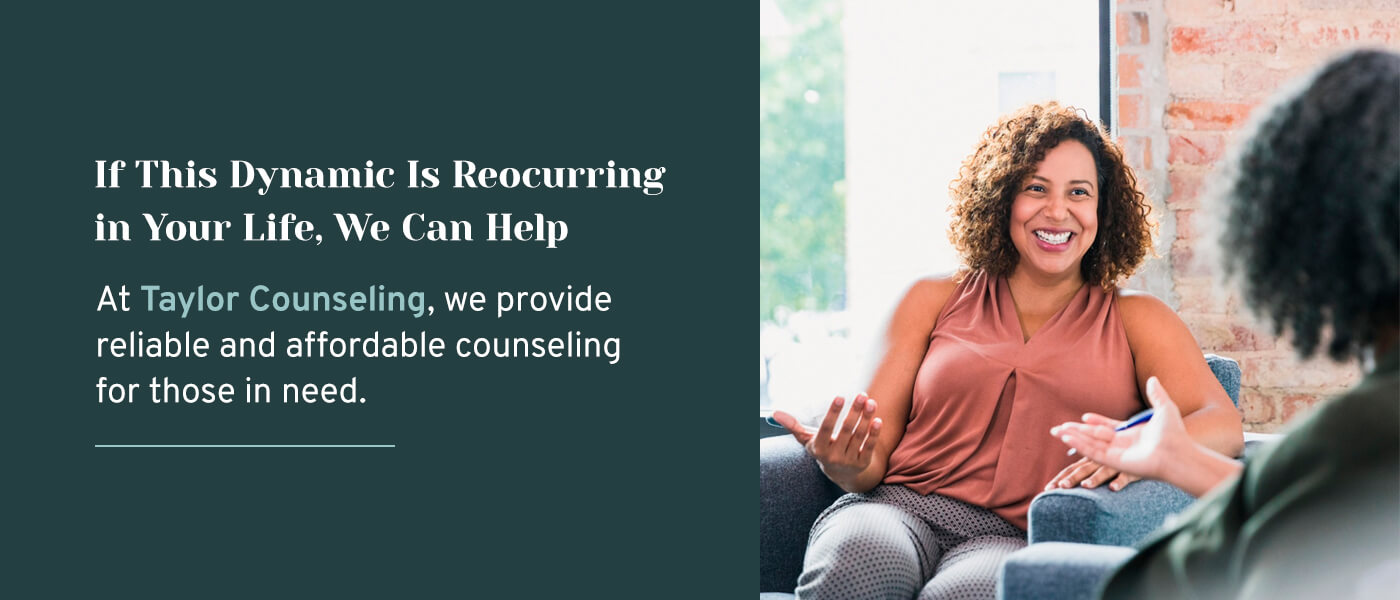 If This Dynamic Is Reocurring in Your Life, We Can Help
As you start to understand the warning signs, you'll find it easier to avoid narcissistic people in the future. By focusing on yourself and your needs, you can overcome these relationships and establish healthy boundaries with those in your life.
At Taylor Counseling, we provide reliable and affordable counseling for those in need. You'll find a warm and accessible atmosphere to voice your concerns and appreciate professionally-trained counselors to help you work toward a happier, healthier future.
To learn more about our counseling services, contact us today.
Read More Related Articles & Resources: