Your siblings have been with you since early childhood and share your past family history. No one else has access to the same memories. Because they experienced your formative years with you, they know how you think and behave more intimately than anyone else.
In healthy families, sibling relationships can be special and lead to lifelong adult friendships. However, people who grew up with a narcissistic sibling have a very different experience — from a young age, they are subjected to emotional and sometimes physical abuse. Without healing, this can damage the rest of a person's life.
Signs You Have a Narcissistic Sibling
If you've never considered this question before, you might feel guilty considering whether a close family member has narcissistic tendencies. Yes, your sibling is family — but that doesn't give them the right to treat you poorly.
Take a moment to think back on growing up with your sibling. Here are a few questions you can ask to determine whether or not they showed narcissistic tendencies:
Did they have empathy for you and others?
Were they ever cruel or threatening?
Did you feel scared or on edge around them?
Were they envious or highly competitive?
Did they ever try to control or manipulate you?
Most narcissists maintain control with manipulative, emotional mind games. For example, they may gaslight you — making you feel guilty after they've done something wrong. They might also use triangulation, where they use a third person to take their side and pressure or control you.
If you grew up with a narcissistic sibling, you likely felt you were always walking on eggshells. Either you stood up for yourself and fought with them all the time, or you stayed quiet as a means of self-preservation. Having to live with this type of abuse can leave psychological scars that continue to haunt you into adulthood.
How a Narcissistic Sibling Affects Your Mental Health
Narcissists thrive on bullying. Their methods can be openly aggressive, like physical threats and harsh criticism. If someone else heard the way they talked to you, they would be horrified. As a child, you might have accepted this treatment because you grew up around it.
In order to keep control, narcissists will turn everything back on you. When they harm you or someone else, they'll twist the situation so you end up apologizing for how you made them feel. A common line from narcissists is, "You're just too sensitive. You need to toughen up."
Trauma Bonding
For some people, growing up with a narcissistic sibling may start a pattern of trauma bonding. Trauma bonding is a result of emotional abuse and manipulation, where the perpetrator hurts you but then follows up with positive reinforcement like kindness or acceptance.
Because the victim wants the positive results that come after the abuse, they'll continue to allow more abuse. Over time, it becomes more and more difficult to see reality and break this cycle of trauma and bonding.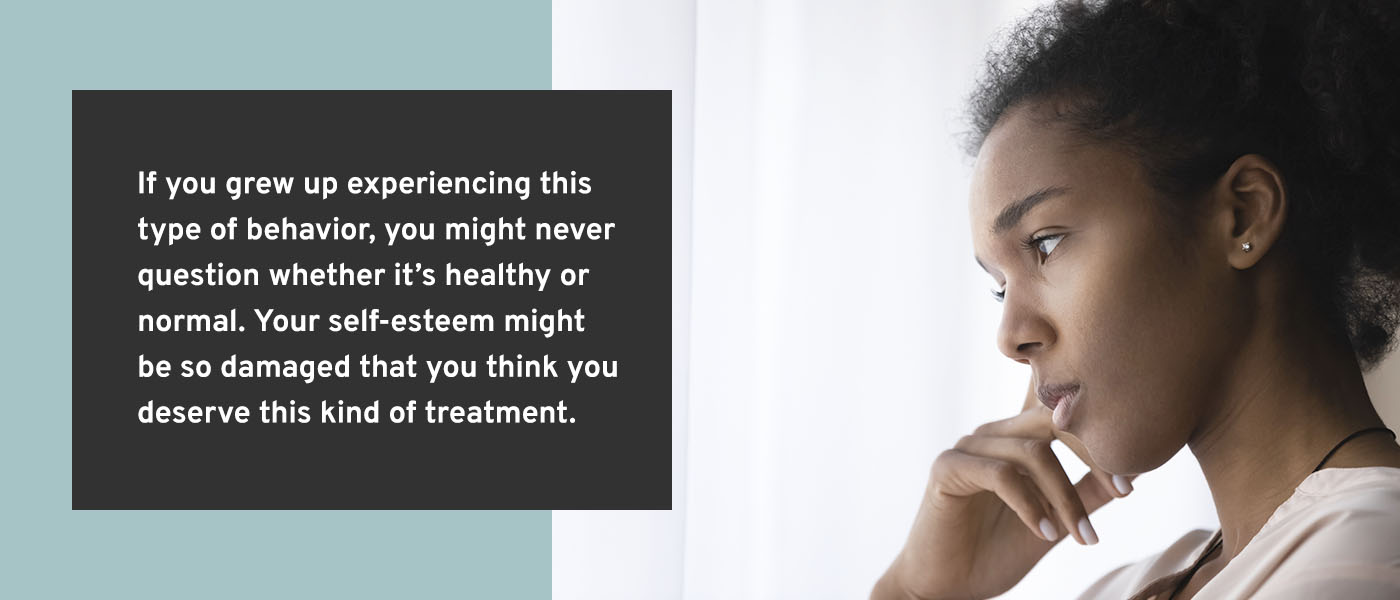 If you grew up experiencing this type of behavior, you might never question whether it's healthy or normal. Your self-esteem might be so damaged that you think you deserve this kind of treatment. At that point, you'll continue accepting unhealthy behaviors in your future relationships — including romance, business and friendship.
Low Self-Esteem
Often, narcissists will focus their abuse on people who are empathic, sensitive and caring. This kind of person is less likely to fight back and will serve the narcissist's need to be the center of attention. As a child, you may have submitted to a narcissistic sibling in order to keep the peace or because you were genuinely trying to help them.
You may have made countless excuses for their behavior, blaming their actions on their health, circumstances, personality and even yourself. However, whatever you do for a narcissist is never enough. They are never satisfied for long, and they will make you feel like their emotional state is your fault.
If you're in a close relationship with a narcissist for long, it can seriously damage your self-esteem. You may feel worthless, incompetent, helpless or hopeless. Even after you remove yourself from the situation, it can take years to stop hearing the critical voice of your sibling in your head.
Impact on Parental Relationships
Sometimes, your sibling is narcissistic because they copied the behavior of a parent. If one or both or your parents had narcissistic tendencies in addition to a sibling, you may have been the scapegoat for the whole family. Recognizing and creating boundaries for yourself is the first step toward healing from this kind of toxic family dynamic.
However, your sibling may have been the only family member with narcissistic tendencies. In that case, they likely manipulated your parents and other relatives to think well of them and poorly of you. Narcissists need the validation of authority figures, and they frequently put others down to feel good about themselves.
With narcissists, everything is a competition. This trait can be heightened in sibling relationships, where narcissists may feel they're competing against their siblings for parental approval, attention and validation. In some cases, they may turn your parents completely against you by waging successful smear campaigns.
Tips for Dealing With Narcissistic Sibling Relationships
People who grew up with a narcissistic sibling or are just noticing narcissistic traits in their sibling usually experience a mix of guilt, anger and grief. It's important to recognize these emotions and work through them — with the help of a professional, if possible.
What's important to remember about narcissists is that you can't change them. The best thing you can do is to create boundaries to protect yourself in the relationship. With siblings, this can often feel like a betrayal of the whole family. However, a hard boundary is sometimes the only way to keep yourself safe from falling back into past patterns of manipulation and abuse.
Ask yourself how much interaction you can handle with your sibling right now, and actively pursue healing your sense of self. Distance will help you learn what healthy relationships look like. If you live with a narcissistic sibling, you can use techniques like gray rocking to change the dynamic until you can leave.
Navigate Narcissistic Relationships With Taylor Counseling Group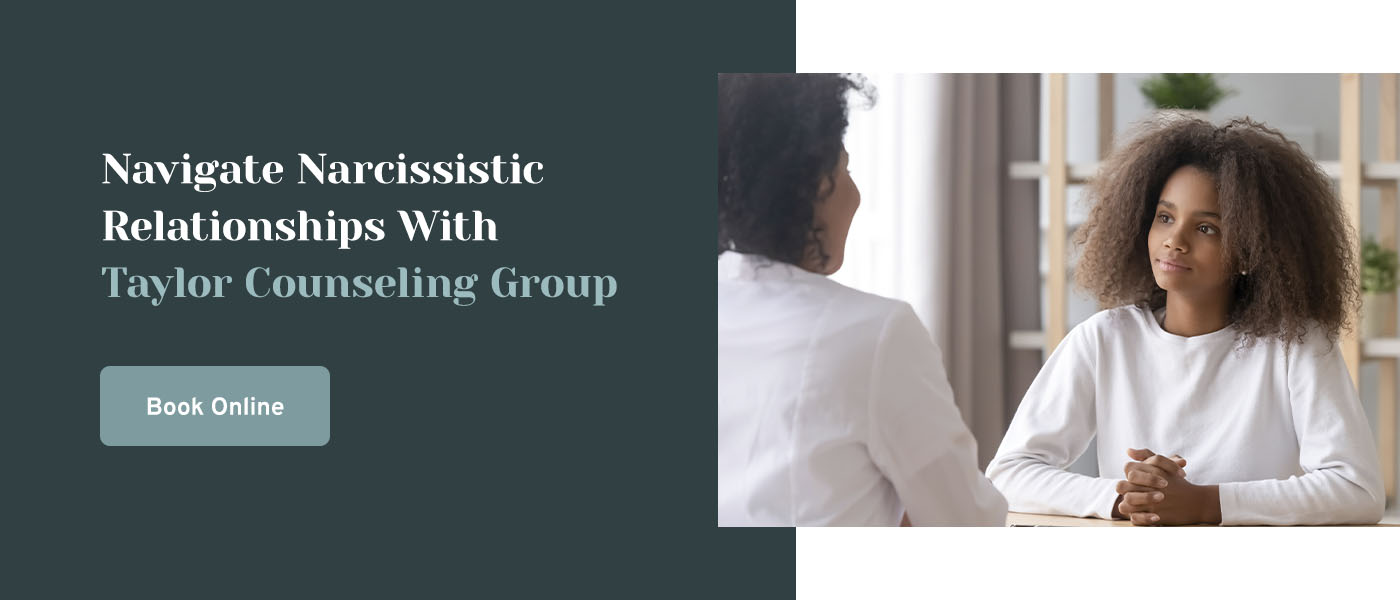 Do you suspect your sibling is a narcissist? At Taylor Counseling Group, we can help you work through low self-esteem and other issues caused by growing up with a narcissistic sibling. Our therapists can guide you through the healing process so you can regain a healthy sense of self again.
We have offices in several key Texas areas, including the following:
Galleria
San Antonio
Waxahachie
The Woodlands
Fort Worth
Coppell
Alamo Heights
Cedar Park
West Houston
Waco
Houston Memorial Park
Dallas
You can easily book online with our convenient client portal. If you'd rather speak to a real person, we're happy to answer any questions you may have!