Can you use health insurance to cover counseling sessions? In many cases, health insurance offers mental health coverage for counseling sessions. However, this is not always the case.
Unfortunately, many people believe they cannot afford quality health care, so individuals, couples and families attempt to cope with overwhelming mental health conditions and challenges on their own. At Taylor Counseling Group, we believe every person should be able to access compassionate, professional counseling services, regardless of income level.
To make professional mental health care services as accessible as possible, we accept insurance from most major insurance providers and keep our rates affordable. This guide will help you understand how to navigate your mental health coverage and how you can use your health insurance to cover your counseling sessions.
Which Insurance Plans Does Taylor Counseling Group Accept?
Is your insurance plan accepted by Taylor Counseling Group? We are an in-network provider with most major insurance companies. At Taylor Counseling Group, we accept the following insurance plans:
Aetna
BlueCross and BlueShield, Anthem
Cigna
Scott & White Health Plan
TRICARE
TriWest (you must be preauthorized)
United Healthcare/Optum
Various minor and local plans
* We do not accept- Medicare, Medicaid, Ambetter, or Magellan.
Even if Taylor Counseling Group is considered an out-of-network provider by your insurance company, your sessions may still count toward your deductible.
To determine whether your insurance is accepted at Taylor Counseling Group, you can call the number on your insurance card or speak with our support staff. Our staff can verify your mental health benefits prior to your first counseling session.
What to Expect If You Are Using Insurance
Navigating insurance can be simple and stress-free when you have an experienced counselor on your side who can help you understand what to expect. Ask your therapist to help you figure out if you are covered and how much you may still need to pay. Depending on your insurance, you may need to pay a copay and deductible. Here are some things to keep in mind:
1. How Copays and Coinsurance Work
For your therapy sessions, you may be expected to cover copays and coinsurance. What exactly are copays and coinsurance?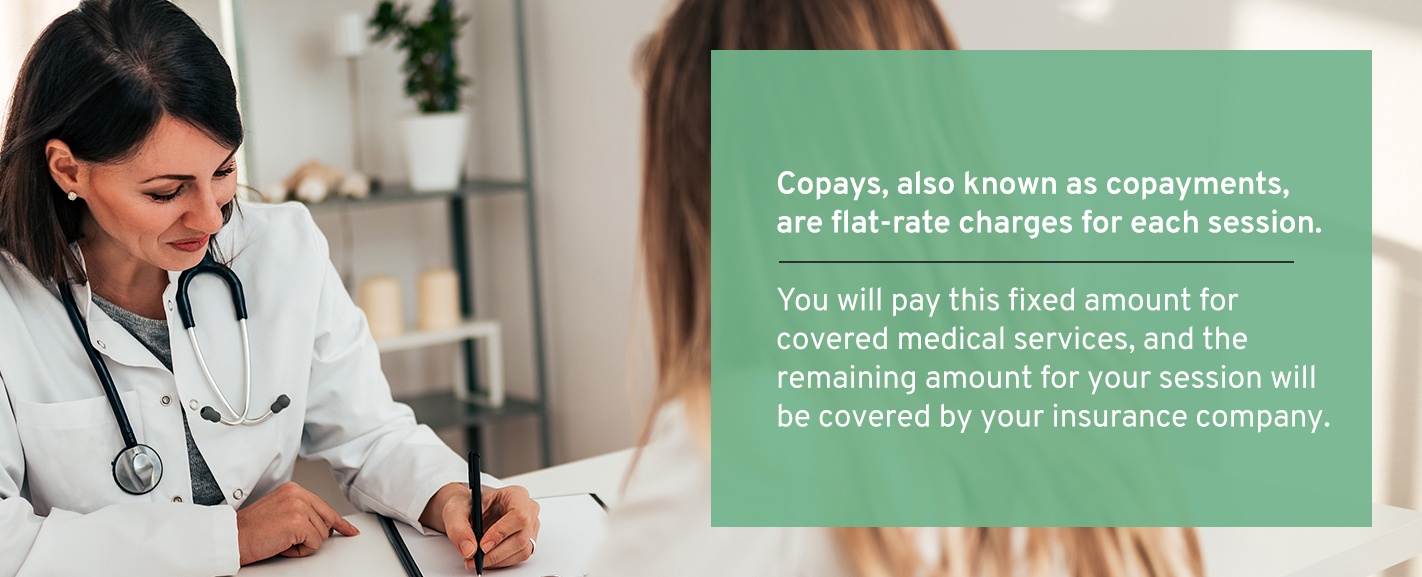 Copays, also known as copayments, are flat-rate charges for each session. You will pay this fixed amount for covered medical services, and the remaining amount for your session will be covered by your insurance company. Copays for doctor visits tend to be lower than visits to specialists, and copays for emergency room visits are usually the highest.
How do you know if you need to cover copays for your therapy sessions? Your insurance company or card can provide specific information on your possible copay. For example, you may need to pay a $30 copay for your therapy session. Having a set fee can give you greater peace of mind in knowing exactly what you will pay for each of your sessions, and you will typically pay this dollar amount at the time of the appointment.
The other possible charge you may need to cover for a therapy session is coinsurance. Coinsurance means both you and your insurance company will pay the provider. This amount is a percentage rate, so if your rate is 20%, you will cover 20% of the cost of the session, and your insurance company will cover the remaining 80%.
For example, if an hour-long therapy session costs $100, you will pay $20, and your insurance company will pay $80. This rate should be listed on your insurance card. If you have questions about your coinsurance or want more information, reach out to your insurance company.
Please note that these rates vary and are set by your insurance company. Our support staff is happy to help you navigate this process and you are always welcome to call the member line on the back of your insurance card for more information.
2. How Deductibles Work
A deductible refers to the amount you will pay for the health care services you receive before your insurance provider begins to pay. Some services are covered before you meet your deductible, such as primary care services and preventive care. After you meet your deductible, you will share the cost with your insurance provider by paying coinsurance.
Your therapist can take your insurance into account and discuss how much you can expect to pay for counseling services.
Can I Pay for Therapy Out-Of-Pocket?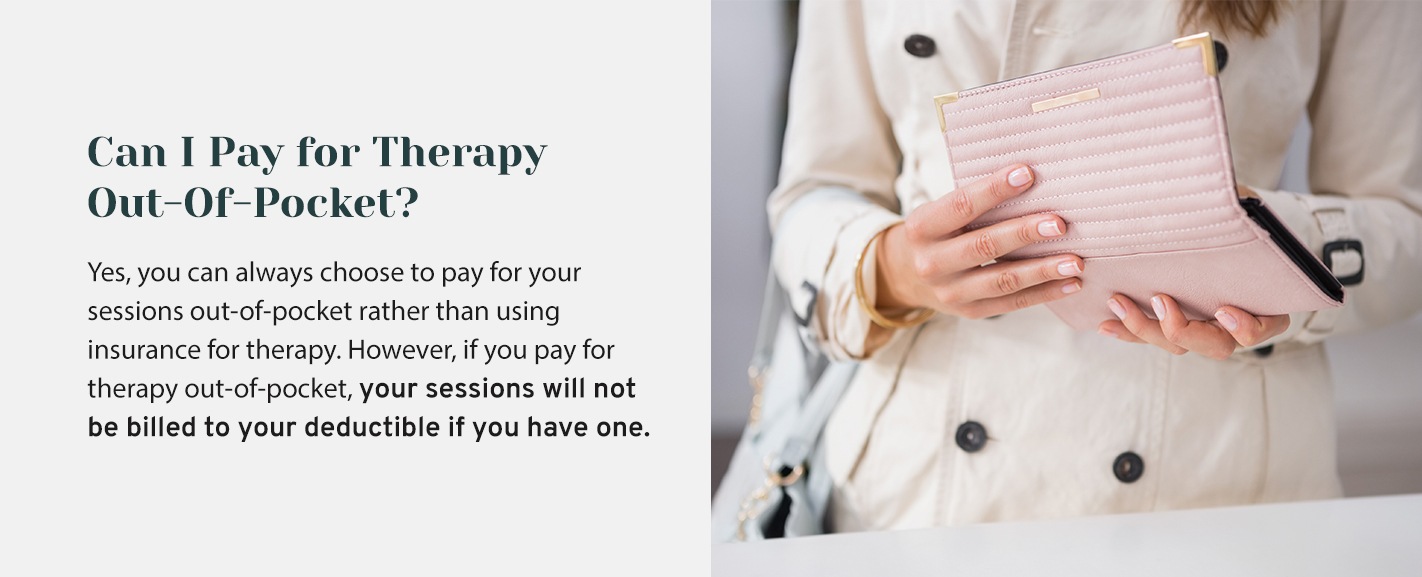 Yes, you can always choose to pay for your sessions out-of-pocket rather than using insurance for therapy. However, if you pay for therapy out-of-pocket, your sessions will not be billed to your deductible if you have one.
Sessions are $100 per hour if you pay for therapy out-of-pocket. We accept all major credit cards. Additionally, we accept flexible spending account (FSA) and health savings account (HSA) cards, and we will work with a health reimbursement arrangement (HRA) account. For your convenience, you can enter your payment information into our online portal prior to your first appointment. Your information will be kept secure and on file for all future appointments.
Do You Offer Reduced Rates?
While our private rate of $100 is already lower than the rates of many other practices, we also offer reduced rates. Making care affordable and accessible to our patients is our priority at Taylor Counseling Group.
You can schedule a session with a Licensed Professional Counselor Associate or Practicum Student under the supervision of Dr. Taylor when you utilize our income-based Affordable Care Program.
Questions to Ask Your Insurance
You should gather key information from your mental health insurance provider before your first therapy session with Taylor Counseling Group. The following are some questions you may want to ask your insurance provider:
Does my insurance cover mental or behavioral health counseling?
Does my insurance cover telehealth counseling?
What's my deductible for in-network mental health benefits?
Is there a limit on sessions your plan will cover per year? If yes, what is the limit?
How much is your copayment for mental health services?
What is the policy year (i.e., January 1 to December 31)?
Do I have out-of-network mental health benefits?
Does my insurance plan include mental health benefits?
What is my deductible? Have I met my deductible?
How many mental health sessions are covered by my insurance plan per calendar year?
How much is covered by my insurance plan for a mental health provider who is out-of-network?
How can I be reimbursed for therapy sessions with an out-of-network mental health provider?
What is the plan's coverage amount for a therapy session?
Schedule an Appointment With Taylor Counseling Group
At Taylor Counseling Group, we believe in offering our patients affordable, reliable and accessible care. We have locations in Central Texas, including Coppell, Dallas, Fort Worth, Galleria, Houston Memorial Park, San Antonio, The Woodlands and Waxahachie, along with a telehealth option.
To get started with a personalized treatment plan and affordable therapy, schedule an appointment online with Taylor Counseling Group today.