Relationships can be rewarding yet challenging under the best of circumstances. When your partner is experiencing a severe mental illness, the situation can become even more complicated. You might take on more responsibilities as you attempt to help your partner, maintain the household or take care of children. It can be incredibly taxing to care for yourself when you have a partner with depression or another mental illness.
Fortunately, by maintaining a positive outlook and learning to care for yourself, it's possible to get through these tough times together. Specialized family therapy can also be highly useful in these situations. Keep reading to learn a few self-care tips and ways to manage stress in your relationship when you have a partner with a mental illness.
1. Understand Their Illness and Available Treatment Options
It's essential that your partner is getting effective, ongoing treatment. It's also vital to understand what your partner may be experiencing and how you can support them. For instance, search for blogs, podcasts or books that delve into what it's like to live with your partner's mental illness and how it may affect your relationship. This way, you'll have a better idea of what to expect and how to address any challenges that come your way with less stress.
2. Take Care of Your Mind and Body
It can be challenging to focus on yourself when you learn a loved one is ill. But it's important to practice self-care. Not only will it keep your stress levels in check, but caring for yourself first will help you take care of your partner to the best of your abilities.
Make sure you eat healthy meals, exercise and get enough sleep. Eat foods low in fats and sugars and high in nutrients. Try meditation or yoga, which can immensely benefit the mind and body.
You'll be able to support your loved one better when you take steps to maintain your physical and mental health.
3. Establish a Routine That Works for You
When you have a partner with depression or another mental illness, balancing daily obligations and caregiving can affect your typical routine, which is essential for your self-care. To establish a healthy routine, prioritize those daily self-care habits that work for you.
For instance, your healthy evening routine might consist of journaling or reading a book to help you get your mind off things. Speaking with friends or family or devoting time to a hobby can be equally helpful. Taking time for these activities can reduce stress and help you tackle everything on your to-do list more effectively.
4. Reach out to Friends and Family
Caring for yourself means asking for help when you need it. Establish a trusted circle of people who can help you in difficult situations. Inform this circle of your partner's health condition so they can step in when you need support. Sharing the responsibilities can prevent burnout and take some pressure off your shoulders. It will also help strengthen the relationship with your partner.
Being clear about your situation with trusted people can be highly beneficial to you. While you may feel vulnerable, remember that your loved ones will be understanding when it comes to your partner's mental health condition.
5. Look for the Good
It's essential to keep in mind all of the positive aspects of your relationship without letting mental illness affect it. Keep up positive communication with your partner. It's easy for couples to become stressed when dealing with a mental illness in the relationship. Whether you do it daily or weekly, take the time to sit down and check in and see how both of you are doing. That way, you can support each other in the ways you need it most and strengthen your connection.
Remember to be empathetic and understanding of their concerns. Listen with compassion and try to understand where they are coming from. When you talk about your concerns, express them without judgment. And as always, look for the good in your life. When you have a partner with depression, it can feel like your life turned out differently than you had hoped. However, there will always be small victories and unexpected joys.
6. Seek Professional Help
When your partner is struggling and you're taking on much of the caregiving responsibilities, it's essential to talk about your experiences with a professional. It's never helpful to bottle up fears or resentments, as this can make the feelings more powerful.
Mental health professionals can provide a space for you to speak about your experience and learn ways to cope with stress. They can also help you work on relationship struggles through couples counseling. When you seek professional help for your uncertainties, you may find your capacity to help your partner is greatly enhanced. Therapists often provide the tools to communicate feelings and work through relationship issues.
Meeting with a mental health professional can not only help you find an effective treatment plan, but it can also help you find a support system that you can use to help your partner during their treatment.
When to Walk Away From Someone With Mental Illness
Just as it's essential to take care of yourself when you have a partner with a severe mental illness, it's also necessary to know when to distance yourself. Walking away from the relationship doesn't mean giving up on someone with mental illness. It simply means you are honoring your need for healthy boundaries.
An example is if your partner refuses to seek professional treatment or see how their illness may negatively affect the relationship. You might continue to provide encouragement and resources to help your spouse find professional help, though it is not your responsibility to "fix" them.
Caring for yourself and establishing boundaries are essential in a relationship. If you choose to take a break, it gives you time to recoup and prioritize your mental health. When you come back, you'll feel healthier and better prepared to handle challenging situations.
If You're Having Trouble Caring for Yourself, We Can Help
It helps to remember that people with serious mental illnesses can get better — and so can you. If you're having trouble establishing a self-care routine or prioritizing your health, Taylor Counseling Group is here for you.
Our highly trained team of counselors will work with you to discuss any anxieties or worries you may have about your relationship. We also provide couples counseling to help you and your partner through these current struggles. At Taylor Counseling, you can appreciate affordable, compassionate and accessible counseling services for your needs.
To get started, book an appointment through our online portal today.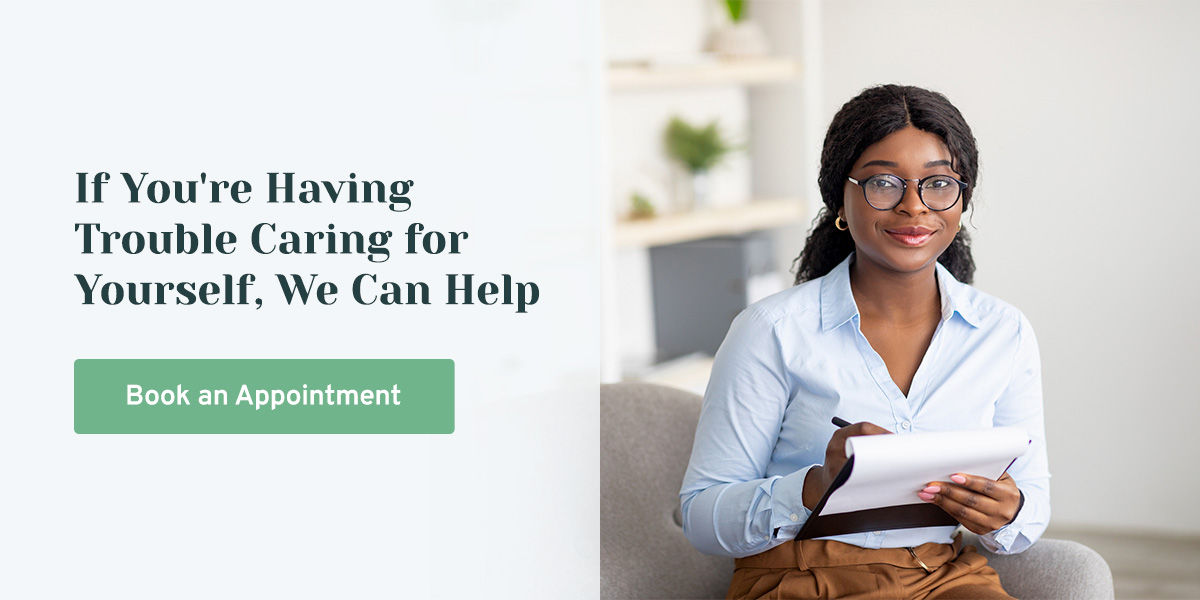 Related Articles & Resources: